Acknowledgments
"MERKUR" SPECIAL HOSPITAL FROM VRNJAČKA BANJA, STANDING PARTNER OF "NATIONAL REVIEW", RECIEVES ANOTHER VALUABLE AWARD
Gold Coin of Emperor Dušan
In the traditional choice of the Club of Economic Journalists, it was agreed that "Merkur" marked the past decade in Serbia, achieving outstanding results in its area. The award ceremony in the crowded auditorium of Belgrade National Theater was attended by state leaders of Serbia and Srpska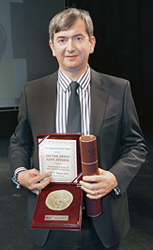 For five years we have tirelessly reported on continuous successes of "Merkur" Special Hospital in Vrnjačka Banja, standing partner of our magazine and loyal companion. On scientific, business, and tourist successes... Successes from the domain of knowledge, creativity, diligence, and yet we always have something new to report on. This establishment, the official "Champion of Balkan health tourism" recently was awarded another prize. As an establishment that marked the past decade in Serbia, "Merkur" is the winner of "Gold coin of Emperor Dušan". It is a traditional selection organized by Club of Economic Journalists from Belgrade, with the participation of numerous businessmen and companies.
The prize was, on behalf of "Merkur", received by dr Dejan Stanojević, the director of the Special Hospital, and one of those who are the most responsible "for the achieved excellence in results and successful integration of health and wellness programs" (as stated in explanation). The ceremony in crowded auditorium of Belgrade National Theater was beside numerous businessmen, attended by state officials of Serbia and Republika Srpska.
"Merkur" is a top level complex of modern medicine, diagnostic and diabetes and digestion disease treatment centre, and the first true wellness centre in Serbian spa centers", it was said, and Dr Dejan Stanojević, General Director, "not only knew to recognize European trends in health, spa and wellness tourism, and to implement them successfully, but redesigned, creatively enriched, and adapted them to the specific needs of his establishment and Serbia itself".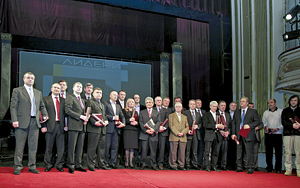 This expert has been an employee of "Merkur" for 12 years, and has been managing it since 2002. The Special Hospital, so successfully led, employs more then 300 personnel, and in high season 100 more (in order to maintain high quality of services).
– This achievement goes to both health and non-medical sector in our hospital – said dr Stanojević. – Two and a half years ago, the Ministry of Health and Republic Institute for Health Insurance proclaimed us in National Centre for Diabetes, through which more then 25,000 diabetic patients passed. Recently we were consented to further develop as a National Centre for oral diabetes. This represents a significant step forward for all the diabetic patients in Serbia, so beside 60,000 insulin dependent patients, we can host all those diabetic patients that are in therapy with tablets (half a million of them). They should come once every four years, in order to educate them in school of diabetes, diagnose them and provide them in their place more quality continuation of treatment.
After 70 years, "Merkur" experts have built new mineral water well, from which not only to hospital will benefit but also Vrnjačka Banja for new wellness and spa centers.
– We are finishing mud bath, that never existed here – adds Dr Stanojević. – working at full blast. We are on a verge of signing a contract with Austrian health insurance, whose realization will commence in March or April. According to that contract, our labor temporarily working in Austria will come for treatment and recovery in Vrnjačka Banja through the Austrian Health Insurance Fund.
That this last recognition is not by chance or frivolous can be verified by thousands of guests that frequently return to "Merkur" for recovery or recreation. Such bond was created, beside extensive knowledge and expertise, mostly through great commitment to patient and maximum attention.