Guidelines
GOLF CENTER IN ŽABALJ CONTINUES ITS PIONEER AND BUSINESS MISSION
Applied Philosophy of Golf
Golf has its rules, ethics, refinement and style. It builds a clear system of values and recognizable view of the world. It gives an equal chance to everybody, but it singles out and positions the quality. It inspires virtue. Its principles can be applied on life and business, personality and community. It shows that the most important match is the one that one that a person plays with him/herself. You will learn all this through programs and offers of the Golf Center, with ease, joy and positive identification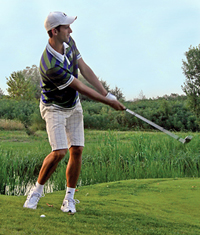 Position and terrain. The Golf Center is located in Vojvodina plains, in the Municipality of Žabalj, 100 kilometers from Belgrade, 30 kilometers from Novi Sad and 10 kilometers from Zrenjanin. The construction of the course began in 2001, and significant investments into the entire complex were made in 2008, after company Markons had joined the project. Since 2009, the Golf Center, which occupies an area of 45 hectares, has a developed course with 9 holes, 2,701 meters long (5,402 meters) and couple 36 (72), Driving Range with equipped boxes, Putting Green, Chipping Green, Pitching Green and club house with a terrace, located at the heart of this area.
The terrain was developed in accordance with the standards, starting from the design, Hunter irrigation system (10,000 meters), grass mixtures, all the way to natural and artificial golf obstacles, six lakes, sand obstacles... The course is exceptionally interesting, and it requires maximum concentration and precision.
Successes. In a relatively short time, the Golf Center created good working conditions. Membership is increasing daily, as well as the number of students at the Golf Academy. A large number of tournaments have been successfully organized, the most significant being "Serbia Open" in B category, "Novi Sad Open", "Friendship Cup", "Cities Cup". Excellent cooperation with many clubs and golfers from the region has been established. Members of the Golf Center, both seniors and juniors, had remarkable results at respectable tournaments.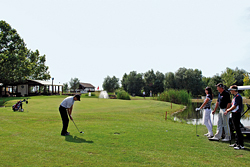 Memberships, conditions. Everyone is equal in golf and anyone can practice golf, but only if they adopt sports, social, cultural and moral standards on which this noble game has proudly been based for more than 400 years. Acceptance of these principles, as well as recommendations of one member of the Golf Center, are the basic requirements for membership. And after becoming a member, in addition to gaining the opportunity to access the course and all other rich club facilities, you will have a unique opportunity to become one of the pioneers of golf in Serbia and influence its affirmation in this country.

Membership. GolfCenter as a business opportunity. Golf is a source of sports and competitive spirit, recreation, as well as successful business. Golf course is a meeting place of successful business people. Since the game itself requires a lot of time interrupted by nothing apart from hits with a golf club, golf course is an ideal place for spending time with clients, potential customers and influential people.
There is an unspoken rule in big business that golf, among other things, is a game in which a network of good quality business relationships is being built. If you are off the course, you remain off the game.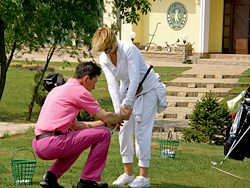 Partnership. GolfCenter as a place of gaining corporate advantage.
Because of specificity of players and visitors of the Golf Center, presence of a company at the golf course is very important for the improvement of corporate culture. How can you achieve this? Simply: if your company enters a form of partnership with the Golf Center. Partnership programs with the Golf Center have their specificities, which make them stand out against the standard forms of corporate promotion. Partnership activity in golf carries sports, social, cultural and moral attributes of this noble sport to the partner company, namely it builds an image of prestige and business success. Golfers' opinion that golf resembles life in many ways, and that the most important competitions are those that we have with ourselves, is absolutely applicable to companies that are joining this sport.
Team Building. It implies creative activities displaced from daily business and stressful environment. Through them members of a business team achieve communication and education, which significantly improve results and lead toward success. The Golf Center offers a uniquely conceptualized Team Building program, which establishes a connection between golf philosophy and business activities. The fact is that people can get to know one another better and communicate better while having fun, and staying at the Golf Center creates the perfect balance between entertainment and activities that are useful for the improvement of your company.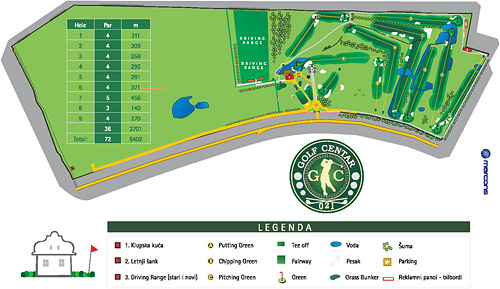 ***
Golf Academy
In cooperation with the Golf Association of Serbia, the Golf Center organizes trainings for beginners, namely the Golf Academy, which is led by the most eminent experts from the country and abroad. It takes place at a pleasant environment and is dedicated to all who want to play golf, from absolute beginners to those who already have some prior knowledge about this sport. Basic techniques of the game are taught, rules and ethics, everything that is necessary to obtain a "green card" which enables one to play at any golf course around the world.
***
Corporate Events
Just like other golf courses in the world, the Golf Center is also a venue for exclusive promotions of companies that are the leaders in their line of business, namely for companies with a defined corporate identity and recognizable image.