Road Sign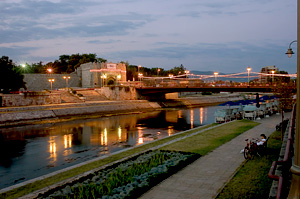 Pulse of the "Southern Capital"
Tourist Organization of Niš has focused the promotion of its city on its cultural and historical heritage and the fact that Constantine the Great was born there, the "most significant of all Roman emperors, the one who baptized the Empire and changed the fate of Europe". In 2013, central celebration of 1700th anniversary of the publishing of the Edict of Milan will take place in Niš, and on that occasion, the Serbian "Southern Capital" will be the focal point of Europe.
Symbols used to build a powerful brand of the city of Niš are certainly Stevan Sremac, his literary characters Kalča and dog Čapa (who have long been a part of the "local mythology" of Niš), Ivko's Feast, Kazandžijsko sokače...
The urban Niš is embodied in "Nišvil", the famous Jazz Festival on the Niš Fortress T, Film Encounters, University, as well as excellent local writers of middle and younger generation, who strongly position the city in the cultural map of this part of Europe.
However, this is only a small part of what has made Niš, for a very long time, one of the most important and most sought for destinations in the tourist offer of Serbia.
***
Ten Reasons Why You Carry Niš in Your Heart
• The city on the pavements of which you feel that it was exactly here where great history was written. The city in which you are touched the work of ancestors and hopes of the offspring, where you know that you are not alone and that you have roots, so the storms of this world cannot just blow you away.
• The birth place of Constantine the Great has, for centuries, been a meeting place of peoples and cultures, truly the most important crossroads of the East and West, Constantine's Crossing. The place where civilizations and worlds touch, and do not collide, which ennobles everybody in Niš.
• One of the European capitals of enchanting jazz, the city of "Nišvil", festival that had met all standards of true experts, and then became the standard itself.
• While walking through the old Kazandžijsko sokače, you hear jolly chatter of tourists in English, Spanish, French, Russian, German... And you feel great, because you know that this is not a Babylonian hubbub of languages, but harmony and true spirit of mature Europe.
• The place that offers opportunities of a big city and preserves the mesmerizing warmth of small southern towns.
• The city of immediacy, sweetness of life, revelry and scent of ancient dishes made in earth ware.
• The city where you have enough room to be alone when you need it, and always have sufficient number of close people so that you would never feel lonely.
• The city that you must be madly in love with and where you are always madly in love.
• The city from which everybody can get exactly what they deserve. Not more, not less.
• The inexhaustible source of opportunities.