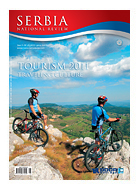 SERBIA - National review no. 25

Prologue
The International Tourism Fair (ITTFA) in Belgrade takes place for the 33rd time this year (February 24th – 27th). Founded as far back as 1978, it has long grown into one of the leading manifestations of this type in Southeast Europe. In accordance with quality standards, it has been a member of the European Tourism Trade Fair Association since 2003. Its membership is also confirmed in the International Tourism Trade Fairs Association (ITTFA).
This year in Belgrade there are 850 exhibitors, of which 139 are from abroad (from 43 countries).
For three consecutive years, one of important symbols of this fair is theme publication of "National Review" dedicated to tourism. The online version of this publication is now before you.
GALLERY
CONTENTS
Prologue
"LOVE FOR HIKING", "CARAVAN", "I WANDER AND I TALK"
Traveling Culture
Vitrage
NUMBERS, EVENTS, INTERESTING THINGS
Beautiful Face of Serbia
GEO-POETICAL ALBUM
Wheel
AROUND SERBIA ON A BICYCLE: FROM PRILIKE TO ŠTITKOVO, AND BEYOND, FAR BEYOND
And on Mučanj You are Speechless
When fog slowly covers the wet mountain, you can escape only by going upward. These landscapes, above the clouds, are not far but high. And when you get there, what you can see from above really makes you speechless. There you will encounter the peak for some reason called Jerina's City and a plateau called Jezero, memory of the best armorers of the Nemanjić Serbia, potatoes and kajmak that are not easily found, and other boons from the Zlatar region will also shine with their golden glow. People, before all
Text and photographs: Dragan Bosnić
Flow
RAFTING AS PLEASURE, EXCITEMENT, ART OF LIVING, POPULAR THROUGHOUT SERBIA
Life Is Sailing
The opinion that Serbs are afraid of water is only one of the jokes they planted to themselves in self-defense. The truth is, regattas, rafting, sailing on wild and peaceful waters are regularly organized on many Serbian rivers. The most attractive and most requesting is rafting on the Lim, the most joyful on the Ibar, memorable are also raftings on the Drina, Uvac, Southern Morava, Nišava. Only some rowers managed to see the Svrljig Timok Canyon from the water, as well as Vladikine Ploče on the Visočica
Text and photo: Luka Vesković
On Foot
RECENTLY, TWO GREAT EUROPEAN PEDESTRIAN ROUTES HAVE BEEN GOING THROUGH SERBIA
Grass Has Not Overgrown Our Paths
Since 2007, the Hiking Association of Serbia has been a member of the European Pedestrian Association. The latter has over six million active members in 26 countries. Serbia is among few countries in Europe with as many as two pedestrian routes. One of them, the route E4, goes from Tenerife to Cyprus. It has encompassed 1,200 kilometers. The other, E7, goes from Lisbon to the Black Sea, and has been covering over 2, 000 kilometers. This is a great opportunity and yet a huge test for the Serbian local environments, their touristic potentials and organizations. It will be a moment of facing the reality. The tourist associations will be as engaged as they are worth the engagement
By: Dejan Bulajić
Discoveries
THE GREATEST AND MOST EXTREME CANYON IN SERBIA, DISCOVERED ONLY LAST YEAR
A Gem in the Bosom of the Star
At two and a half kilometers of length, the canyon rises, becoming higher than 500 meters. From its entrance to the descent to the Drina (by the Lake Perućac), over 40 waterfalls have been discovered. The waterfalls are five to 40 meters high! Those who have discovered them, alpinist Nemanja Nešković and spelunker Ivan Nastić, claim that the canyon has ranged among the most beautiful and exciting alpine canyons and that soon many will be able to verify this. A more detailed research and equipping will begin in spring
By: Danijela Petrović
Archipelago
ADA ON THE SAVA, ISLAND OF SINGA, SINGALIJA (CIGANLIJA), THE THIRD MOST BEAUTIFUL RIVER ISLAND IN THE WORLD
Love Line on the Palm of Belgrade
According to the list recently published by "Virtual Tourist", as we have already written, preceding it are only Île Saint-Louis in Paris ("example of the French feeling of measure") and Kampa on the Vltava ("the most romantic part of Prague"). Then follows a list of very famous names. Branislav Nušić called Ada the Water Flower, many painters dedicated a big part of their lives and many works to it, and Momo Kapor, our Momčilo, a whole novel. It is where Libero Markoni made some of his wildest lunches on the grass. This is where some of the world champions in many sports began their careers, such as the great rower Nikola Stojić. Ada marked many youths and old ages of Belgrade for eternity
By: Nenad Despotović
Photo: Dragan Bosnić
Touring
IN THE NORTHWESTERN PART OF SERBIA, IN THE AREA OF SOMBOR, PERSONAL INITIATIVES BEGIN CHANGING TOURISM
Do What Is Up To You
We used to laugh at the aphorism: "The safety of deposits is guaranteed by the dying state." Then we painfully recognized that this is no joke. That is why the people of Sombor, while waiting for more convincing proof the state exists, decided to start tourism from zero by themselves. After restoring the town center, they are announcing a series of programs, such as gastro-weekends oriented towards the markets of big cities. The horse carriages, salaš estates, tamburitza players and paprika stew well known from famous songs are regaining their old meaning, and the white ship is waiting in the neighborhood, only slightly tied
By: Radmila Tamindžić
Research
WHY SHOULD THE MARKETING STRATEGY IN SERBIAN TOURISM AND ITS RESULTS BE FUNDAMENTALLY REEVALUATED
Everything Is Already Invented
Everyone has been agreeing for years that the Serbian income from tourism is far below other neighboring countries with similar potential. And that's it. The causes? The consequences? Reevaluation? We made a research about the growth of tourism economies in Hungary, Slovakia and Austria, and, at the same time, about what is done in Serbia, which had a drop in 2010. We had a number of questions for the competent people of Serbian tourism, but for most of them never received answers
By: Olga Vukadinović
Treasuries
CULTURE AND TOURISM: SEARCHING FOR BEAUTY, KNOWLEDGE, MEANING
Illuminated by the Light of Inspiration
A powerful motive for traveling, even a kind of tourism, is to see important museums, galleries, works of art, libraries, thrilling edifices, archeological sites which completely change our view of the past and the future. Millions of people visit Paris, Vienna, Prague, Barcelona, Florence, Athens, St. Petersburg for these reasons. What can Serbia offer in that aspect? How interesting are Lepenski Vir to foreign travelers, a civilization more than 7.000 years old, the oldest alphabet in the world, the place where the first metal in history was produced, or the place where the oldest known larger sculptures in the world were created, temples which are the highlights of medieval sacral art?
By: Dejan Đorić
Greetings from...
SERBIA ON OLD POSTCARDS, ITS TOWNS, PEOPLE, LANDSCAPES
Nostalgic Chronicle of the Past Times
They appeared in the "big world" in the late XIX century, and shortly after in Serbia. They soon became popular, an interesting social phenomenon, brought people closer. They were part of the culture of traveling, they had the role of a travel log, as well as propaganda (media) and advertising. In them we see refined city blocks, buildings, panoramas, spas, monarchs, important events… Today, in the electronic era, when they have almost disappeared from our lives, they are a valuable historical source and a beautiful memory
By: Jovan Gajić
Illustrations: Collection of Dragan Bogičić
Old Masters
A SENTIMENTAL GEOGRAPHY
Love, like Air, Winds around the World
It is hard to explain to kids today, when with one click you can check whether the beach in Cape Verde is crowded or enter the most secret parts of the Louvre. And when everyone thinks that, using copy and paste, they can become travel writers or reporters just like that. We will now remind of the times when true masters walked the roads of the world. They prepared for months, read everything they could find about the places they were heading to. Those who were able and knew. They taught us how to travel with our whole being and through the whole world, how to really watch and listen, recognize colors and scents, taste food and wine, remember melodies and shadows, eye beauties and kilometers. They were pilgrims full of love and reported about it
By: Petar Branov
Catalog
A FEW NOTES FROM BANJALUKA CITY GUIDE, CAPITAL OF REPUBLIKA SRPSKA
A Fair City on the Vrbas River   
Referred to as the city of culture, city of youth, city of sports, and city of fair ladies. One ćevap is named after it, known also for its green river, fortress, museums, university, "Borac", "nektar" beer, dajak boat, for poems that sprung it into fame and writers from the entire Krajina that rallied around it, for extraordinary hiking, cycling and extreme sports terrains in its vicinity
Road Sign
Pulse of the "Southern Capital"
Tourist Organization of Niš has focused the promotion of its city on its cultural and historical heritage and the fact that Constantine the Great was born there, the "most significant of all Roman emperors, the one who baptized the Empire and changed the fate of Europe". In 2013, central celebration of 1700th anniversary of the publishing of the Edict of Milan will take place in Niš, and on that occasion, the Serbian "Southern Capital" will be the focal point of Europe
Recommendation
HOTEL "AQUASTAR DANUBE" IN KLADOVO, A NEW QUALITY STANDARD ON THE DANUBE RIVIERA
Glow of the Danube Star
At the point where this river is the longest and widest, the deepest and the most tame, at 250 kilometers from the exit from the Iron Gate, this top quality Center for Vacation and Recreation has soon become an important address of the Balkan tourism
By: Sonja Belić
Notebook
NORTH SERBIAN PROVINCE, ALL OF ITS ELEMENTS AND TOURIST MAGNETISM
Vojvodina is Mentality
Thus spoke Isidora Sekulić from Vojvodina, the great lady of Serbian literature: Vojvodina is not space, but mentality. A character. As landscape of Vojvodina is scenic, streaked with the rivers, lakes, the Fruška gora Mt. and the Vršačkim Mt., the life itself is fertile and exciting here, since everything is interwoven. The climate, the customs, the languages, the cultures, the sensibilities… "The various abundance and fullness exist here, that's why everything is so flat to the people form Vojvodina"
By: Helena Duković
Guide
BEOČIN, A PRETTY TOWN "EMBRACED BY THE DANUBE AND FRUŠKA GORA"
Facing the New Century
Exceptionally located, leaning on one of the most beautiful national parks in Serbia and by far the most powerful river in Europe, in immediate vicinity of Novi Sad, formerly the "city of cement" and today also the city of wine, healthy food, interesting cultural and tourist events – Beočin is ever more clearly and confidently finding its place on the tourist map of its own country and the wider region. To support this, here are several fragments from publication "Beočin from the Heart", which is used by the people from Beočin to invite their guests
Centers
SKIING IN BANSKO, WINTER CENTER IN PIRIN OF EUROPEAN LEVEL, WITH A TOUCH OF THE PAST
Gate of the Bulgarian Alps
Modern ski tracks and tourism infrastructure, extraordinary natural features, rich ethno heritage ranging from architecture to music and gastronomy, the authentic charm of the cobblestone streets and numerous small shops, took this small town in northeastern Pirin into the very top of winter tourism on the Old Continent. Here is what the editors of National Review noted
By: Mišo Vujović
Photo: Dragan Bosnić
Knowledge
PROF. SLOBODAN UNKOVIĆ, PhD, FROM THE SINGIDUNUM UNIVERSITY IN BELGRADE
Tourism Is Noble Work
There are no working hours, much energy and knowledge are necessary, constant improvement – says the reputable professor. Tourism in the world has a faster growth than the total economic growth, and such a trend will continue. The annual number of tourists is 936 million and the consumption amounts to 1.100 billion dollars. Estimations are that there will be one billion and 400 million tourists in 2020. Serbia is achieving humbler results in tourism than it could or should considering its natural and cultural resources, but the 4-5 percent growth is encouraging
By: Rozana Sazdić
Photo: R. Sazdić and Singidunum University archive
Knowledge
THE COLLEGE OF HOTEL MANAGEMENT IN BELGRADE, THE HIGHEST LEVEL OF SERBIAN EDUCATION IN THE FILED
A String of Shiny Medals
"Whichever side of the world you head towards, you will build a global reputation through our gates of knowledge!" says Slavoljub Vićić PhD, the manager, in a welcome word addressed to his students. For those who adhere to quality principles, which create the basis of CHM's operation, this soon proved to be true. This may be supported by a large number of gold medals in all occupations falling under this profession, ranging from hotel and restaurant, to gastronomy and confectionery business and knowledge of wine
Knowledge
THE COLLEGE OF TOURISM IN BELGRADE WITH THE LONGEST TRADITION OF EDUCATION IN TOURISM
Constant Broadening of Concepts
In addition to certified high-quality academic programs, this school has an outstanding international cooperation, publishes a magazine, designs and organizes events (professional events, fairs, art competitions, festivals), has cultural-artistic and sport society…
Acknowledgments
"MERKUR" SPECIAL HOSPITAL FROM VRNJAČKA BANJA, STANDING PARTNER OF "NATIONAL REVIEW", RECIEVES ANOTHER VALUABLE AWARD
Gold Coin of Emperor Dušan
In the traditional choice of the Club of Economic Journalists, it was agreed that "Merkur" marked the past decade in Serbia, achieving outstanding results in its area. The award ceremony in the crowded auditorium of Belgrade National Theater was attended by state leaders of Serbia and Republka Srpska
Guidelines
GOLF CENTER IN ŽABALJ CONTINUES ITS PIONEER AND BUSINESS MISSION
Applied Philosophy of Golf
Golf has its rules, ethics, refinement and style. It builds a clear system of values and recognizable view of the world. It gives an equal chance to everybody, but it singles out and positions the quality. It inspires virtue. Its principles can be applied on life and business, personality and community. It shows that the most important match is the one that one that a person plays with him/herself. You will learn all this through programs and offers of the Golf Center, with ease, joy and positive identification