Virtue and Skill
OHRID PEARLS OF THE RISTESKI FAMILY AND SECRETS OF THEIR MANUFACTURE
Precious Jewelry Made of Fish Scales
Old crafts are dying out, real artisans dedicated to them are increasingly rare, everything is flooded with cheap jewelry from the Far East spat out by huge ocean liners and distributed by general purpose smugglers. And where they do survive, old artisans watch with sadness how the senile barbarians of the global nomadic world reduce them to local exotics, folklore and tourist-circus attraction. Fortunately, there are exceptions. Ohrid pearls, for example, and almost alchemical method of their manufacture. This is what we learn from Blagoja Risteski, exquisite young artisan from one of only three local families that are truly committed to this craft
By: Slobodan Klisinski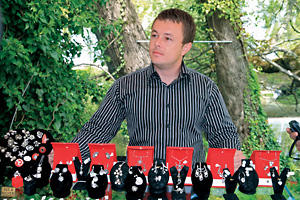 It is not known for sure who was the first to start emulating nature by manufacturing Ohrid pearl, but it is quite certain that this skill, at first guarded with jealousy, originated in the mid 20th century. In 1954, the fame of jewelry made on rare local workshops reached not only the then Yugoslavian, but also international standards.
There are only three families that are involved in the production of Ohrid pearls today, and one of them, the Risteski family, has left the lead in this business to the youth. Pearl, as a symbol of Ohrid, just like the beautiful jewelry that ennobles it even further, can now not be imagined without Blagoje Risteski, artisan and businessman in his late twenties.
Blaže and his brother are still relying on experienced eye and hand of their father Pavle, and he does not hide that he learned everything about the pearl business from his father, whose tools are still the main inventory in their workshop. That is how it will be, he says, when Blagoje's son, now only a tiny kid, grows to become a craftsman or artist, no matter how they organize the work around pearl jewelry, because there is no sharp boundary.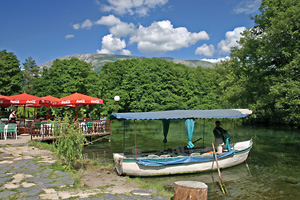 There is an old Arabic saying: "When God's rain falls on a good soil, the wheat sprouts, when it falls to the sea, pearls are born!" Nice for a legend, but far from reality! Pearls originate in the interior of a sea shell, as its reaction to a grain of sand or another foreign particle that entered its housing. In time, the grain of sand is layered with fine pearly material (combination of carbonates and proteins) secreted by the shell, in order to prevent the foreign object from damaging it. Only about twenty species of sea shells, out of several thousand, can produce such a jewel.
Natural pearls are today very difficult to find and are very expensive. Fortunately for the "common people", in 1986, Kokichi Mikimoto, a Japanese, patented a method for inserting tiny particles into sea shells. The shells would afterwards be returned to water, and then taken out again after certain time, but then with produced pearls. Today, there are several thousand farms in the world that produce cultivated pearls.
AND EVERYTHING IS DIFFERENT ON THE BALKANS
– Ohrid pearl is not an expensive gift from the shell, but plašica, according to the biologists the oldest fish species in the Ohrid Lake. From the scales of this grayish-black unpresentable fish, through long boiling, in accordance with proven recipe, we get what we call "emulsion" – says Blaže. – We can put about 700 kilograms of fish scales into grandpa's caldrons, almost entire ton, and through careful boiling and stirring, at the end of this process we get a couple of dozen kilograms of "emulsion", the consistency of which is the most similar to pudding. And that is only the first stage of creation of our pearls.
Then we select the most beautiful grains of pearls taken from a real shell, which is followed by long varnishing in many coats. Their number, drying periods, as well as "spices" that must be added, are the family secret. Not only the size of each piece of Ohrid pearl, but the strength of its structure will depend on it, and, before all, its color. We must remind you, it is an ornament.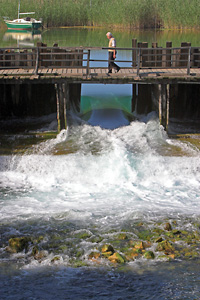 – Pearls have the so called primary and overflow shade. Overflowing of colors is the result of reflection of white light on pearl layers between carbonate and protein. The thinner the carbonate layers are, the more beautiful pearl glow is. Variations in color of this precious ornament are impressive: pearls can be white, with beige, orange or purple reflection, pale yellow, greenish, marine blue, silver-gray and black – explains Blaže. – In Europe, white and pink, round pearls with a regular shape have been highly valued for centuries. Africans and Arabs prefer yellowish and golden ones, Asians like marine blue and silver, and Ohrid pearl can satisfy everybody's taste, although originally it has elongated shape.
Risteski is keeping the family secrets, but does not hide his own. He admits that a finished, perfect Ohrid pearl is for him only the beginning of enjoyment in his work.
– Embedding a pearl into a piece of jewelry is a real challenge for me. When I manage to transfer an idea from my imagination into a ring, brooch, pendant, bracelet or necklace, I am overtaken with joy. Every new piece takes its first exam before the family members. They are always here, like both jury and accomplices, but there is no conflict of interest, or compromise with the production of large batches. Jewelry is worth only when it is unique and unrepeatable for those who wear it. It is not acceptable to buy a pearl from a cluster of same necklaces or bracelets hung on a wedge or rope – says Blaže.
POVERTY IS AN ALLY OF CHARLATANS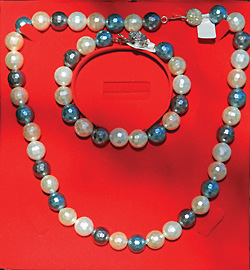 We know that he speaks about those Far Eastern products – plastic pearls painted with a pearl nail polish – which have long been a part of daily street offer at the quay or Ohrid market, where minor general purpose smugglers use it to cheat uninformed and naïve tourists.
– People in poverty are trying to manage in different ways, even in this cheap "pearly way". The fact that the pearl nail polish is flaking already at the first packaging is rarely noticed by the buyers. And when they depart with such a souvenir, nobody cares any more – says Risteski.
Ohrid pearl of the Risteski family is inextricably connected with the ancient town and the lake, but the business has branched out all the way to Skopje, Belgrade, Sofia and other capitals across the Balkans. And it keeps branching out. True, full prohibition of fishing at the lake, which includes plašica, makes it difficult for them to find raw materials and so they have to go to the Drim, where there is less of it, but they still do not have to worry about their future.


Blaže claims that this business can provide a decent living. He does not hide that the current market price of smaller pearls, 6-8 millimeters in diameter, is about 15 euros.
– Jewelry is, of course, more expensive, but it is not out of reach, and so a massive necklace for girls costs about 150 euros. Sets of jewelry are probably quite expensive for an average buyer, but they should find consolation in the fact that world jewelers, for a necklace made of black pearls, each of which has a diameter of at least 12 millimeters, but also a "pedigree" (documented story on previous famous owners), can achieve the price of up to one million dollars at auctions – concludes our respondent.
***
Legends
Many do not know that pearls are the oldest precious jewelry. The first written account about them is an ancient Sumerian clay tablet from 2300 BC, on which a pearl is described as a "fish eye". Ancient Greeks used to call them "Aphrodite's tears of joy" and believed that it is moonlight encased in a dew drop. In traditional Chinese culture, pearls symbolize immortality or perpetual regeneration of life. Indian legends describe pearls as fruit from magical bamboo that grows on the "paths of the gods". According to old Vedic literature, pearls extend life. It was believed that they provide protection to warriors, who used to fasten them to their shields as amulets before going to the battle.
***
Magic
Ancient legends also ascribe to pearls magical love attributes. Historians claim that Cleopatra was using them, magically dissolving them in wine, in order to conquer Mark Anthony. Beautiful Roxane, a Persian princess, on the day of her wedding with Alexander the Great, gave to him a pearl necklace in order to kindle his love for her even more.
Pearls also symbolize purity, innocence, modesty, honesty, loyalty, joy. It is also believed that they bring those qualities to those who receive them. They are worn at weddings, but also on other occasions. They provide additional elegance to a sophisticated evening gown, make all cocktail dresses far more elegant, as well as the famous small black dress, and they are gladly worn by business women with they costumes.