Examples
ELEMENTARY SCHOOL "SVETOZAR MARKOVIĆ TOZA" IN DETELINARI IN NOVI SAD
A School Tailored to Children
It is the easiest to just go with the flow, hide behind common places, to shrug with one's shoulders. There is no money and no motive, the laws and the legislator are bad, terrible disturbance in the society reflects on the school, destroying the system of values. But personal effort, creativity and solidarity always reassure us, over and over again, that positive examples have strong and effective power. And that not everything is lost, that it does matter, and is not in vain. Here is another such example from the "Serbian Athens"
By: Helena Duković
Elementary school "Svetozar Marković Toza" in the settlement of Detelinara in Novi Sad, for children from this neighborhood, is everything but a hated obligation. In well equipped modern classrooms, with the latest educational tools, and thanks to committed teachers, gaining of knowledge here is real fun. The crown of all this effort is the success of pupils in numerous competitions, as well as large percentage of those who enroll at high schools of their choice. Director Petar Narančić speaks with pleasure and pride about his pupils and teachers.
– A school should provide best learning conditions for children, even better than those that they have at home. The success is then unavoidable – he says. – All classrooms are furnished with modern equipment, we have eight multimedia cabinets for interactive education, two computer classrooms with 30 computers in each. Additionally, we can laud ourselves with a library with 18,000 books, and this number is growing each year. The school has 1,350 pupils divided into 51 classes, but the number of pupils is growing each year, because more and more parents want to enroll their children here.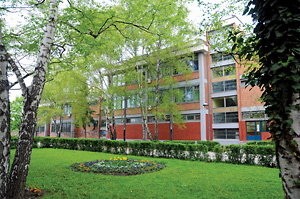 In addition to funds received from the city authority for education, the school also receives money from parents for this arrangement. A large part of educational tools was purchased from donations.
– When we do something new at the school, we first call the parents who helped us and we tell them where and for what their money was spent, because it is normal that each parent wants the best for their kids, especially when this is directed toward the right goal – explains Director Narančić.
COMPETITIONS AND AWARDS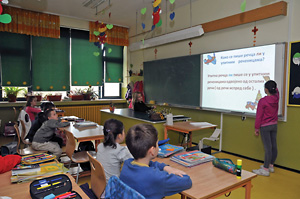 Pupils of "Toza's School" appear at all competitions organized by the Ministry of Education of Serbia and, for many years already, they have been crowned with numerous cups and medals. Only in the past three years, at the state competition, they have placed 1st and 2nd in geography, 3rd in Serbian language, 1st from rocket modeling, 3rd in chemistry... Additionally, they placed first in Vojvodina in robotics and chess. They are especially proud of gold and silver medal won at the Intellectual Property Fair "Archimedes" in Moscow, which they won in 2008 and 2009. They participated at the Innovation Fair in Seoul, and the award was taken, on behalf of the school, by the Serbian ambassador in South Korea.
– We are trying to ensure that work and success in our school are always awarded. Every year, about 50 pupils who achieved good results at competitions, are sent by the school to a prize trip. Last year, we rewarded two pupils and one teachers, who participated in the fairs in Moscow and Seoul, with a three-day visit to Vienna – say Director Narančić.
LEARNING THROUGH PLAYING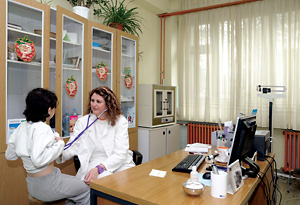 Thanks to the application of contemporary technology and active participation, the students of "Toza's School" gain knowledge much more easily and quickly. They prepare their own presentation from school subjects, use literature, internet and other available resources. Recently, they covered the historical subject "Dressing through Centuries" in this manner, and created a power point presentation of costumes, showing in an imaginative way how people in the past used to look like, what kind of clothes they wore, and also showing the symbolism of each piece of garment.
In geography, in order to best present a particular country, teachers and students organize a public class. Through dance, song and traditional clothing, they would present a selected country, with guest appearance of a cultural-artistic society with dances from that country, the school kitchen prepares traditional dishes of that national cuisine...
PUPILS ALSO HAVE THEIR SAY
The school parliament is an important institution here, which enables pupils to actively participate in the life of their school. Isidora Brankov, a student from VIII2 and Vuk Laćarac, a student from VIII4, members of the School Parliament of Elementary School "Svetozar Marković Toza", say that they meet once a month at the school and discuss the upcoming activities. Currently, their agenda involves the selection of the best student in the generation, as well as the best arranged classroom. They also conceived an art and literary open call, and the committee is comprised of both students and teachers.
– At a recent meeting with a member of the City Council for Education, which was also attended by students of other elementary schools from the city, they also discussed school violence. We were very surprised with stories about violent behavior of children in other schools, because such things do not happen in our school – says Isidora.
In order to ensure even better safety of children, they are currently introducing student identity cards.
SCHOOL PARTIES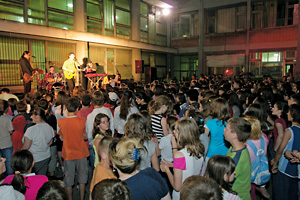 Elementary School "Svetozar Marković Toza", just like in tha famous children's song, "cures laziness and loneliness", but is sometimes "working at night". We frequently organize parties here! Children are on a safe place, with their peers, and the parents can be at ease because they know where and with who they are. For example, every year for the Valentine's Day, we organize a big party, the real experience for teenagers. They also mount special boxes where "personal messages" can be left. And on June 5th, the entire Detelinara gathers around the school, because former and current students come to celebrate the School Day. On this occasion, we organize an open air concert, with a big stage, good sound system and fireworks. Traditionally, the band "Apsolutno romantično" from Novi Sad plays here on that day, assisted by the students. For senior students, the New Year's Eve celebration is also organized at "Toza's School".
– The idea of spending the New Year's Eve at the school is very well accepted by both children and parents. Seventh and eighth graders are at the age when parents are not sure whether to let them go somewhere for the New Year's Eve by themselves, and they certainly believe that they have overgrown being at home for that occasion. That is why having this party at the school, where they are safe, with their friends and teachers, is a great thing. The celebration begins at 10 PM and lasts until 2 AM – says Director Narančić.
NEW FLOOR FOR NEW FIRST GRADERS
Every school is like a big household, it always needs maintenance and new investments. "Toza", with the assistance of European Investment Bank, is currently implementing a project within which they would build another floor and cover the entire school with a new roof.
– In recent years, as I've said, there is a great interest among parents to enroll their children here. Since recently, first graders can enroll at any school, not only the one they belong to based on their place of residence. That is why we can really use another floor. Among other things, it will also enable us to have the junior students attend only the morning shift – explains Director Narančić.
***
Sections
In addition to regular classes, the students, in accordance with desires and talents, can choose among as many as 23 different sections. They can be found for all school subjects, various athletic ones, but also some very unusual ones that attract great interest, such as Florist Section.
***
Infirmary
Elementary School "Svetozar Marković Toza" provides full healthcare for its students, through dental and pediatric infirmary. When a child falls ill, it does not have to make an appointment and wait for examination at the office of the Healthcare Centre, but can complete everything that is necessary at school.