Introducing
GORAN ĆIRIĆ, GENERAL MANAGER OF JP PTT COMMUNICATIONS "SRBIJA", FOR "NATIONAL REVIEW"
Institution that is Closest to the Users
Efficiency and benefits of this system are continuously growing. Full automation of parcel processing is being introduced in new postal centers in Belgrade, Novi Sad and Niš, which will additionally shorten the periods of delivery, increase reliability and enable tracking of your parcel at any moment. Another significant improvement is introduction of a new system of parcel transfer, both electronic and physical. People will soon be able to perform a significant part of administrative activities, such as obtaining a statement or certificate, in the nearby post office. "Serbian Post" will also be servicing an individual export of products manufactured by small enterprises in the amount of up to EUR 6,000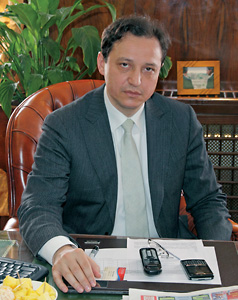 Today, when many people live at a fast pace and only have short term plans, people in "Serbian Post" have been largely prepared for operations in the upcoming half a century. Teams of experts of this public company, which celebrated its 170th birthday last year, have built the foundations for the transactions that will also be a support to our offspring.
– We finished the last business year with net profit in the amount of RSD 4.65 billion, which makes it more successful than the previous years (in 2009, our profit was 3.8 billion, and in 2008 it amounted to 2,7 billion). Also in the first quarter of this year, although we do not have final balance sheet, it is certain that the results are even better than in 2010, i.e. that the tendency of growth is continuing. It is important that in this we are implementing some key projects, which will ensure long term sustainability and stability of this system. We invest our profit into the future, maybe even 50 years ahead – says Goran Ćirić, General Manager of Public Company PTT Communications "Srbija" for National Review. This electric engineer, born in 1960, dedicated his working life to information systems. He has been working in the field of information industry since his first employment in 1985. For a while he was a mayor of Niš, and then he returned to his vocation.
– As far back as in 1971, it was decided to build the main postal center Belgrade, for the needs of the former large Yugoslavia, but it is only now that we have began this construction. We are going to introduce full automation of parcel processing in postal centers in Belgrade, Novi Sad and Niš. Deadline for the completion of construction works is March of 2012, and it is planned that the entire system would be fully functional by the end of that year. We are investing about EUR 40 million into it, from our own funds, without loans. For our users this means shortening of delivery periods, reliability and possibility to track status of a parcel at any moment. On the internet, by telephone or directly in our offices, they will be able to know exactly where their parcel is, not only in the country, but in international traffic as well.
ADDRESS AND OTHER CODESA
In this domain, the quality of service is measured by delivery periods. Three years ago, about 40 percent of parcels would be delivered in one day, and about 66 percent in two days. Today, about 78 percent arrives in a day, and about 96 percent in two days.
– This means that we have achieved a high level of postal service, close to the world standard, even without full automation – explains Ćirić. – Each percentage of further improvement, and each is very important, will require great efforts and investments. And exactly that will be enabled by new postal centers. Anyway, this is the main task of a postal company: to transmit a message, letter or parcel from point A to point B as fast, efficient and reliable as possible. However, thoughts about the future and perspective of the post as a system, both in our country and in the world, have today crystallized new standards and goals, in accordance with the growth of communication and information technologies. We must continuously have this in mind, and must not miss this step.
In the past three years, "Serbian Post" has marked the growth of physical volume of operations, says General Manager Goran Ćirić, but the future is in a combined (hybrid) transmission of letters: electronic and physical. In order to send certain parcels that are printed in Belgrade to Subotica or Vranje, first you have to load millions of parcels into trucks, to transport them, make expenses, pollute the environment by using means of transportation, and in all that you have a slower transmission.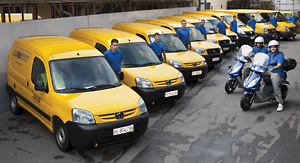 – That is why we developed distribution printing centers in Novi Beograd, Niš, Kragujevac, Kraljevo and Novi Sad. We send electronically data bases to all these centers, and then we print them there and submit them to end users. That is how we shortened the delivery time and reduced costs. For example, we have an agreement with the Electric Power Distribution of Serbia on the printing of receipts. They send us their data base electronically. We, at our centers, create delivery itineraries for every mailman, who then gets receipts packed in order and submits them to the end users. Through optimization, we facilitate the work of our delivery personnel, shorten the deadlines and become more efficient.
In this, says Director Ćirić, the address code is the prerequisite for each parcel to get to its user. For example, in Belgrade there are as many as ten streets with the same name and, therefore, you have only ten percent chance to deliver a parcel addressed to such an address to the right user. That is why "Serbian Post" has developed its geographical information system, where every location is marked with its address code that can be read automatically by the machine, so that every parcel is sorted out and submitted to the correct address.
– Each one of our users has been informed about this and many institutions have accepted this. The system is the fruit of our intelligence and creativity, it was developed by our expert and we have received awards for it. President of the World Postal Association, Mr. Edward Diana classified our address code among the best in the world and recommended it to other postal companies. Regional postal companies are interested in it and I hope that we will sell these solutions to others.
GREAT DISTRIBUTION POWER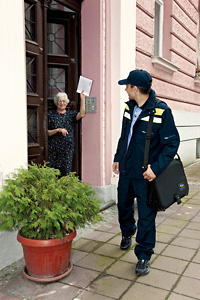 In early April, a post office was opened in Belgrade, with a technological application that should integrate all processes within the system (receipt of parcels, financial postal services, retail...), in order to increase efficiency at our desks. With its 1,500 units across the country, "Serbian Post" has also been activated in the areas that were, until recently, considered as beyond its scope of activity.
– Our desire is to ensure that these units represent a kind of universal access channel for all state institutions, without a need to increase administrative capacities. We can offer a service of mass processing, such as recording the rights to free shares. You have witnessed that we completed this process, technologically and technically in an extremely successful manner. Five million and one hundred thousand people completed this process at our offices and you could have not heard about a single problem, not a glitch in the operation of that system – says Ćirić. – In this process of trading in securities we have shown that we are an institution that is the closest to the users and citizens, and demonstrated our distribution power. That is why we are considering to connect with local self-governments, with 175 municipalities and cities. We are easily accessible and efficient, so that our citizens would no longer have to go to different offices to collect certain documents (birth certificate, certificate of citizenship, or other certificates), or to travel to their hometown. For such an endeavor we have excellent understanding of Minister Milan Marković, which is a great stimulation for development of the future electronic administration in Serbia. We will cooperate in a similar way with the Ministry of Interior ass well.
Of course, there are limitations and obstacles that should be overcome. It is necessary to produce good quality equipment, personnel of "Post" must pass the state exam in order to be able to perform this type of work, but this model also has numerous advantages. The "Post", says Director Ćirić, can perform, with a good quality, majority of services that the state administration is supposed to be providing for citizens, and postal offices are practically at a walking distance from every household.
– We will also work on a stimulative simplification of customs procedures for export of products made by micro, small and medium sized enterprises, and there is about 330,000 of them – says Ćirić. – This project is supported by our Prime Minister. It would provide assistance to manufacturers, so that they could export their products. Currently, they need seven to nine documents in order to export a certain product, and this could be reduced to one electronic document. This would reduce costs, shorten the procedures, users will have available our transportation services in local and international transport, payment would be secured, and in a certain way the market for potential export... Because, at this moment, it is difficult for a small manufacturer to market something in a foreign market, and this would be significant fro all our people who are involved in small business.
***
The Beginnings
In 1830, pursuant to Sultan's decree (Hatiserif), Serbia gained the right to independently organize its postal traffic. Fiver years later, this enabled it to sign the first international agreement with the English government on organizing courier service for the transport of parcels from Zemun to the border with Turkey. Based on the census from that year, Serbia then had 29 postal offices, with 540 horses. The first post office was built in Belgrade, on Kalemegdan, and was formally opened on June 7th, 1840, which is today celebrated as the Post Day in Serbia.
***
Laws
The first Postal Law in Serbia was adopted in 1866, and the first stamps were issued that same year. In Ben, in 1874, Serbia was, together with representatives of 21 contries, registered as a founder of the World Postal Association. After World War Two, the "Post" operates as a state owned company. In 1990, Public Company PTT Communications "Srbija" was founded, and was later transformed into holding. The Law on Postal Services, modeled after similar laws in the European Union, was adopted in 2005.
***
Export
– I hope that we will obtain a positive response from the Customs Administration and the Chamber of Commerce, so that "Serbian Post" could service individual export of products manufactured by small enterprises in the value of up to EUR 6,000 (which is prescribed by our law) – says Goran Ćirić, General Manager of "Serbian Post". – Without entering into the domain of large transportation companies, this simplified customs procedure has been a great stimulation for small businesses around the world. Brazilian post offices, for example, in only two years of work under a similar model, with their limit of USD 10,000, increased export level by 60 percent! Why wouldn't we do the same? Only in the American state of Illinois there are about 300,000 Serbs. Many of them would want to buy something from their country. Our people in Serbia can produce many things, but they do not know how to market these products abroad. Well, we are here to help them, without administrative hurdles. We have teams who are working on this project, and the deadline for implementation is June 7th, the Post Day.