Knowledge
PROF DR MILOVAN STANIŠIĆ, RECTOR OF "SINGIDUNUM" UNIVERSITY
Learning as the Best Investment
"Established to provide the best modern education and to respond to real needs of the economy and the state, 'Singidunum' actively cooperates with over 40 renowned international universities and a large number of companies. Students are in the centre of education and everything is subordinated to them. That is why our students are motivated and show an enviable level of creativity. We enable each student to develop in accordance with his/her needs, to build him/herself as an expert and as a person. In this, the state is provided with personnel that meet the highest standards and in accordance with the needs of the economy, and we are satisfied because we complete an important mission and enable young people to be successful, to be better people, to be better than us"
By: Roza Sazdić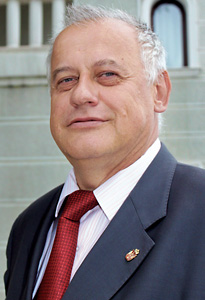 For twenty five years he was a professor at the Faculty of Economy of the University in Belgrade. He taught accounting and financial subjects. He was also involved in informatics, had his own company. In 1980's and 1990's he worked on over 700 projects and built a capital that enabled him to realize his plans. To transfer his knowledge to others, and to hire other people who know what he does not. He is currently at the head of a university that, on one location, can offer knowledge in the area of finances, insurance, business informatics, tourism, hotel management, engineer management... And opportunities that he himself did not have while he was a student and later professor at the state owned university.
– Regardless of the times, we should invest in ourselves. Learning is the best investment. And, rest assured, times will come for you to materialize that. Modesty is the basis for success, patience, commitment to work, respect toward people, as well as well defined plans – he says.
How did you get the idea to establish "Singidunum", the first private university in Serbia?
There are good quality study programs at our state owned universities, but I was displeased with many things. Without putting theory and practice together, especially in economy, there is no future. For example, if a professor only teaches from books and is not concerned with how that would be applied in the economy, such science is dead. We should not ask students to be crammers and teach them how to become ones, but exactly the opposite!
Today we have nine faculties and 12,000 students. I am especially proud because we have stimulated many young people, because they have proven themselves as leaders and persons who think well. Some of our students are already making millions, run their own companies, some work in representatives of large international corporations, and are transferred to holding companies because of business results. Will they return? Generally, this is good for the entire country because those young people were trained to create events. And success is then not accidental.
UTILITY VALUE OF A DIPLOMA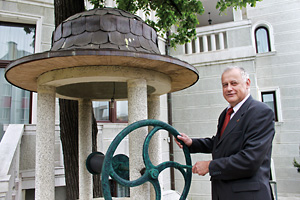 Singidunum cooperates with several eminent universities in the world. What are your experiences, do you identify differences?
We are currently cooperating, on various levels, with over 40 eminent universities in the world. Cooperation is two-directional both through exchange of students and exchange of professors. One month ago we were in China, we had very good negotiations and we signed an agreement on business-technical cooperation. For example, we have created conditions to exchange students, professors and scientific-research projects during the next academic year with Beijing University. The main problem in cooperation with China is absence of campuses in our country. Thousands of people could come, but currently we cannot provide adequate accommodation. China has about two million students, and you can count how many 10 percent is. That could provide excellent income for Serbia. However, Belgrade University (which has so many faculties, 80,000 students, about 6,000 professors, several scientific institutes), unfortunately does not have its campus.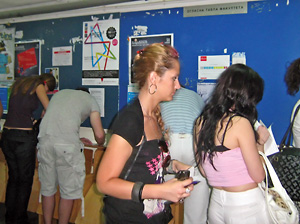 Numbers show that every year an increasing number of students apply to enroll to one of the faculties of "Singidunuma" University, as well as for continued education within masters and doctoral studies?
Taking into account the economic situation in the country, we have not changed the amount of tuition fees. A few years ago we introduced a practice of providing loans. We give certain discounts to students who pay their tuition as a one-off payment, and everybody has available interest-free financing for tuition and selection of the number of installments. That is what we can do. We are satisfied with enrollment, the interest is higher than in the previous years, which is good, because our programs were tailored to the economy and employers, tailored to students and their parents (who are paying tuition).
Programs re realistic, focused on practice and life after graduation. Professional subjects, informatics, mandatory two foreign languages, professional practice, modern textbooks, equipment and quality of lecturers guarantee comprehensive knowledge. This is also confirmed by the fact that our diplomas are internationally recognized in all western countries, and there are a few faculty of that kind in our country. We want, in cooperation with economy, to work even more on catering to the needs of the users. Because, if an employer is not satisfied with the equality of knowledge, all our talk about our good work is in vain. The best assessment of the quality of an institute of higher education is the utility value of its diploma.
***
Fair System
– In Serbia we have several categories of students. Some have free tuition, very affordable accommodation at the dormitory, damping prices of food and the like, and some have to pay everything. That is not fair. I think that we should introduce a system of scholarships and crediting, to be monitored by the state. Each student should be responsible for his/her development, take a loan and repay the contracted amount in accordance with the result. That is much more efficient, more transparent, develops awareness among young people that they should not think about what the state should do for us, but vice versa. The awareness that we should safeguard the state and its stability, develop a good environment for commercial activities. Like Sweden, which has a developed social policy and established good relation state-individual, where the citizens experience the state as their creation. Unfortunately, in our country many people only think about how to milk something from the state.
***
Lessons and Experiences
– We cooperate with over 250 companies and institutions in Serbia, and we establish regional cooperation as well. We want to ensure transfer of knowledge, that a student spends certain time in practice – to see what working in the economy means, what the processes are, which documentation accompanies all that, to see real problems and then to discuss open questions with his/her professors and colleagues. When someone gets a diploma, that person is formally an expert, but the question is whether he/she truly is that. So many things open only after graduation. I have seen this in my own experience. When I graduated from the Faculty of Economy, I had to learn regulations and similar things for three months. I didn't know why a certain document is issued in three, and others in five copies... Nobody taught me that at the faculty, which was excellent.