Recommendations
HOTEL "VRUJCI" IN THE SPA RESORT WITH A SAME NAM NEAR MIONICA
Come, Try, Believe
In this era of merciless bragging, into which a lot of money is invested, people who run this well known tourist, healthcare and sports-recreational center in Banja Vrujci do not like to talk about themselves much. Their artistry and qualities, their possibilities and advantages, they would rather show directly. They are fond of that old saying that good news travels far and bad even farther. They think that their best promoters are those who have already been their guests. Our reporters are now joining that group
NR Press
Photographs: Dragan Bosnić
Among new names in Serbia, Vrujko and Vrujka are some of the most interesting. Mothers who had not been able to conceive for a long time, and then thanks to the beneficial and healing properties of Banja Vrujci managed this, tried to express their gratitude through the names of their children.
Banja Vrujci is located in the basin of the Toplica River, at the foot of mountains Suvobor and Maljen, near the road Ljig-Mionica, at the altitude of 180 meters. It has moderate continental climate. It is 92 kilometers away from Belgrade, and is visited not only by those who come here for a longer vacation, but also by weekend travelers.
In addition to the beautiful local nature, the most precious treasure of this spa resort is thermal water known for its healing properties. This is the spa resort with most swimming pools in the region. Both outdoor and indoor pools, there are 16 of them. Thermal water rich in potassium, magnesium and selenium, temperature of about 27 degrees Celsius, from a depth of about 450 meters, bring to surface the finest mud, rich in minerals and radioactive materials. T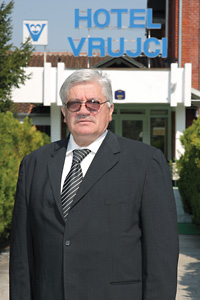 his mud has beneficial effect on skin, which becomes soft and smooth, and relieves pain from those who have bone problems. And like in no other spa centre, water in the pools is here changed by natural means, up to seven times within one day, i.e. every two hours. Outdoor pools are emptied at night, disinfected and then filled again, and are ready for early risers. Of course, the medicinal water can be drunk and is taken back to people's homes, because in gallons it can remain fresh for several weeks.
– For many reasons we have been classified among the best known spa centers in Serbia and the region. Abundance of our springs, and we have five of them, is such that we are using only one well, which provides sufficient quantity of water. We have sealed the others. The best testimony of how medicinal and warm the water here is, is the data that even in the middle of winter, when everything is encased in ice, here you can see storks and hear croaking of frogs nearby, who even at such time would not leave this habitat – saysMilijan Vasić, General Manager of Hotel "Vrujci" for National Review.
UNDER THE PEARL BATH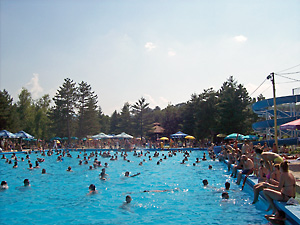 Since ancient times, the area around the springs of Vrujci was inhabited and these springs were used, although the spa resort became famous for its medicinal properties only after the end of World War One. The first baths were built by farmers on their land, and only in 1938 the bath "Vojvoda Mišić" with its two pools was built: for women and men. The first comprehensive chemical analysis of the water was performed in 1958 at the Balneology Institute in Belgrade, and only afterwards the spa resort began to develop as a sports-recreational centre. Two decades later, Hotel "Vrujci" was built, at that time a state of the art hotel, which has not lost any of its beauty until present day. A beautiful park was built around the hotel, full of flowers and sculptures. This unit is a true sports-recreational centre, with excellent possibilities for other activities as well.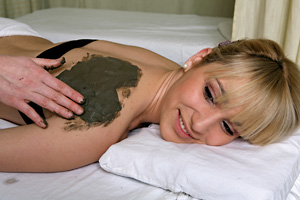 – We have 220 beds (from single rooms to apartments), we have restaurant with 400 seats and a terrace with a somewhat lower capacity. There are well equipped conference rooms, and numerous local and international seminars and congresses take place here (up to two hundred participants). Athletes are our frequent guests: football players (they have a good grass field available), handball players, basketball players, volleyball players (who have a field for small sports available)... We have four tennis courts with gravel, which dry in an instant even after the heaviest rain, and half an hour after the rain has stopped it is possible to play tennis on them. That is why they are frequently used by tennis schools for their summer camps. We also have a fitness club and a sauna. At the spa centre, in addition to unique treatments with thermal medicinal mud and several types of hand massages, younger guests have available Jacuzzi tubs for hydro-massage, and the older ones can take advantage of the "pearl bath" – says Ivan Kojić, Sales Manager at "Vrujci".
SMALL STEP AND A LONG JOURNEY
Nothing connects a person to his or her birthplace like that important thing that his/her ancestors have left for progeny. At the time when numerous villages are dying out and disappearing, in various parts of Serbia, about twenty, today successful, local businessmen of various backgrounds – with the intention to help their birthplace – have created a fraternity and called it "Small Step". The fraternity was founded in the village of Oglađenovac, about twenty kilometers away from Valjevo toward Koceljeva, with a population of about 600. The first thing that fraternity members did was to create a small power station and bring electricity to the village, then to build roads... They have also founded a football club, so that young people could train sports, and the land that they purchased for the football field, they donated to the church. For the past 15 years, every Easter, the restored European championship in egg tapping takes place in Oglađenovac (one of the oldest competitions of this type in Serbia, dating back to the period between two world wars).
And exactly from this village, almost half a century ago, ten young kids carrying a bundle came to Belgrade to learn something. One of them was Milijan Vasić, today General Manager of Hotel "Vrujci".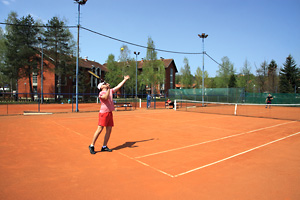 – In the well known auto shop "Kosmaj" in Belgrade I learned the auto mechanics trade. Afterwards, my first specialization was at "Renault", and then I was transferred to the City Assembly. I passed the bus driver exam. I started driving for "Kompas". Tours: French Coast and the Netherlands – says Milijan Vasić. – I see that one can make a living from tourism. So I graduated from the College of Tourism and then from the Faculty of Economy, department for Tourism. And so I get to the Centre for Summer Resorts for Childern and find myself on Jakljan, an island near Dubrovnik, to manage the children's summer resort. After this Yugoslavia fell apart and in 1990's I come to Tara in Mitrovc to take care about refugees. In 1994, Dušan Mihajlović called me and appointed me as the General Manager of "Lutra". Five years later I was elected as the Director of Hotel "Slavija". After the change fo Belgrade government, when experienced experts were removed from managerial positions and replaced by obedient party members, I opened private restaurant "Maksimilijan" at Majke Jevrosime Street (combination of the name of Parisian club "Maxim" and my name), which soon became famous for top quality food and service.
And then, three years ago, Milijan Vasić received an offer and came to Vrujci, as hotel's General Manager. He has returned to his birthplace and his mother, who has always helped him to come out on the right path.
FOR PEOPLE LIKE OTTERS
Menu at Hotel "Vrujci" is rich and carefully conceived. Top quality artisans of gastronomy are in charge of it. How they do this can well be seen in the data that people most often choose dishes from their set menu. They would less frequently choose other dishes, a la carte.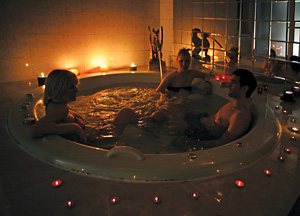 – We primarily offer healthy food. We purchase food products from local households. The fruit that we use is grown at the "virgin land", without pesticides and other chemicals. Dairy products come from a local dairy farm, which has a Hasap certificate, so that they provide equal quality. And meat (lamb, beef, poultry) we buy from farmers who feed them at Suvobor pastures – says Miloje Vasić. – Our focus is on traditional cuisine. Cuisine of this area. There, about one hundred yards from the hotel there is a mill where corn is ground in the old-fashioned way. We use this corn flour to make polenta, proja, the authentic one, not projara. We also have venison. Since we are a partner with local hunting societies, we purchase that type of meat from them. With such a basis, we can exquisitely make everything our guests would desire. We prepare the dishes in the same way as our grandmothers and great-grandmothers used to do. You know, at that time people did not use large quantity of meat in their diet, they knew how to make tasty dishes from vegetables, therefore without cholesterol. It was difficult to see obese people at that time. They were like otters. We prepare food in clay tableware and we also serve in them. Even the greatest gourmets among our guests are satisfied here, and they do not gain weight, do not harm their health.
In addition to various delicacies, here they also prepare special dishes at the prescribed medical menu, under supervision of medical experts for therapeutic and low-calorie diet.
Everybody is bragging mercilessly today. However, you can see the difference between real artisans and the others as soon as you come somewhere and try all that. That is why we invite you: come and try.
***
Medicinal mud
Thermal water and mud at Vrujci spa resort are used as medicine in the treatment of diseases of locomotor apparatus, inflammatory rheumatism (rheumatoid arthritis), degenerative rheumatism (arthrosis, spondylosis), extra-articular rheumatism, elevated blood pressure, anemia, neurasthenia, gynecological diseases, diseases of urinary tract and kidneys, chronic stomach diseases, duodenum, eye diseases, as well as post-surgical recovery (wound healing).
***
Excursions
In Vrujci, the real oasis of peace and quiet, special and wonderful excursions are organized for the guests (historical and religious tours). Those who are interested can visit the house of duke Živojin Mišić in Struganik, Ravna gora, Brankovina, monasteries Bogovađu, Ćelije, Lelić. Nature lovers are taken to Ribnička cave, the most famous bat habitat in this part of the world...
***
Hotel for Weddings
Among various attractions for guests, there is also a unique offer: renting the entire hotel for weddings! A full day lease, starting from the receipt of guests in afternoon hours until they leave the hotel the next day by noon, is 9,000 euros, for two hundred guests. Accommodation, food and drinks are included in the price. And the wedding itself can pe performed, depending on guests' wishes and creativity, in the nature, even in the air.