Guide
ANTAS (ASSOCIATION OF INDEPENDENT TOUR OPERATORS OF SERBIA) RECOMMENDS: GYULA SPA, PANNONIAN FLORAL OASIS
A Healing Idyll
The fortress has been here for six centuries and it has always changed its masters without a battle. In addition, the history of healing in these thermal waters is even longer and more delicate. This nicely landscaped town with fine patina is the most famous town in Hungary and second in the EU for its floral and greenery arrangements in the public space
At 320 kilometers from Belgrade, near the border between Romania and Hungary, there is a picturesque Gyula spa. It is famous for its thermal water, 600 years old medieval fortress-museum, pastry shop named "100 years" founded in 1840, floral arrangements, maestro Ferenc Erkel, the foun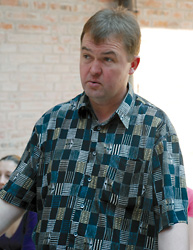 der of Hungarian opera and composer of the national anthem "God Bless Hungarians."
Hidden in exuberant vegetation on the banks of the White Caraş, with spacious greenery and floral areas, with low houses of bright and sunny façades, Gyula spa is one of the most visited centers in Hungary. Nearly million tourists visit it every year. The entire spa complex, with swimming polls and ancillary facilities, was built 40 years ago in the botanical garden owned by Count Almasy. More than 200 years old trees in the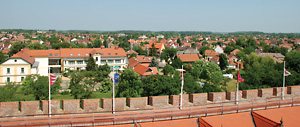 spa have been brought from all parts of Europe.
Hungarians treat the tradition and their past with huge responsibility and respect. They are very proud of their roots, and this is confirmed by our host, Laslo Pavlaković, who, first of all, took the guests to a walk throughout the abundant museum treasury of Gyula fortress.
BALL AT QUEEN BEATRICE'S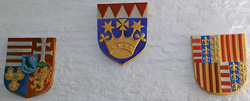 Like most places in Békés district – where an invisible border was drawn between the East and the West in the Middle Ages – Gyula has also been often invaded by conquerors. The museum exhibition in the fortress, with plenty of exhibits from 15th to 20th century, most illustratively depicts the age of clash of empires, cultures, religions and epochs. One of historical curiosities is that this very well-preserved lowland brick fortress has always changed its masters without a battle.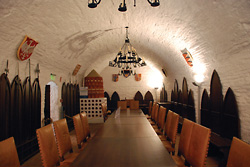 In 24 chambers of this very well-preserved and functional picturesque edifice, one can see various authentic objects, military equipment of armor and infantry, weapons and tools, King's cabinet and the Queen's chamber, council hall decorated with royal families' coat of arms, rooms occupied by the owner of the fortress… There is also a bakery which is still functional. It is where pastry is baked for certain ceremonies which revive past events, such as balls of the Queen Beatrice and old chevalier tournaments.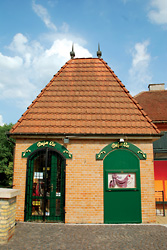 From 1566 to1695, Gyula was under Ottoman rule. Even today, as a reminder, there is the Ottoman chamber in the fortress with furniture, rugs, furnaces decorated with amber, with graphics, a drawing of the fortress guarded by armed Azaps.
The fortress used to have a winery, brewery, courtroom, dungeon with torture chamber, guillotine and gallows. A verdict was preserved which pronounced death by hanging for a rebel Janos Damjanić, a Serb whose life ended within these walls. Today, the entire ambience of the fortress is suitable for organization of various theatric plays, exhibitions and staged events. One of the most famous events during summer is the "Shakespeare Festival" which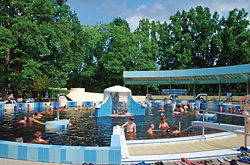 gathers numerous admirers of theatric art. After the restoration, the upper parts of the edifice became a clear viewpoint from which there is an excellent view of the vast Pannonian lowland.
Our host Lazlo Pavlaković from Subotica, Sales Manger in "Aqua Hotel" in Gyula emphasizes that tourists from Serbia have been regular and very welcome guests for decades to this small tucked floral-green oasis at the south-east of Hungary.
CENTURIES IN A PASTRY SHOP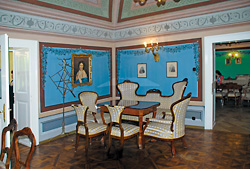 "We intend to promote the local tourist offer, in many ways attractive to our citizens, more intensively in cooperation with the Association of Independent Tour Operators of Serbia (ANTAS)", says Pavlaković. "Gyula is the place for elimination of negative energy, for complete spiritual and physical detoxification and relaxation, with wide scope of possibilities for people of all ages. At 8.5 acres, in the 200 years old park, at the centre of which there is Almasy Castle, there are 19 swimming pools with healing water, aqua park with waves, foamy swimming pool, huge toboggans and winter and summer Olympic swimming pool. Besides relaxation and rest, the thermal water with the temperature of 72 degrees Celsius is known for its healing powers. It comes from approximately 2,000 meters of depth and works efficiently in treatments of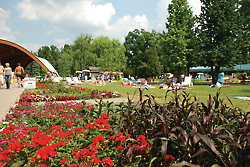 motor and nervous systems, as well as of gynecological issues with women."
One should not, most certainly, miss the House of Yemen in Gyula, where there is a pastry shop called "100 years". It is more than 160 years old, constructed in baroque style, with original furniture, it is also a museum of confectionary today. Its founders left a behest that the best apprentice inherits the business. It had been so until the era of socialism, when the pastry shop was nationalized.
The town is intersected by well-landscaped streets lined with sidewalks full of greenery and flowers. Once you visit it, you soon discover why it is the first place in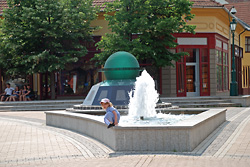 Hungary and the second in the EU for its floral arrangement in the public space. In small town parks, there are busts of great men from culture, such as poet Sandor Petefi and composer Ferenc Erkel. In the park of Count Almasy, under a large sycamore, the inscription on the board informs us that the great composer wrote the Hungarian anthem under the very same branches.
Dozens of restaurants and buffets offer to the admirers of gastronomy traditional spicy dishes, strong palinka (brandy) and wine from sandy soil.
***
Named after master or tribe
First written evidence on the present name date from 1313, when Gyula monastery was mentioned. According to one version, the monastery, as well as the settlement, got its name after the regional lord Gyula. The other version claims that the town was named after Gyulas, members of a Hungarian tribe which settled after the conquest of Pannonian Plain.
***
Erkel
Diligent tourist officers in Gyula opened the birthplace of Ferenc Erkel for visitors. There is a museum exhibition of his personal items, which talk about the time when the composer of the national anthem lived and worked.