Models
"MIN DIV SVRLJIG", ONE OF THE BEST PRIVATIZATIONS IN SERBIA
Everything for High Speed Railways
They were taken over by a company from the same industrial branch, which invested serious capital. Nobody was fired, all liabilities settled, the production volume and quality raised, almost 90 percent of its products are exported to the most demanding markets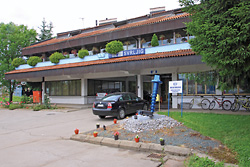 After making a partnership of tradition, knowledge and experience, good results were inevitable, even in these difficult times. They penetrated both the Serbian and foreign markets: Germany, Spain, Belgium, France, Switzerland, Sweden, Serbian neighboring countries.
The company was founded already in 1884 as a workshop for maintaining and repairing railway vehicles. It was given a unique name: "Mechanical Industry of Niš" and dealt with processing of all kinds of metal. The railway program, however, was the backbone of production. When the privatization process began in the previous decade, it was a holding with about a dozen smaller companies. "MIN Svrljig" was sold to the family company "DIV", ownership of Tomislav Debeljak from Samobor, which has factories for producing bolts in their home city and Knin.
This is when the new ascension began. Unlike other companies from the previous MIN holding, nobody was fired in the Svrljig plant after the privatization. The most up to date equipment was installed, so today they are the only manufacturer of bolts, railway equipment, rail vehicles parts and concrete ties in the Balkans. They were also given a new name: "MIN DIV Svrljig".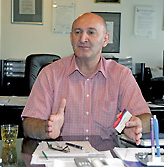 General Manager of the company Milorad Starčević used to manage a similar factory in Knin and was famous for his knowledge and skills. As soon as the Yugoslav wars ended, he was offered a job in Svrljig. He arrived and stayed there, falling in love with the area and the people. The nature and the people, he says, remind him of his hometown of Knin. For this mechanical engineer, graduate of the Belgrade Faculty of Mechanical Engineering, people in Svrljig say that he is both an excellent engineer and manager.
– This was one of the best privatizations in Serbia – says Starčević for National Review. – We fulfilled all our liabilities to the state, employees and the local authorities. We succeeded due to the facts that the factory was acquired by a company from the same industrial branch and that serious investments were made in production and development. There is no good privatization, neither in the world nor in Serbia, without fresh capital, and the company "DIV" had both the knowledge and the money. The third important factor, which in my opinion could also be the first, is a good internal reorganization. My associates and I take the credits for this.
We are lucky because companies in Europe with such a production program are rare, explains Starčević. Depending on the product portfolio and current demand, sometimes they export 89 percent of their total production for months.
– Our strategic partner is German "ThyssenKrup", so we also work for the German railways. At the moment, we have a 5.600.000 Euros worth operative agreement. We produce, send the products, they pay, new specifications arrive, we roll up our sleeves, and then all over again. We are working full speed, in three shifts, sometimes even four. Unfortunately, the least of our work is for our country. If, however, the modernization of Serbian railways begins, as announced, there will be plenty of work for us in Serbia too.
COMPLETE OFFER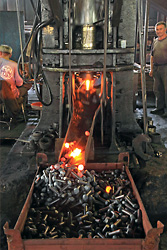 – We have a good image in Europe due to our quality, prices and terms of delivery. In order to achieve that, there must be order. We use our working hours to the fullest. We cut the production time (which significantly influences its price), we cut the costs, costs of material, enhanced the quality, actually raised it to the European level. And for all this we have corresponding certificates – tells Starčević. – Our business analysis shows that our profit is 23 percent better already at the beginning. I will explain: when we purchase 4-5 thousand tons of raw materials, and mention advance payment for such a quantity, our suppliers are ready to reduce the price so much that we are all satisfied. In Serbia we work with public companies, mainly "Serbian Railways" and "Electric Power Industry of Serbia", as well as "Kolubara" and "Nikola Tesla" thermoelectric power plants. We practically maintain their railways. We deliver rails and everything necessary for their undisturbed operation. We have the hot forging technology; we forge bolts (screws) for railways, with sizes ranging from the smallest to the biggest. The lucky circumstance is that our mother company in Samobor always has 36 to 45 million Euros worth inventories, which is an impressive capital.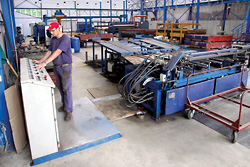 Two years ago, this company from Svrljig made a completely new factory for producing concrete ties, in order to technologically complete its offer of railway equipment. Concrete ties were missing for making high speed railways. They were testing the product in Germany for a year, enhancing it, until extraordinary results were achieved. There is no such factory in this part of Europe.
"MIN DIV Svrljig" processes about 15.000 tons of material every year. And every year the number is growing. The biggest jump was in 2007, when production increased 52 percent year on year, while in 2008 it increased by 28 percent. Last year, compared to the year before, production increased by 12 percent. The salaries are high above average and stimulations for the best employees regular.
***
Employment
– None of our employees was fired. A number of people are retiring, and since I have arrived here in 2007, we hired 113 new employees, so now there are 320. We hire young people, the profiles we need. We grant scholarships to the best students of the High School of Mechanical Engineering in Svrljig, and after they finish school, they become employees of our company – says General Manager Starčević.