Worlds
SRĐAN MILETIĆ, PAINTER, REBEL, EXPLORER OF DANGEROUS PATHS
Reality behind Smiling Masks
He dared to slap the faces of hedonists, designers and gurus of advertising, annihilating the sugar-coated world of advertisement and TV soap operas. He stood against humiliating shallowness of civilization of pleasure, kitch, instant value and boredom. He is shaking, provoking, scandalized, frightening, does not give peace to snobs, puritans, pietists. To the ruling hollow marketing dolls. Yes, "he is a looser". His paintings are caves from which transcendental fires are burning. He goes deeper than beauty. There, where fear, despair and hope dwell. He does not ask about the first, but about the last painter
By: Dejan Đorić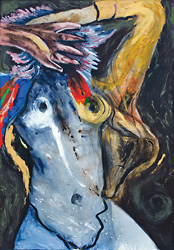 Joris-Karl Huysmans, inspired by an actual person, entered the world and psyche of a decadent whose art of living has become a model for a generation between the 19th and 20th century. Spiritual aristocracy emerged, brotherhood of esthetes, painters, poets and magicians. Huysmans' novel Wrong Way, from 1884, became a holy book of symbolists, ideologically in all aspects contrary to Marx's Communist Manifesto published that same year Two new cultures opposed to and intertwined with one another: the working class (i.e. socialist) and bohemian (which included vagabonds, poets and artists).
With painter Srđan Miletić, this other culture still persists even in the time of postmodern, when borders between the working class and bourgeoisie disappeared. The circle of Belgrade authors, crazy poets, sculptors and drawers that he belongs to, has long been attracting the attention of general public. Bohemians make clear that in post-industrial society poverty of the spirit is no less severe, and they continue to scandalize the new middle class. In this way, nothing else is being achieved but placing the art in the foreground, again in a search for a place for painting and poetry. Decadents of the 21st century, as well as the 19th, transfer the esthetics of gothic, rotten or dangerous, point out the human state of being cast away and abandoned. Srđan Miletić went a step further than the highly stylized Neo-Gothic of today's popular and underground culture. He has rejected aestheticization and beauty, and kept the artistic in its raw state His paintings are caves from which transcendental forces flow, and alcohol fire is drying the black bile of melancholy. That is why his oil paintings are monumental and powerful.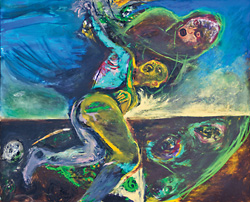 The painter negates beauty in order to get deeper, underneath it, to the unexplored. His unknown country is an underground empire of disjointed and cocooned, but true. he dared to slap the face of hedonists, designers and gurus of advertising, annihilating the sugar-coated world of advertisement and TV soap operas. Almost lonely, he stood against humiliating shallowness of civilization of pleasure, kitch, instant value and boredom. His paintings are provocative, because they break the easiness and superficiality of creatin in the modern world. he could not have achieved this with a polished style and patient craftsman's technique, but through expressionism that opens the layers of consciousness. below the surface is fear, despair and hope, unusually deepened reality. In Miletić's art, just like with Huysmans, everything is wrong way, upside-down and paradoxical. Could it be that he is one of the last personalities on the black trail from Goya, Picasso, Francis Bacon to Dado Đurić and Radovan Hiršl? Expressionism does not exist only in prehistoric and primitive, but also in antique and Christian art.
BROTHER OF DOOMED PAINTERS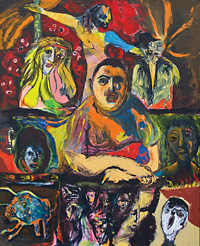 Having rejected the beauty of creation and aesthetic pleasures, he stopped digging through the wounds of art. He abandoned expressionism and surpassed it in a special way. Miletić is one of the few who transferred expressionism into a much wider and more complex aesthetics. He opened it with a fantastic doors of expression. From this perspective, we must evaluate the significance of his artistic rebellion. We should not forget that he entered art polished oil paintings in the spirit of Salvador Dali and Ernst Fuchs. He painted them when he was only sixteen years old, and today such paintings would enable him to have a more successful career.
His revilement and demolition were powerful, he started in a different direction to conquer unknown territories. For him, nihilism is not in the foreground of creation only as a symbol of intellectual superiority and doubt in the world. Why not showing the monstrous, when it already exists? Is it less true because it does not belong to the kingdom of faith and goodness?
Miletić is maybe painting the ugly, but he is less preoccupied by the history of the unusual, so much present in fantastic art. He is not interested in monsters but in monstrous, he is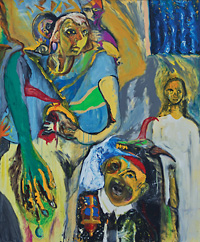 not interested in objects, shapes and facts, but in the soul and state of mind. In this he is an artist, and maybe he has rather turned to the psychedelic than fantastic in a traditional sense, in the range from Arcimboldo to Giger. he is not exploring the miraculous, but the phenomenon of wonderment, within the meaning given to it by Aristotle in his metaphysics: "Because of the wonderment, however, people now, as well as before, start philosophizing."
Srđan Miletić is in many aspects a follower of doomed painters. For some people, his work is only a reflection of the Balkan reality, a form of free realism, image of our dens macabre, magic and orgy that have been going on for centuries. "Careless, witch and plains" is not only the name of a painting from 2004, but these are also three natures of this painter. His works are cataclysmic, a form of accident, and claustrophobia and paranoia puts them into a realism of this time. The color becomes value in itself, becomes a symbol and décor. The painter has gone wild, became a provocateur, the master of irony and agony, end of everything human. Miletić is an apocalyptic and not an integrator. Unlike others, he does not ask questions about the first, but about the last painter.
***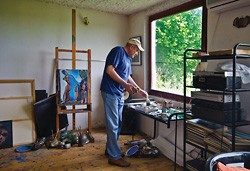 Fragment from Biography
Srđan Miletić (Belgrade, 1963) graduated from the School of Industrial Design in Belgrade in 1982, department of Graphic Design. He learned painting as a student of Radomir Reljić, at the Belgrade Academy. He has been a member of the Association of Fine Artists of Serbia (ULUS) since 2006. He has exhibited his work on seven independent and ten group exhibitions in Belgrade, Athens, Obrenovac, Gornji Milanovac. Starting from 1988.
He lives and works in Obrenovac.
Dejan Đorić, an art critic of National Review,has been following and critically observing his artwork since his initial appearances.