Visionaries
DRAGUTIN INKIOSTRI MEDENJAK (1866-1942), FOREFATHER OF DESIGN IN SERBIA
Being the First on a Long Road
He prepared his program for the Serbian artistic renewal for a long time. He traveled through the Coastal Lands, Macedonia, Kosovo and Metohija, Southern Serbia, and collected and processed over 2.000 motifs from folk embroidery, weaving and carving. Afterwards, together with the motifs from folk mythology and ethno symbolism, he wove them into his modern art. He decorated the National Theater, the big hall of the Kolarac beerhouse, ministries of finance and education, ceremonial hall of the Third Gymnasium. He designed furniture, rugs, space, everything. He exhibited at the "Balkan Exhibition" in 1907 in London and the "World Exhibition" in 1911 in Turin. He attempted to introduce what we today call interior design and total design. And at the time he was alone
By: Vladana Putnik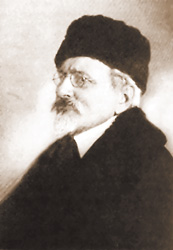 He was among the first to initiate the creation of Serbian, later Yugoslav design, internationally recognizable. He attempted to express motifs characteristic for the Balkan environment through his works. Dragutin Inkiostri was not the only one who, in the early XX century, advocated preservation of folk tradition through art. Mihailo Valtrović and Miloje Vasić were also very engaged in promoting Serbian cultural heritage. Artists and experts were aware of the importance of passing on the folk spirit to all forms of artistic expression, from music, painting, to architecture. However, design in Serbia was marginalized for a long time, as if there was no interest, consciousness or knowledge to make a step forward in this new area. Only after the arrival of Inkiostri to Belgrade in 1905, there was a possibility of development of the branch we today call interior design.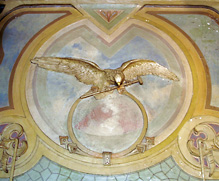 Dragutin Inkiostri was born on October 18, 1866 in Split. His father, Antonio Inkiostri, was from Venice, and his mother, Marija Medenjak, was Serbian. Being a child from a mixed marriage, Inkiostri was connected to Italy due to his education, however in the climax of the Pan-Slavic movement, he always considered himself a Serb.
His father was an architect and Dragutin helped him in his work since he was little. Thus developed his love for architecture and art in general. He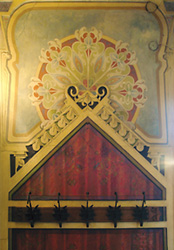 left school early to paint, since he had an extraordinary gift for drawing. At the age of only nineteen, he left his hometown of Split and began his artistic journey, gradually building his artistic expression. His first stop was Zadar, where he exhibited a few paintings in a tailor shop window. Such advertising brought him first orders, mainly altar paintings for churches in nearby places. A few years later, his path took him to Rijeka, where he had his first orders for painting rooms in houses of rich people.
After realizing that he could not go further without education, he decided to go to Italy for adequate tutoring in painting. Before that he married Countess Maria from the Zadar Italian family of De Lupi, a very educated woman. She spoke several languages, but not Serbian. They had nine children, and three later became painters.
FOR NATIONAL REBIRTH IN ART

He chose Florence and Professor Philadelpho Simi, however Inkiostri was far more influenced by the architect and art theoretician Alfred Melani, who himself was interested in folk art. During his stay in Italy, Inkiostri also mastered the craft of photography, which will remain his main source of financing until the end of his life.
His life path continues in Zagreb, where he opened a photo studio. He was engaged for the Millennium Exhibition in Budapest to prepare an album of historical monuments' pictures. In Zagreb he came in touch with Vlah Bukovac, already famous painter, from whom he learned a lot.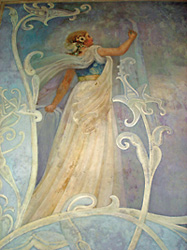 However, the young artist did not stay long in Zagreb. In 1900 he left to Karlovac, the first place where he decorated an interior based on folk motifs. Then he did the same in Sarajevo, where people had already heard of him, but he decided not to settle there either. He continued his journey and began collecting ethnographic material, which later proved to be very useful.
During this whole period of "wandering and searching", Inkiostri was actually preparing to come to Belgrade and the Kingdom of Serbia, wishing to show the Serbian art scene his artistic renewal program. Searching for authentic folk motifs, he traveled the whole Montenegrin Coast, Macedonia, Kosovo and Metohija, Southern Serbia. He traveled throughout the Balkans and collected and processed over two thousand motifs from folk embroidery, weaving and carving.
Immediately after his arrival to Belgrade in 1905 he was hired to decorate the National Theater, where he stayed to work as a scene-, decoration- and costume designer. He was successful in that area of artistic creation too, so he was also invited to decorate the Bulgarian National Theater. Among the first who engaged the still not affirmed artist was the rich industrialist Djordje Weifert. Inkiostri decorated the big hall i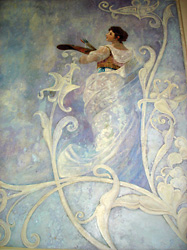 n the Kolarac beerhouse for him with portraits of famous people from Serbian history, while the walls were decorated with folk ornaments. The hall soon became center of the Belgrade cultural and social life.
These first successes in the Serbian capital brought him praises from great experts in national style Mihailo Valtrović and Andra Stevanović. Soon bigger orders arrived, such as the decoration of the Ministry of Finance, National Bank and Ministry of Education, where, together with Petar Ubavkić, he decorated the entrance hall and minister's quarters. The allegories of Faith, Education, History and Art have been preserved in the hallway till the very day. Inkiostri then, for the first time, began designing furniture and showed his talent for this branch of applied arts too. Although he was very popular in that period, financially he was always on the verge of existence.
CUT BY WARS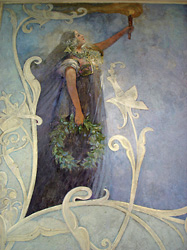 Inkiostri's furniture design was most remarkably shown at the "Balkan Exhibition" in 1907 in London, where he exhibited a complete bedroom and dining room made of oak wood, as well as two ceramic furnaces. Before the furniture was sent to London, it had been exhibited in Belgrade, where as much as 1.500 visitors saw it the first day.

In the following years, he painted the Ceremonial Hall of the just built Third Belgrade Gymnasium. However, the first negative criticisms came and interest for his work began gradually ceasing. His theory about Serbian design was condemned by architects, especially Branko Tanazević. The long polemics between the two promoters of the national renewal in art took place through newspapers. However, despite their differences, they were forced to work together on the Serbian Pavilion for the "World Exhibition" in 1911 in Turin. Tanazević naturally used all means to bind Inkiostri's creativity, but the latter was free in decorating the Turkish and Hungarian pavilion, where he was also engaged.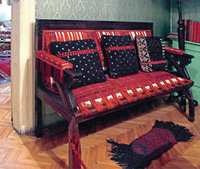 Dragutin Inkiostri hoped to work on the decoration of the National Assembly building interior, which erection had just begun, so he visited Jovan Ilkić, author of the project. He promised him a job, but in vain; the works on the Assembly building were continued only after World War I.
Confronted with growing misunderstanding, Inkiostri even thought of moving to Budapest, where his worked would be valued more, but the First Balkan War prevented him from doing so. His first patriotic paintings were created at that time: Eagle and Gusle, Hawks, On the Alert, Hawk and Snake… Led by patriotism, he started visiting Southern Slavic countries during the war, leaving replicas of his patriotic paintings in each home that offered him hospitality.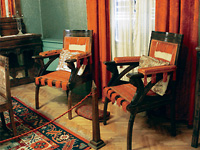 He spent World War I in Italy. After his wife had died, he married for the second time. His second wife was his former student Slavka Korenjak, and after the end of the war he lived in Ljubljana. He designed posters for the First Yugoslav Sokol Society Rally. He returned to Belgrade in 1923, where he became manager of the joint stock company for creating national style furniture. In the following years, he was completely dedicated to designing furniture, and created chairs for the "Postal Savings Bank", as well as an art deco set for the just opened furniture factory of the Djordjević brothers. Rugs in the Dundjerski factory were also made according to his drawings.
INTRODUCING TOTAL DESIGN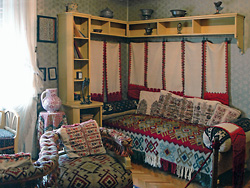 In the late 1920s, the old artist was almost completely forgotten, but he was still successful in creating master pieces, such as a screen with pictures on silk for Olga Smederevac from Pančevo, whose salon was a gathering place for artists between in the interwar period. The Museum of Nikola Tesla would also have had a room designed by Inkiostri, if the house, then prope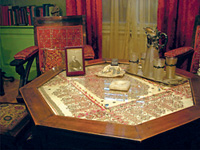 rty of Djordje Genčić, hadn't been struck by a bomb in World War II. He tried to draw the attention of the royal family by gifting King Aleksandar I Karadjordjević the painting Patrols in the Adriatic. The gift, however, was refused for unknown reasons. He died on September 16, 1942, at the age of 76.
Dragutin Inkiostri created his most valuable pieces in Belgrade and one could say, although he denied it, that he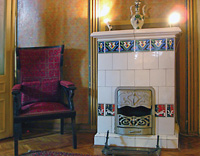 belonged to secession. He introduced the decorating of the complete environment as a novelty in Serbia, characteristic for his European contemporaries. He attempted to achieve what we today call total design, passing on folk mythology and magical symbolism of shapes transfused into an ornament. It was therefore was very difficult to hang pictures on the walls he created, because the walls themselves were works of art.
Unfortunately, during his lifetime he was misunderstood and remained lonely in his attempt to form the Serbian design scene.
***
Students
He succeeded in passing on his great knowledge of folk ornaments to the students of the Arts and Crafts School, where he taught for a while. He mostly appreciated individuality in his students, although it perhaps resulted in the fact that none of them followed his path in reforming the national style.
***
House of Jovan Cvijić
A great recognition was the decision of Jovan Cvijić to entrust Inkiostri with the design of his house interior. One could rightfully say that it is Inkiostri's best work in Belgrade. The team included a decorative sculptor, artisan for furnaces, artistic carpenter and woodcutter. The works went slowly, the budget was exceeded several times and the drawings modified. The idea was to have all motifs in the interior indicate Cvijić's vocation, therefore the relief of an eagle with a hammer represents the sharpness of the geographer's thoughts, and the owl with a hammer and a book implies his scientific work.
***
Refinement and Contemporariness
Inkiostri was very refined in furniture design. He had the eye for functionalism and comfortableness, always used oak and walnut wood, today also considered as highest quality kinds of wood. Such an approach, naturally, could not result in cheap or serial production. He liked to paint furniture, which, together with carving, made it unique. He always left the natural color of the wood and considered it most beautiful. The contemporariness of his approach is testified by the fact that he always cared about the user, designing everything to be in accordance with his or her needs.