Eye
MILOJE MITROVIĆ, A UNIQUE PAINTER FROM VALJEVO AND LAJKOVAC, KNOWN AS FAR AS COPENHAGEN, AND MUCH FARTHER THAN THAT
Guardian of Zebras in Our Town
Those beautiful black and white animals have marked his artwork, especially those painted on the pavement (directly in the lives of viewers). They were seen by art and game lovers in several metropolises in the world. In Denmark they were exhibited right next to Warhol. In Belgrade, his first zebra was painted in 1995, in front of the school "Miloš Crnjanski" on Banovo brdo. Then came Valjevo, Novi Sad, Arilje, Požega, Bačka Palanka, Banjaluka... And here is how an old wolf of Belgrade journalism has remembered them
By: Borko Gvozdenović
Photographs: Željko Sinobad, Matija Koković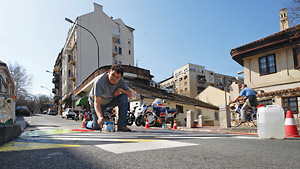 Whenever an opportunity presents itself, I go to my Sirča, village on the right bank of the Morava River; we, people from Sirča, would never call it the West Morava.
Sirča has existed since the times when Žiča Monastery was built.
After visiting the family house, which is empty, I would go to school, which is divided from the church only by a fence. There, in teachers' apartments, I spent my childhood, boyhood and early youth. Mother Anka and father Savo were teachers there, and brother Bato was a pupil. They are gone now; they are a memory.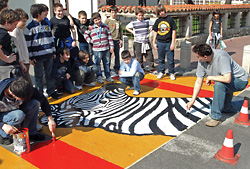 And that beautiful past autumn, in 2010, and my seventy fourth, I found myself at the school that carries the name of renowned Jovan Cvijić, where I began to learn my first words and add two and two, when gunfire of World War Two died out. I graduated in 1948 and from there I went to the famous Kraljevo Gymnasium.
The school now has a more recent building, furnished and equipped as if it is in the very centre of Belgrade.
Below it are the park, benches, water fountain, and sports terrains in the back. A sports hall is being annexed to the part of the old building, which was burnt down by Germans in 1941, and in 1943 they helped to build a new one.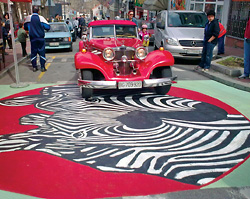 When I get into the yard, I walk with director Milena Bugarinović and I ask her whether I could help in any way so that one of the oldest village schools in Serbia (it began to work as far back as 1893) would even better and more advanced, not only in the Kraljevo region.
Mrs. Bugarinović this time showed me the Politikin magazin, from August, on the cover of which there was a photograph of a pedestrian crossing with a painted zebra.
I know: the work of Miloje Mitrović, artist from Valjevo!
"Can we have a zebra like this, in front of the entrance into our school, along the entire width of the asphalt road", Mrs. Bugarinović asked me.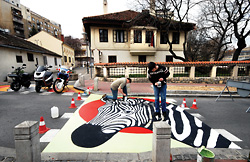 I was pleasantly surprised: God, my young fellow villagers from Sirča are just like the rest of the world who knows about Miloje Mitrović! Seeing this, Mrs. Bugarinović explained:
"It was proposed by our pupils..."
Even better, isn't it?!
Our children, from Sirča, hale fund something exceptional, interesting, good.
I was overjoyed.
Of course, my answer was affirmative.
Because: I can ask Miloje Mitrović, an artist from Valjevo, great and unique, who has his own style, recognizable, a man who I have known for a long time, because every time he would come to the capital he regularly would stop by Ilustrovana politika, whether he will be able to fulfill the wish of pupils from Sirča.
"ROIDERY" ON THE ROADWAY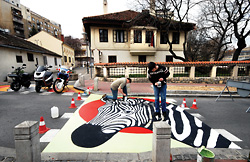 Miloje Mitrović, art profesor at the school "Mile Dubljević" In Lajkovac, answered with a question: "When do we start?"
Until then, art lovers in various metropolises around the world had the opportunity to se zebras. In Copenhagen, they were exhibited next to the work of Picasso, Salvador Dali, Andy Warhol.
It was recorded that the first one in Belgrade was painted in front of Elementary School "Miloš Crnjanski" on Banovo brdo in 1995, and afterwards these beautiful animals decorated pedestrian crossings in Valjevo, Novi Sad, Arilje, Požega, Bačka Palanka, even in Banjaluka, in Srpska.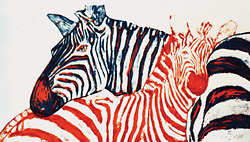 Again: In Belgrade, In front of Dositej's and Vuk's museum.
The earthquake in Kraljevo, with epicenter exactly in Sirča, disturbed all the plans.
In the spring, Miloje Mitrović and his son Nenad painted a zebra in Sirča, or, as this artwork was nicknamed by Vesna Sofrenović, journalist of Politikin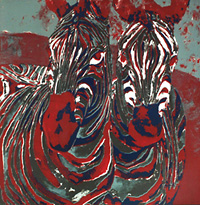 zabavnik – "roidery".
Miloje Mitrović is a unique artist.
His own.
Distinctive.
Božidar Džmerković, in whose class he graduated from the academy, wrote about Miloje Mitrović: "It is impossible to explain how Miloje has remained chaste as a child, although he is a grown up man." And then he added: "Miloje is not painting with his mind, but with his soul." And this is the first thing that makes us love his paintings: "They warm us with art content."
For all this: thanks to Miloje!