Event
"MOMA'S CIRCLE" IN BELGRADE, FIRST TIME AND FOREVER
Tribute to the Most Charming Belgrade
In honor of the famous writer and painter (1937-2010), numerous interpreters and admirers of the "Kapor Legend" gathered on September 9 on Ada Ciganlija. The plan is that this cultural event should, in the next years, become traditional, and last for several days at a time, spreading the Kapor Belgrade spirit across the planet and the environment
Photographs: Infolik.rs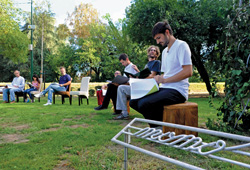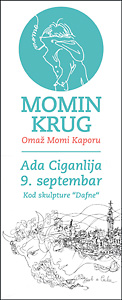 The spirit of the work of late painter and writer Momo Kapor, our Momčilo, was all-present on Ada in Belgrade, on September 9. All admirers of his work, who came to this day-long festival "Momo's Circle", were able to feel that. In honor of the famous writer and painter, this cultural event was organized by Endowment "Momo Kapor", with the support from the City of Belgrade and Public Company "Ada Ciganlija". The common thread that was running through rich and diverse program was the creative journey of Momo Kapor. And Belgrade and Ada Ciganlija were on every step on this journey, as one of the most important characteristics.
The Festival was opened with concert of quartet "Nevski", and afterwards artistsIvana Žigon, Nikola Bulatović, Kosta Bunuševac, Mihailo Lađevac and Mladen Andrejević were reading excerpts from Kapor's novel Zoe. Young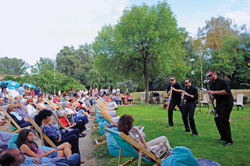 actress Kruna Savić performed its final examination piece Ben, written by playwright Beka Savić based on Kapor's fairytale Sanja.
Friends and admirers of the renowned artist, who transferred their rich experiences from socializing with Momo to the book Kapor Legend, hand out with the visitors on Ada. His stories were being told, his anecdotes, jokes. Wine "Ruška" was being tasted. Memory to the merry and hedonistic approach to life for which Momo was famous was being restored.
CITY, HEART, INHABITANTS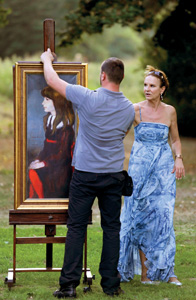 A curiosity of the Festival was projection of documentary film New York, the City that Fits Man, one of the last video recordings of Momo Kapor in which the artist is taking the viewers to a fantastic journey through famous areas of New York, the epicenter of art of the 20th century.
"Momo gave his heart to Belgrade, and we fell in love with that heart and became proud of it. Finally, because of that heart we are the only city in the world the greatest beauty of which are their inhabitants", said Srđan Šaper, founder and director of "McCann Group".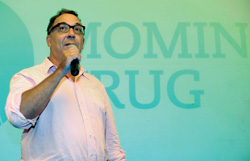 A tribute to people from Belgrade, their city and life, in "Moma's Circle" was contained in the performance of cabaret Halo, Belgrade,which was conceived by Rada Đuričin based on texts by Momo Kapor. Finally, the festival was closed with the concert featuring "Miško Plavi trio", Vasil Hadžimanov and Srđan Dunkić.
"The fact that Ada Ciganlija today makes all the citizens of Belgrade proud, we largely owe to Momo Kapor. That is why it is an honor for us that Endowment 'Momo Kapor' started the initiative to organize an event like this exactly on this location", said Zoran Gajić, Director of Public Company "Ada Ciganlija", and expr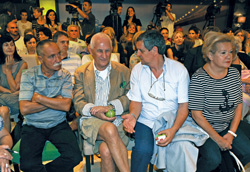 essed hope that the Festival dedicated to Momo Kapor will enter the calendar of traditional cultural events in Belgrade.
"Momo's Circle" is an attempt to create a "far reaching micro festival or event-performance", which will additionally promote Ada and Belgrade on the creative and artistic map of Serbia and the Balkans. The plan is that this cultural event should, in the next years, become traditional, and last for several days at a time, motivating young artists and spreading the Kapor Belgrade spirit across the planet and the environment to them.
***
Story
"The most important thing in art is a story. It is the essence of every artwork. For this reason, the Endowment 'Momo Kapor' is continuing the story about Moma and his art, thus cherishing the memory of him. And this is the occasion for us to make a festival to his honor, exactly here on Ada Ciganlija", said Ljiljana Kapor, Director of the Endowment.