Event
ENCOUNTERING XX INTERNATIONAL ETHNOGRAPHIC FILM FESTIVAL IN BELGRADE
Time of disappearance and arising
It started quietly, in monastery St. Prohor Pčinjski, exactly two decades ago. Perhaps it was not a good year to start something, everything around was ominously falling apart, but people from the Ethnographic Museum, the organizers, knew what they were doing and why they were doing it. This year, from 17th to 22nd October, within several parallel programs, we can see more than 100 films from all around the world in a movie theatre of the Ethnographic Museum, in the Film Archive, in Cultural Centre "Parobrod" and in Ethnology and Anthropology Department of the Faculty of Philosophy. Nowadays, it is a prestige festival, the most creative such festival in southeast Europe. And it is within our reach
Text: Tamara Nikolić Đerić, Tatijana Rap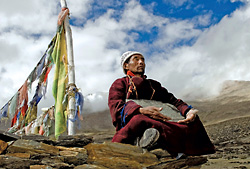 Ethnographic film represents a documentation and interpretation of numerous cultural phenomena. "In the beginning, films at our Festival mostly showed fragments of rural culture which was arising or changing to irrecognition", says Saša Srećković, Manager of International Ethnographic Film Festival. "Transformation of culture is obviously much more interesting and dramatic than we thought in first years, and thus, more suitable to be a film subject." More and more authors turn to various subjects from urban milieus.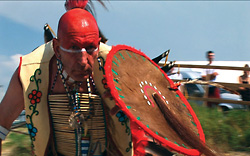 Until recently, text has been a prevailing instrument of ethnographic researches. However, overall representations of culture via audiovisual media prompted the researchers to approach the film as a medium, to study it and to master it. The Selection Commission of the Festival also recognized the importance of technology in modern ethnographic and museum practices, so, an entire section of films is named Technology in Recording of Human Relations. Moreover, the jubilee festival brings the following subjects in its competition program: To Live Another Cultural Code, She-He, Something Different, Time of Arising. The program is completed by the retrospection of the best films shown in the last 20 years (as an accompanying program), debates,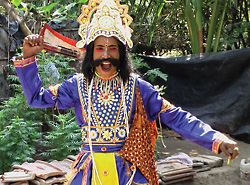 workshops, master classes, choice of new films from Iranian and Canadian production, and casual socializing of festival participants and visitors.
The participants, including the world-known authors, consider this active and creative exchange of experience one of the greatest values of the Festival in Belgrade, distinguishing it as the most representative in the region, and already affirmed in the world. "Festivals have a crucial function in the creation of the community of visual anthropology and promotion of this discipline", says David MacDougall, this year's special guest in Belgrade, one of the most famous alive filmmakers of ethnographic documentaries. His first film (To Live with Herds) won the Grand Prix on Venetian Festival in 1972. This year in Belgrade, first time in southeast Europe, he will give a lecture in a master class for all interested students of ethnology/anthropology.
A FEW LOCAL MOVIES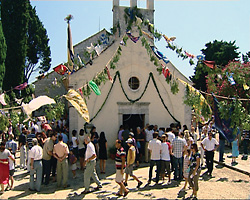 What is the most intriguing and most inspiring subject of ethnographic films? We asked the Festival participants. They agreed on the following: the relationship between an individual and the environment, tradition and modernity, marginal cultures and mainstream… Ethnographic film is often a result of field researches which sometimes last for several years, but everyday stories may become the subject of interest, too. The exotic and different is no longer a focus, notices Mladen Stajić. "It is not necessary to travel to distant regions to find such stories, they can often be found in our neighborhood. Cultural interpretation and introduction of unfamiliar characters and occurrences, cloaked in secrecy, remains the most fruitful field of ethnographic film."
The authors especially emphasize the educational nature of the Festival. They were upgrading their knowledge, skills and poetics by developing together with the Festival or owing to it. Awards and praises additionally encouraged and directed them. Continuing that important string, the forthcoming jubilee Festival, besides the retrospective of the best films from previous years, is directed towards the young and student ethnographic films. Master classes, debates and workshops are organized for them. The idea is to organize a fund for financing the production of interesting stories of young authors.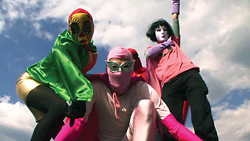 The Selection Commission finds that there are less local film than before. One of the Festival tasks will be to investigate the reasons of production stagnation.
Encountering the Festival, we asked the authors about the future of ethnographic film as well. Vladimir Perović believes that the future of ethno film has already come. Film culture has become a part of a modern man's being. In addition, an ethnologist is not a mere "camera recorder", but he uses the language of the film as well. "Ethnological film thinks in film mode." Professor MacDougall is optimistic: "Although some think that the film will be absorbed by internet, multimedia and other interactive forms, I believe that the ethnographic film is already very complex, and that it will be preserved as a genre in the years to come. It will keep the elements of observance, interaction, as well a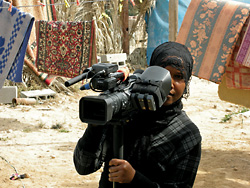 s the composition as it is today. It will be consistent in its attempts to draw the attention of an observer to life experiences of other people who live in very different societies. Moreover, I hope that it will broaden the horizons of anthropology, bringing new forms of knowledge and understanding." Democracy in shooting and montage will enable ethnic groups to make their own films and tell the story about themselves, which will be the end of domination of the occidental approach, emphasizes Clarissa Han.
The authors agree that there is no good ethnographic film without a good production. Hence, it is very important to obtain the support of the sate and donors. Televisions, the most powerful productions once, are now falling behind. They neglect documentaries, and "ethnology is usually turned into a vulgar folklore", emphasizes Vladimir Perović. Fortunately, small private productions are appearing, which can find the way to make a film.
ENCOURAGING PRESENCE OF YOUNG AND DOYENS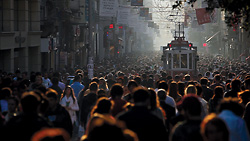 Apart from authors from Serbia, this year's festival attracted numerous artists from abroad. From Canada, France, United Kingdom, Greece, Romania, FYROM, Croatia, Estonia, USA and Switzerland. Professor Nevenka Redžić Tot, MSc. (Canada) has participated in the Festival since the very beginning. She used to be the president of Selection Commission, the President of International Jury, and this year she brings the film Images before us, in her own production. It is, she says, "an experimental anthropological film, inspired by Oldous Huxley and his book the Brave New World, as well as by Canadian experimental film-maker Norman McLaren". Moreover, Professor Redžić Tot organizes a special selection of Canadian ethnographic film this year, where we can see two feature-length films and two short films made by Canadians of American Indian and Eskimo origin.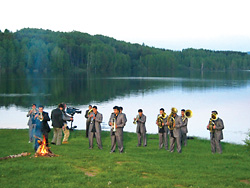 Director Vladimir Perović's film, Life, adventures and sustainable development of a rooster, will be shown in competition program. The film is "a critic of human involvement into nature's courses and of illegible human right to adjust everything that surrounds him according to his own regulations, conventions, beliefs, customs, rituals…"
The doyens of ethnographic film will also be present at the Festival. Kamenko Katić will appear at competition program with the film Rusaljes fall into oblivion. Dobrivoje and Dobrila Pantelić, the most famous Serbian amateur authors of ethno film (the National Review dedicated a special article to them once), this time bring a moving story of a piper fromwestern Serbia. He has been playing pipes all his life to support his family,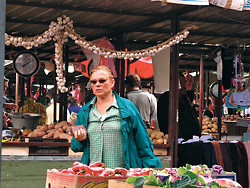 and today he plays only for himself (Dear God, What Is Our Mika Doing).
What also brings joy is the presence of young authors and new productions, such as Mladen Stajić and Mladen Milosavljević (Emanuel), Gordana Simonović (Hunger), Marko Kostić and Milan Milosavljević (A Musician and Josip Novak's Mirage and Spiders), Viktor Figurovski (Metalheads from Vajska), Igor Jekić (Love, Heart, Friends), Slobodan Simojlović (Zagužavanje You tube), Dejan Dejanović (Lenka's Cooks), Ivan Vukotić and Milana Miletić (Kalenić, the Last Days of the City Green Market).
VERY PERSONAL, IN CLOSE UP
Many works from abundant world's production draw attention, too. Among other films on the Festival, British film made by Mario Rutten and Sanderien Verstappen on Indian immigrants in England's capital will also be shown, which is the result of a 20 years long research on London – Gurjar (India) relation. Marina Danezi (Greece) depicts the life of a homeless person. She approaches the subject very personally, since her grandmother spent her last years of life in a community at the margin of Greek society, struggling for the bare existence. Clarissa Han, young artist from France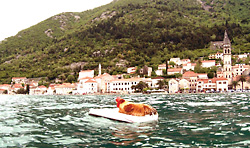 , tells a personal story as well, on her boyfriend's relatives who live in Kurdistan, on the complexity of their relations, ambivalence and contradictions. Gianni Princigali (Italy), one of the participants in previous competition programs, will show the film which he calls "The Voyage of an Ethno Film Author from the West to Africa".
Among numerous foreign guests are the authors from south Slavic regions. Aleksej Gothardi Pavlovski (Croatia) brings the film The Assumption of Holy Mother in Sali, in television production (HRT), introducing several welcome film novelties. Elizabeta Koneska (FYROM), participant since 1997, this time brings the film Our People in Constantinople. The film shows members of orthodox Christian community who have been living in Istanbul for five generations, and who came from Macedonia at the turn of 20th century.
***
Schools and productions
During two decades of its existence, the Festival has presented production of numerous film schools: Center for Visual Communication "Kvadrat", "Fiks-Fokus", Faculty of Dramatic Arts, Academic Film Centre "Studentski grad"... The cooperation with TV productions has also been excellent, especially when bureaus and local centers of Radio Television of Serbia existed. After the privatization of numerous TV centre, incomprehension of such cooperation occurred and it ceased.
***
Support
Many authors, who have been present at the Festival for years, remember the beginning and the importance of support from RTS and the Film Archive. Those two institutions were the organizers – Radoslav Zelenović (President of Festival Council) from the Film Archive, journalist Tanja Fero (Member of Festival Council) from RTS, who has been promoting the Festival for years in special shows. This year, The National Review joined, being in charge of media coverage.
***
Recording and interpretation
Cultural workers in Serbia put enormous efforts to protect the immaterial cultural heritage and include it on the lists of UNESCO. For that purpose, the Center for Research of Immaterial Cultural Heritage was founded at Ethnographic Museum of Belgrade, which was joined by the Visual Anthropology Department. Besides being involved in the organization of the Festival, it performs various field researches. With its documentation, it protects the cultural heritage, introduces it to citizens of Serbia, and presents it to the foreign audience, too.