Unprotected Beauty

WITH THE VILLAGES, OLD VARIETIES OF FRUIT DESAPERAR FROM THE HEART OF ŠUMADIJA
Taste the Serbian Goodness
The sweetest plums, apples, pears, so characteristic of this earth and this sky, shy away from favored the new varieties, everywhere the same, tailor-made for calculators and retailers. Dula, kantaruša, petrovača, šarunka, požegaca, ranka, okruglica, drenovka, voskovača, kolačara, lonšara, zečica, takiša, lubeničarka... These are just some of the many varieties of popular fruit names in the collection of "Indigenous and cherished fruit of the regions of Rudnik and Takovo" completed by the Natural History Museum in Belgrade: completed, in order to save, for better times and wiser men
By: Radmila Tamindžić
Photographs: Aleksandra Savić and "Press"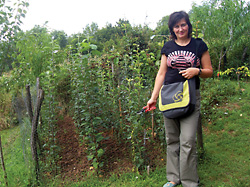 Production of quality food is one of the greatest challenges of our time, in which fruit is of great importance. The Natural History Museum in Belgrade has a valuable collection entitled "Indigenous and cherished fruit of the regions of Rudnik and Takovo", which, of course, is constantly updated. In preventive conservation of typical fruits of Sumadija, the author of this project, biologist Alekasndra Savić, with conservationist Miroslav Jovanović, researched for years the area of Gornji Milanovac: villages and fields between the mountains of Rudnik, Vujan and Suvobor. The result: a database of various indigenous and domesticated fruit species which are, together with the Serbian countryside, slowly but surely disappearing.
Gornji Milanovac is very much a fruit-growing region, with numerous species of cultivated and wild fruits. The most common is plum, followed by apples and pears. For all three types, as well as for other fruits, it is characteristic that indigenous and domesticated varieties are now being replaced by new, economical ones that are resistant to disease. Fruit is mostly grown in small areas and only for personal use, much less than a commercial plantation. There is no surplus of fruit at the market, including the green market.
BEAUTY OF LUBENIČARKA PEAR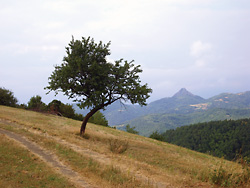 Staying in a family house on the slopes of the mountain Rudnik, Aleksandra noted that in every backyard there is fruit that nobody pays attention to. The trees of hundred years and more, that today's old women remember from the time they married into the house, became an impediment and were planned for felling. They are often dry, so no longer fruit bearing, and even if they do, there is no one to pick the fruit. And that gave her the idea for this story
– Old apple varieties are nowhere to be found, unless a peasant shows them to you. Indigenous varieties are dula, kantaruša, petrovača, šarunka. Domesticated: budimka ilinjača, kožara... These were brought here, but here they have been here already for tens of years. Indigenous plu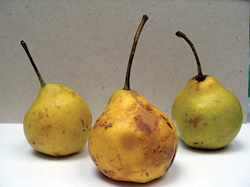 ms are ranka, muljci, bosanka, cerovački piskavac, and domesticated are požegača, madžarka, red plum; black plum, bugarka and italijanka. At the slope of the mountain Rudnik, above the village of Majdan, they took me to see lubeničarka pear, small and green from the outside and red inside, with the taste of watermelon. It drove me wild! The best pear I ever tasted in my whole life. But it's virtually nowhere to be found, the remaining trees are so few...
Both from literature and in the field, Aleksandra realized that Serbia is full of these old varieties, what a vast wealth is such diversity, but also that in a biological sense we are losing these genes. She understood that it is necessary to note the information on our traditional varieties and to preserve them for future. She was supported by experts and the Fruit Research Institute in Čačak, as well as by experts from the Department of Pomology at the Faculty of Agriculture in Belgrade
PEOPLE'S NAMES ARE RIGHT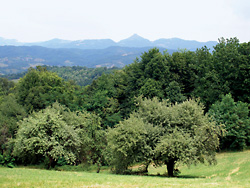 The findings confirm what we have already said: autochthonous plum (požegaca, ranka, okruglica, drenovka) are in decline. These plants are gradually being replaced by new varieties: Stanley, Čačak, Čačak Beauty.
There is less and less of old varieties of apples: budimka, kožara, zelenika, voskovače, kolačara, vajlije, šećerlije, ševarlije, tvrdaje, kiseljače, zlatne parmenke, belocvetke, belovače, vidovače, ilinjače, kraljice, pamuklije... Gradually, they are being replaced by newer varieties: peping, vajsner, Tsar Alexander autumn, delicious (gold, red), starking, Richardson, Idared...
Old varieties of pears are also gradually dying out: lončara, zečica, takiša, ranjac, medunjak, lojovača, lubeničarka, vodenjaja, vidovača, ilinjača, karamanka, dilova maslovka, mivljača, ozimak, žutica, arapka, ranac, tamnjanka, sitna kiseljača, kantaruša, sijerak... all replaced by new varieties that are grown on plantations: Williams, Druard's, Jeffard's
Our interlocutor received from the Fruit Research Institute in Čačak confirms that the names of the fruit are authentic, so that is how she is registering them.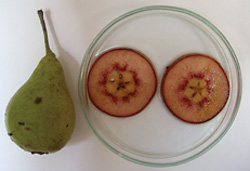 - This fruits are most common in rural households, or along the road. Wherever you reach by hand, you will pick up a walnut, an apple or a pear, and you will never go hungry. Prince Miloš ordered the planting of fruit by the road, especially walnuts. In the area around the Gornji Milanovac, in the village Lunjevica, there were a lot of nuts, but in times of great economic crisis the trees were cut down because people needed wood. However, although the indigenous genetic material is on the decline, still it is not too late for something to be done about it.
THE SAME IN EASTERN SERBIA TOO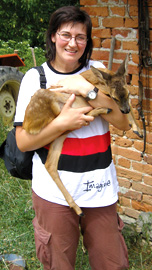 The collection, "Indigenous and cherished fruit of the regions of Rudnik and Takovo", can be found in the Biology Department of the Natural History Museum. Conserved and adequately stored, the herbarium contains over 900 types of fruit. There is also photo documentation of some 300 images of fruit species, habitats and landscapes, as well as interviews with locals and fruit growers. In addition to the aforementioned fruits, which are predominant in this region, the collection contains classified selection of various other species: cherry, raspberry, blackberry, hazel, quince, rowan... In this region, peaches are rare, and apricots are almost none, probably because Rudnik is a cold mountain. As soon as you cross the Vujan towards Čačak, they can be found in the very first village.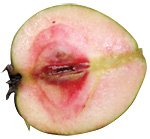 Lately, Aleksandra Savić has moved to new locations: to eastern Serbia, Serbia Moravska, and the inhospitable terrain of the Mojsinj mountains, close to Knjaževac and Hisar... And there are the old villages full of fruit, and old people who cannot care about fruit orchards, the state being what it is... Material from this new journey is still in the herbarium, waiting to have its place in the collection.
– In addition to food production, fruit growing is important for the environment as it contributes to the protection and enhancement of the environment, preserving the balance of bio-energy, combating erosion, flooding and improving the climate - concludes Aleksandra Savić. - Although the plant does not disappear as fast as you can catch some animal species, it is definitely on that path, and we need an urgent strategy for preservation of old varieties. It would be appropriate to professionally and financially assist households with quality varieties, which are referred to by tradition. The relevant ministries should deal more to with the good things characteristic for Serbia, and healthy food is among them.
***
Storing for winter
Takis pears and wild apples were used in making a sweet drink called vodnjika. Let dry a cut up fruit in the sun, then put it into barrels, fill with water and leave for a while. Low fermentation produces slightly carbonated sweet drink that was drunk in winter.
A fruit cakes were made ​​from madžarka plums: firstly a jam was cooked, than put on the cabbage leaves and set to dry in the sun – healthy a treat for winter.