Knowledge
BELGRADE BUSINESS SCHOOL ALSO ACCREDITED FOR SPECIALIST VOCATIONAL STUDIES
A New Breakthrough in Education
Strategic Financial Management, Business Process Management and Accounting, Control and Audit Management – these are three study programs of the second level of higher education at this respectable school. Up to 50 students can enroll in each one of them. They gain a degree of a vocational study specialist (Professional Master). Admission has just begun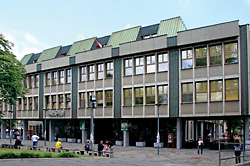 It is the biggest state owned school and has the longest tradition in the field of higher education, and now it is the leader in higher education vocationalstudies in Serbia. It implements of modern study programs of higher vocational education accredited by the Bologna Convention.
According to the decision of the National Council for Higher Education, the accreditation process of the specialized professional studies in Belgrade Business School has been successfully completed (second level of higher education), for the following study programs:
• Strategic Financial Management
• Business Process Management
• Accounting, Control and Audit Management.
On this basis, the Ministry of Education and Science of the Republic of Serbia has issued an amendment to the license of Belgrade Business School - High School of Vocational Studies. Up to 50 students can enroll in each study program of specialized professional studies.
A SMALL ENROLLMENT QUESTIONNAIRE
What are the necessary requirements for admission to specialist vocational studies at Belgrade Business School?
Typical: completed three-year elementary vocational or elementary academic studies, i.e. earned 180 ESPB credits.
How do you determine the order of candidates for enrollment in the first year of specialist vocational studies?
Simply: on the basis of grade point average earned at the elementary vocational or elementary academic studies, as well as the length of the previous studies.
Does anybody have a priority in the enrollment?
Based on the conclusion of the Academic Council of the Belgrade Business School, priority will be given to candidates who completed elementary vocational studies of higher education or (pursuant to Article 127 of the Law on Higher Education) earned the right to adjustment of professional title in this school.
What kind of title is gained by a person who completes the second level of higher education, i.e. specialist vocational studies?
He/she will gain the title of a vocational study specialist (professional master) and the total of 240 ESPB.
Where and how to enroll to these studies for 2011/2012 academic year?
Interested candidates can enroll at the Office of Specialist Studies of Belgrade Business School (second floor, Office 202), ever working day from 14:00 to 16:00h, as of September 19, 2011.
Is there more detailed information on this?
Detailed information is available at the website Belgrade Business School: www.bbs.edu.rs.