Insurance

"DDOR NOVI SAD" led "THE TOUR THROUGH SERBIA"
An exciting time warp
The company "DDOR Novi Sad", a member of "Fondiaria SAI", supported the "Tour through Serbia" organized by the "Fiat 500 Club Italia". Lovers of "Fiat 500", the famous "fića" were touring in their cars from August 21 to 27, discovering the beauty and richness of Serbia, the "heart of the Balkans"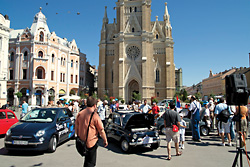 That was a very interesting and stimulating enterprise. The route is carefully designed so that guests from other parts of Serbia can discover and enjoy its unique cultural and natural resources. Many of these treasures have long been protected by UNESCO, as world heritage sites.
They went from the spectacular Podunavlje, through the central mountains, the medieval fortress, the famous Orthodox monasteries. In their old-timer "Cinquini" (Italian nickname for "Fiat 500"), as in a time warp, the participants of the "Tour" followed traces of different historical periods, from those of the Roman Empire, through the Serbian golden Middle Ages, Ottoman and Austro-Hungarian times, and the period of liberation in the 19th and 20th century.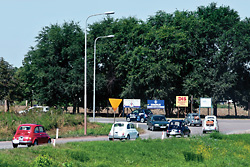 During this interesting trip through Serbia, the participants were led by DDOR's "Fiat 500" as a guarantee of safety. Arriving in Trieste, "Tour" participants joined the caravan and set off from Novi Sad on August 21, 2011. That was their first real "encounter with Serbia." For seven days they drove through and visited Vršac (21 August), Lepenski Vir (22 August), Zaječar (August 23), Kragujevac (24 August), Mokra Gora (August 25), Valjevo (26 August) and back to Belgrade, where the tour ended on August 27.
"Tour through Serbia" was organized as a form of promotion and support of the Serbian cultural and natural heritage, a large part of European heritage. In addition, it also promotes a sustainable approach to tourism, which DDOR supports with great pleasure.
Finally, the "Tour" was the quite original way to mark the 150th anniversary of Italy, a country whose "Fiat 500" became symbol known all around the world, and to confirm the friendly cooperation between Serbia and Italy.