Diaspora
"ILINDEN MEETINGS" IN LAHOLM, SWEDEN, UNDER THE AUSPICES OF THE SERBIAN BRITAIN-SCANDINAVIAN DIOCESE
Lighting up the Orthodox touch
This extraordinary, week-long gathering in the northern Serbian Monastery of the Holy Virgin in Smedjerid, the seat of Bishop Dositej, gathers interesting artists from different cultures and continents. They are followed by journalists, poets, musicians, priests, monks, and numerous audiences in exhibitions, lectures, and film projections. Starting this year, the gathering is listed in the official calendar of the most important events in Laholm municipality.
By: Rosa Petrović Holmberg
Photographs: Ian Holmberg, Kristina Stafstrum, Dragan Đekić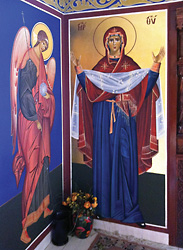 She was sitting in her brightly colored clothes, wearing heavy make-up, on a bench carved in one of Serbia's monasteries, listening to the liturgy and taking frequent glances at her wrist- watch. Out of respect for her, the priest sung half of the litany in Serbian, and half in broken Swedish.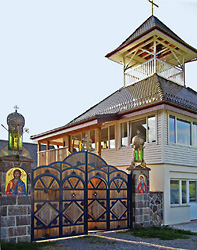 "This strange music of yours can be heard as far as my house, so I came to see who you are. My name is Lis and this is me", she said, handing us a book with her picture on the covers: sitting down, short haircut, with big paintings of vivid colors in the background. Artist. On the back covers of the book is a picture of the forest behind our monastery and a large, showy, white house in the dark green of the lower elevation. The monastery is in the region of Halland, in the Laholm community, nearby the lake Sjöalt, where she often bathed when she was younger. She did not know that from the old friable estate would grow such a beautiful monastery. No, she it is not a believer, she says, but enjoys seeing something different. And yes, this is the first time she has been in an Orthodox church during the service.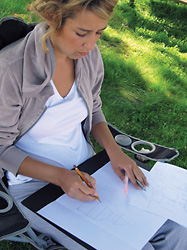 Bishop Dositej has not yet come from the Parliament in Belgrade. He had planned this year's "Ilindansk meetings" and the list of artists for an art colony, but invitations have not yet been sent. Maybe Lis would like to meet some Serbian artists and spend some time with them during those seven days in early August?
I immediately wanted to go to her place and to see her studios, house, paintings, dog, books…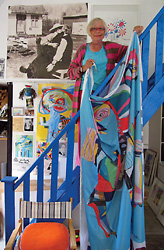 "Please, do not present this picture when our Bishop comes to visit", I said as soon as I saw, next to the entrance door, a large affiche of naked woman peeing, taped over half the toilet door.
"Why?"
"He is a monk", I said.
She laughed cheerfully. Her big black dog Tusan followewd us from one room to another. The walls are covered with large paintings and pictures in enamel, acrylic and oil, and all in very bright colors. Books, sculptures everywhere around ... Some paintings on the walls are very rude. How am I to bring our bishop to such a place, Drakabygget, or Liberty workshop as it is called, and avoid them?
"How old is he?"
"Sixty-two years", I said.
She speaks a heavy mix of Danish and Swedish, "Swedish circus", as she calls it, and I will be the interpreter for Bishop Dositej. We schedule the visit.
"Oh, for years I've wondered who is living on this farm", said the Bishop as soon as he saw Drakabygget. I usually walk through the woods to this stream.
It seems that we just did not know who our neighbors are!
SITUATIONISTS FROM OUR NEIGHBORHOOD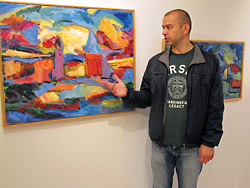 Lis Zwick is an academic artist, one of the wives of the late artist and writer of 35 books Jörgen Nash, a member of "Cobra group," and the sister-in-law of the famous artist Asger Jorn. She is represented in museums, galleries and institutions around the country and the world. Her house is the oldest hippie colony for artists in Sweden and most likely will become a museum. More than five hundred artists from all over the world visited and worked in its four major studios, for some time.
"They are a cult in the world of art and literature, famous as "situational" happenings. There are several books describes their lives and art. Lis and Jorgen were the team behind Nordic journal of culture against the "nuclear bombs, popes and po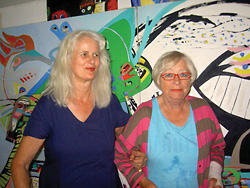 liticians." The fire department and police vehicles were often at our front doors - sometimes just because we changed the color of the door", she said, "The ambulance too - for example when a man was buried alive. Or when we cut off the head "a little sea nymph" for which Copenhagen is known worldwide. Or when we put a few hundred white mice during a gala dinner in Denmark Academy, Rungstedlund ... In many paintings they are painted as naked hippies ..."
"As many artists, in the beginning we were living in poverty", says Lis. "All we needed we got at the flea market. This stove is worth over one million crowns, and Jorgen had it made from old bicycles, among other things. It can bake enamel at a temperature of 800 degrees."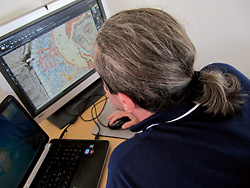 "Could you do one painting in enamel for the monastery wall?" asks Bishop.
"It turned out that it is not too practical", she answers. "If you hit it with a stone and break the enamel, it begins to rust beneath the plate."
Speaking of enamel, Bishop wants to show Lis another kind of art. He carefully and with deep respect opens a nice box that was given to him last spring.
"This is a gift from the faithful on the occasion of the twenty years of the British-Scandinavian Diocese, and twenty years since I became a Bishop", he said in his soft and calming voice. A cross on the thick golden chain, with Jesus Christ, in enamel, was shining in a hand kissed down by millions of believers.
It was a sacred moment.
Bishop Dositej, modest, quiet and dignified, gently holds the cross. Amid the dusty studio full of great paintings and boxes of paint, there is a table with newspapers, yellowish from old age, with a picture of coffin covered with a large colorful art canvas. In the coffin lies our Jorgen, a minute before his own funeral without a priest, surrounded by sad poets, painters ...
For a while, Lis watches in surprise, silent and serious. She is touched.
APPEAL OF HUAN KANO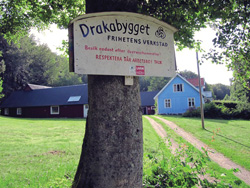 These are the second "Ilindan meetings" in the Serbian Monastery of Holy Mother of God in Smedjerid, with cultural programs and the art colony. It is a week of socializing and work for a group of artists, accompanied by journalists, poets, musicians, priests, monks, His Grace and of course Bishop Dositej, who is the host to a mixed audience of exhibitions and lectures, films and texts in Serbian and Swedish.
Monastery property was bought eleven years ago and it is still being built. At the former site of an incubator for chickens, ​​a small church was made, with frescoes by Archimandrite Timotej Kosanović. Several other small churches are under construction, but in Pirg of St. John of Shanghai cultural activities are already taking place.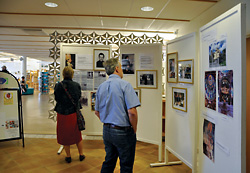 For the local population and neighboring Swedes, the beginning was almost incomprehensible. That right there, in a small region of Halland and in the small municipality of Laholms, on the border of Skåne, resides and finds his seat a Serbian bishop to Scandinavia and the United Kingdom. For years, Sweden's local newspapers were carefully writing about plans for the construction of the monastery, but the politicians who decide on the means of cultural activities were skeptical – and did not respond until this year.
Heads of Culture and Tourism of the regions and municipalities of Laholm Halland visited the monastery this spring. Their impressions were more than positive, so it was decided that this summer a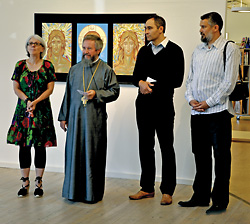 nd they will take an active part in "Ilindan meeting". The monastery was included among the important tourist destinations on the official website of the municipality of Laholm called Smedjeryds Kloster (Smedjerid Monastery). Artists participating in "Ilindan meetings" will be able to exhibit in the City Gallery. The library will organize a photo exhibition on the life of the Serbian Bishop Dositej, and it will be explained to the Swedish audience who he is, then, where from and who we are. Both exhibitions will then be taken to the monastery. Eight artists were invited to be guests.
Aleksandar Hajder is a leader of the colony. Svetozar Pandurović, an industrial designer, an architect and artist, made the gates of the Serbian monastery, as well as its frescoes and lamps. In his company will be, coming from Belgrade, Predrag Vukićević, an artist known in Sweden by large mosaic frescoes in stone on the exterior walls of Serbian churches in Malmö and Helsingborg, as well as the pillars of the monastery in Smedjerid. Vanja Bakoč Hajder is also from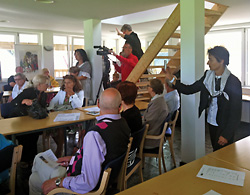 Belgrade, but has been living and working in Copenhagen for three years already. A sculptor and graphic artist, she graduated from the Academy of Fine Arts in Belgrade. Together with her husband and the publishing house "Smedjerid", she published a book on last year's "Ilindan encounters", in Serbian Cyrillic, and the libraries throughout Sweden have already received it.
– This year. "Ilindan meetings" are not only international but also inter-continental. An artist from Uruguay, Juan Cano, who lives and works in Malmö will also be present - the bishop said in opening the exhibition Laholm.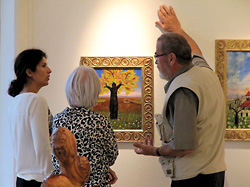 The exhibition had a large number of visitors, and was covered by Radio Halland.
The films in "Ilindan meeting", as last year, are made by the respected painter and poet Strahinja Novović from Halmstad, where he conducts his private school of painting. He has been living and working in Sweden for the last forty years. With its rich production, he is one of the most important participants of "Ilindan meeting".
Web master, artist and musician Dragan Đekić from Malmö, employed in the monastery, is responsible for the official Diocese website (www.epbritska.org). He joined the exhibition and is a part of the multimedia production.
Co-organizers of "Ilindan 2011 meeting" were the publishing house "Smedjerid", Holy Virgin Monastery (Kloster Smedjeryds) and Laholm Halland region and municipality.
***
God's Beauty
"It is our responsibility, and that goes for artists in particular, to create cosmos out of this chaos on earth. A cosmos is, in Greek, order and decoration. When God created the world and man – that was the universe. As a consequence of sins, another dimension appeared – that of chaos. Therefore, Christ himself appeared, to summon us and build a place where we were at the beginning ... Our goal, therefore, to seek improvement, and approaching deification of our source: the eternal beauty. For God's Beauty!" (Bishop Dositej, from the publication "Ilindan meetings")
***
A window into a better world
Axel Malmquist (1895-1978), formerly the mayor of Laholm, greatly contributed to the town by obtaining a multitude of sculptures that the town is now known for. And these are his thoughts on art:
"With beauty around a man, his life is easier. A work of art carries within itself a strong social message. Art opens a window into a richer world, triggering the imagination and enriching us with pleasure of changing colors and forms." (From the publication "Ilindan meetings").
***
Discovering the Liturgy
Cano Juan gladly accepted the invitation and the liturgy in the Orthodox Church for the first time he attended. He listened holding his breath, along with the Swedish guests. Afterwards he had a long conversation with Bishop Dositej, who served in Argentina for three years and who built the Church of the Nativity of the Virgin in Buenos Aires,.
Juan Cano is a highly respected and productive artist, he teaches at Universities, and his exhibitions were visited even by the Swedish King Carl XVI Gustav. He donated two large paintings to the monastery.