Foundations and Peaks
MONUMENTAL PUBLISHING PROJECT OF MATICA SRPSKA FROM NOVI SAD
Ten Centuries of Serbian Literature
The best works were chosen from a millennium of national literature, in all dialects, from all areas (spatial, oral and written). The criteria were high, objective and without any adjustments. This is the only way a golden series from St. Sava to the present times and afterwards could have been established. Motto: "All the best in one place." There are no vulgar books, party literature, clans and chat rooms. The first two series consisting of twenty books are already before the readers
By: Zorica Todorović Mirković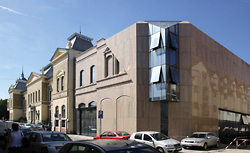 The continuous stream of Serbian literature has been lasting for a thousand years. The idea to unite all the supreme works created within those thousand years came from Matica Srpska. Writer and academic Miro Vuksanović, manager of Matica's Library, is the initiator and editor in chief of the Anthology Edition "Ten Centuries of Serbian Literature". This monumental project gathered the greatest experts in national literature. The works from the first two series in twenty books are already before the readers. Elegant, binded in Byzantine blue (also color of Slavs) linen binding with gold print.
– For any nation, collecting supreme values from all areas including literature are a sign of its total performance in civilization – says Miro Vuksanović for National Revew. – It is best achieved by uniting the traditional and the contemporary, that is, by interpreting the former in a modern way. Reconciliation is a measure of value. We decided to single out works which best represent their time within ten centuries of Serbian literature, in all forms of Serbian language, in all dialects, from all areas (spatial, oral and written). The criteria are high, objective, without any adjustments. This is the only way to get a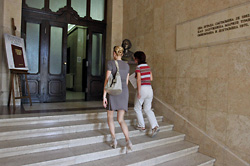 monumental series of Serbian literature works, from St. Sava to anthological books which are being created now or will be created in our century. The anthology is therefore open and cannot be completed. Its pillar can grow and become necessary to the entire Serbian culture and its encounters with other cultures.
Scientific norms were applied, says academic Vuksanović, but in a way accessible to all those who read, study, teach or like literature. We established a model for each book: foreword (new text), anthological selection of the author's complete works, his or her biography (selective), explanations, dictionaries (if necessary), with chosen critics. Comprehensive, full, nicely designed; books necessary for any erudite.
The main advantage of such an approach, adds Vuksanović, is in the maxim: "All the best in one place."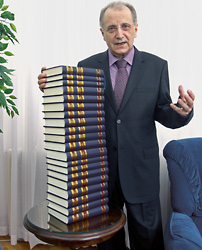 Besides the editors' rules, also stated are 120 titles of the first series (in each book of the Edition and on the Matica Srpska Publishing Center website www.icms.rs). Some books are anthologies; some are shared by two or more writers. Andrić, Crnjanski, Pekić, Ćosić, Laza Kostić, Vinaver, Isidora... have two or three books each. The second series will include XX and XXI century writers not included in the first series, literature historians, literary critics, selections by genres. It will be versatile. It is not a canon, establishing "order in divine writing". The intention is to have all the main marks of Serbian literature in ten centuries.
– About forty years ago, in two issues of an edition similar to this, one hundred and thirty books were chosen and published. This edition is not like the first one. Back then the central committee decided what can be included in Serbian literature. We don't have a committee. We do have self-proclaimed and self-invited committee-likes who think their opinion is crucial in everything. They most often come from different parties, or commissions with the task to "shorten what is too long". One such voice, incorrect and confused, from the culture portfolio website, is attempting to bring material and ethical damage to our truly monumental project. It seems that we are living in a time that cannot bear big undertakings. Only personal and related to clan are ruling. It has always been such, only now it's more shameless.
ORFELIN, HANA, IVO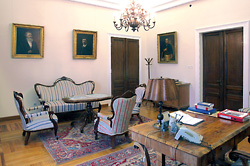 Zaharija Orfelin is present for the first time in the second part of the "Ten Centuries of Serbian Literature" Edition, while Oskar Davičo's wonderful "Hana" and his other poems are presented for the first time in Miodrag Pavlović's Anthology of Serbian Poetry. Miro Vuksanović explains:
– Zaharija Orfelin is our representative of the Renaissance. He had several beginnings and several talents during his sixty-odd years of life, which ended in poverty in Novi Sad, without a tombstone. He was the first Serb who printed his poems, edited the first Serbian magazine (1768), wrote the magnificent Life of Peter the Great (recently recognized as his work) made lists of herbs and letters, lectured in the Podrumar, entered the peak of the Karlovac Church, was a geographer, historian, corrector, almost always as a forerunner. And only now he will get his anthological book, made by a hand from Vukovar, his town of birth. Davičo and Pavlović are finally reconciled upon the will of Oskar's successors. For the first time since 1964, the famous Anthology includes "Hana" and other Davičo's poems. Every book in our edition has something more than its predecessors. They are books of differences and novelties in the known.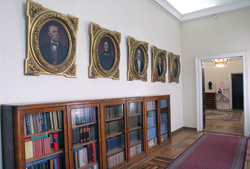 The Publishing Center of Matica Srpska, mentions editor Vuksanović, doesn't have regular employees. It has associates: organizers, editors and subscribers, in Serbia and abroad. Matica Srpska Library gives logistic support. We economize in everything except effort and quality.
– Matica Srpska Library, the oldest Serbian (founded in 1826) and our first public scientific library, has grown to a million and a half publications during the previous twenty-five years. It has the biggest electronic catalog in Serbia, which is the basis of the Serbian Virtual Library. The new wing of Matica's Library opened in 2007 and covering 4.300 square meters is the only completed big investment in culture from the National Investment Plan.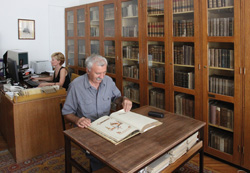 The "Ten Centuries of Serbian Literature" Edition is not realized at the expense of other monumental projects of Matica Srpska and its Library. For example, it is preparing the bibliography of Ivo Andrić, joint project of Matica Srpska Library, Serbian Academy of Arts and Sciences (SANU) and Ivo Andrić's Legacy. It is made for two occasions: half a century of Andrić's Nobel Prize and a century of publishing the great writer's first manuscript in the Bosnian Fairy magazine.
– From June 2009 to May 2011, seven bibliographers, with the help of several associates in Matica Srpska Library, created a century long bibliographic circle of Ivo Andrić including 15.631 records in 49 languages. The project was ordered and financed by Ivo Andrić's Legacy. It includes everything Andrić has ever published and everything that was published about him, with several registers. This enormous and long-awaited book will be jointly published by the SANU, the Legacy and Matica Srpska Library this September, in 1.080 large format pages. Finally.

***
First Series
The first series consists of ten books of the Anthological Edition "Ten Centuries of Serbian Literature": Literary Works of St. Sava (edited by Tomislav Djordjević, PhD), Simple Forms of Folk Literature (Marija Kleut, PhD), Poetry of Dubrovnik and Boka Kotorska (Zlata Bojović, PhD), Book of Dositej Obradović (Mirjana D. Stefanović, PhD), Book of Jovan Sterija Popović (Sava Damjanov, PhD), Book of Petar II Petrović Njegoš (Miro Vuksanović), Book of Bora Stanković (Marko Nedić, PhD), Book of Ivo Andrić (Slavko Gordić, PhD), Book of Miloš Crnjanski (Milivoj Nenin, PhD) and Anthology of Serbian Poetry by Miodrag Pavlović.
All nine editors are also members of the Edition's editorial board.
***
Second Series
The second series of this Edition has been recently published and includes the following ten books: Jovan Skerlić (editor academic Predrag Palavestra), Laza Kostić (academic Ljubomir Simović), Petar Kočić (academic Svetozar Koljević), Isidora Sekulić (Slobodanka Peković, PhD), Milovan Vidaković (Professor Radoslav Eraković, PhD), Simo Matavulj (Professor Dragana Vukićević, PhD), Stevan Sremac (Professor Goran Maksimović, PhD), Ivo Andrić (second book, Slavko Gordić, PhD), Miloš Crnjanski (second book, Professor Gorana Raičević, PhD) and Zaharija Orfelin (Borivoj Čalić).
***
SANU Is Doing Its Job
– Many think that SANU is sleeping – says academic Vuksanović about the accusations often heard in these times of continuing turmoil and commotions. – The media are not regularly following programs, lectures of international experts, international and other scientific meetings. They don't present important publications of the Academy and its institutes. These far-reaching, important and perhaps on purpose passed over things, happen every day at the Academy. It seems that it is important what the leading national institution of science and art will say about the current (turbulent and turbid) political events instead of what SANU is doing as its main task. Academics, as personalities, have their own convictions which can differ. It is important that the Academy on a high level does what it is actually made for.
***
The Language Defends Itself
– Serbian language has the same fate as the nation it belongs to, the nation it creates. United peoples, even small ones, care about their language, while Serbs even today argue whether Vuk was right, where the center is, who invented which word, which side is the main, whether the south is at the bottom. They would give their life for the Cyrillic alphabet, yet every moment in the street they rub the Latin alphabet with their shoulder. But the language defends itself. It doesn't care for those who think it will disappear without them. Serbian language is rich. It has words for others too. Nothing will happen if it accepts something from others. Yes, it is true, our real literature today is marginalized, almost displaced. Party literature is ruling. Most often vulgar books are open on tables. Yet this trend will pass. The extraordinary is created silently, slowly enters the consciousness and lasts for a long time. It doesn't care about chat rooms.