Health
DR DEJAN STANOJEVIĆ, DIRECTOR OF SPECIAL HOSPITAL "MERKUR" IN VRNJAČKA BANJA
Towards European No. 1
Continuous investments, raising of all standards, superior expertise and modern equipment have made "Merkur", officially, "the institution that marked the decade". They have resisted many temptations, including dubious privatization. "Merkur" is now on a good track to grow from national centre of medical tourism into European one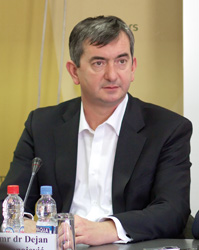 In the first ten months of this year, Vrnjačka Banja was the tourist destination in Serbia with the highest number of visitors, and Special Hospital "Merkur" accounts for 50 percent of accommodation capacities in the entire spa resort. There were organized groups from Russia, Norway, Greece, from Cyprus, a large number of individual guests, several thousand of them from EU countries. They work in full speed and capacity.
This is only a small part of what "Merkur", a long time champion of medical tourism in the Balkans and the first entity in this region in which the border between therapy and enjoyment has been deleted, can be proud of in this year. And it is one of numerous reasons for a conversation with the first man of this institution, Dr Dejan Stanojević.
– There, one half of our personnel is studying English, the other half is studying Russian. And that is a work obligation. We do not need to emphasize to what extent such knowledge will be useful for our guests, patients from abroad. Our primary goal is to make a guest or a patient who once comes to "Merkur", return again. And we succeed in this. We maintain continuity in our quality, accommodation, food, the entire program.
In the last few years everything in this institution has been marked by high investments, from investments into renovation of the facility and procurement of modern medical equipment, to implementation of new programs. All this has contributed that "Merkur", situated at the heart of a century old park, next to the Vrnjačka River and at the foot of Goč mountain, has long been not only a medical facility, but a recognizable and modern medical, wellness and spa center.


– We are continuously investing in completing our medical diagnostics and treatment, in order to provide everything that is needed to a patient or guest during their stay here. This year, the Peloid Centre for partial and total therapy with cold, warm and hot peloid (mud) was completed. In cooperation with the Center from Belgrade, hyperbaric chamber for therapy with pure compressed oxygen was opened in "Merkur", accommodation capacities were renovated, new hot water spring was a capital investment... And so many things were done only in this year. Our investments are between one half and one million Euros.
And when it comes to plans and development projects, renovation of Hotel "Romanija" is planned for next year. It will be a four star hotel and will have exclusive programs. Because, foreign guests are very demanding. They don't ask about price, but want superior quality.
Filled capacities, good financial results, satisfied guests, huge positive energy of employees, continuous investments, commitment to quality, in short a special business philosophy and strategy, resulted in "Merkur" going a step further in all aspects. TO be more accurate, a step ahead of others. Confirmation for this are obtained certificates of ISO standard 9001 and HACCP system, which are international proof of quality. It is not an exaggeration if we say that through quality of services, the most advanced technology in treatment and rehabilitation of patients, continuous education of employees, numerous ideas and programs, "Merkur", or better its management led by Dr Stanojević, has changed the directions of development and business philosophy of the entire spa tourism in Serbia.
– Our vision of development is medical tourism, and our ambition is to, through improvement of services, obtaining licenses and certificates, become institution number one in Europe and be the leader in medical tourism.
THERAPY AND VACATION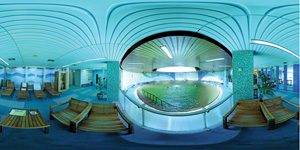 Medicinal mineral waters, contemporary diagnostic methods and highly specialized medical team were successfully put together by "Merkur" for the purpose of treatment of diabetes, gastroenterological problems, diseases of skeletal-joint system, cardiovascular, neurological, ophthalmological and gynecological diseases. Guests are here provided with a possibility to in a very short time obtain a full insight into their health condition and adequate therapy. in short, "Merkur" is the most advanced medical service for prevention, diagnostics, treatment and rehabilitation of many diseases.
There are also numerous programs for enjoyment and relaxation that make this institution well known far and wide. Medicinal water and mud provide pleasure and enjoyment that is supplemented with effects of baths, beauty treatments in a new Peloid Centre "Limus Romanus". After medical treatments, guests can enjoy at the Wellness Centre "Fons Romanus", swimming pool with thermal mineral water and underwater massages, they also have sauna-park available, relaxation massages with essential oils, volcano rocks, hot chocolate, honey. Medical and wellness programs developed here are supplemented with delicacies of healthy and adequate diet, conceived under the watchful eye of a nutritionist.
All this that has been accomplished by the team of "Merkurov", the innovations they introduce, achieved results (last year there were over 170.000 guests), contributed that the Special Hospital has been making staggering success in recent years, and its Director Dr Dejan Stanojević and his associates repeatedly achieve business success. As the crown of this year's acknowledgments they single out the cup awarded at the fair in Novi Sad, The company that marked the decade, individual awards, golden medals won by chefs, waiters and receptionists at the gathering of catering workers, etc.
THE MOST IMPORTANT LINK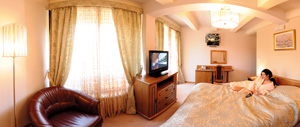 Among numerous novelties that make this institution an elite one, is program for patients with diabetes, which is unique in Serbia and beyond. Three and a half years ago, "Merkur" became the National centre for free of charge prevention, treatment and education of patients with diabetes, first those who are using insulin, and as of last year for patient who are receiving therapy in form of tablets.
– Ministry of Health and the State Health Insurance Fund have recognized our institution as one of the strongest link in fight against diabetes, and one of the ways to improve health of these patients is the program of extended rehabilitation and education, which is implemented here. All insured people, during a ten day long stay, receive full medical screening, starting from diagnostics and detecting secondary complications of diabetes, up to the education within the "School of Diabetes". A prevention program was designed for the first time. I am really proud of the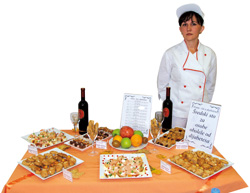 fact that, together with my professional team, I have managed to persuade the competent authorities that it is high time to invest in prevention. And, I can say that there is no institution in the entire Europe that takes care of patients with diabetes in this way.
However, despite the fact that this program has excellent results, and 400 beds in "Merkur" have been dedicated for this purpose, patients are unfortunately not using this right sufficiently. The reason is the fact that both patients and doctors are not sufficiently informed, as well as inadequately informed medical committees.
– That is why we would like to call all of them once again to take active participation in the realization of the educational program, in order to enable patients with diabetes to use their right to free treatment, which has general interest. "Merkur" is striving to grow from the National Educational Centre into a European destination for the treatment of diabetes, and to have people coming to Vrnjačka Banka from all continents for the first class medical tourism.

***
For Perfect Looks
Merkur's WellnessCenter "Fons Romanus" has recently introduced new programs for body and facial care, which are extremely popular in the world. These are "Kavifit" and "Kavilift". These are efficient, permanent and safe methods that enable lifting and liposuction without surgery, and are performed under a watchful eye of professionals.
***
Simple and Free
A way to ensure that people with insurance will execute their right to extended free rehabilitation in "Merkur" is simple: form a selected physician they would take a referral for stationary extended rehabilitation, report to the competent healthcare committee of the State Health Insurance Fund, which will authorize the referral, then report to "Merkur" to find out the dates of their stay.
***
Many Will Fight Over "Merkur"
– The story of privatization was in focus last year. We know where it came from and how it went. Fortunately, it has been postponed for now. We are now trying to enter into other forms, such as public-private partnerships. "Merkur" is a large and successful institution and it is certain that many will fight over it. For example, we have recently co-organized, together with the Serbian Medical Chamber, a gathering of diaspora, primarily that including medical professionals. We will try to build a partnership with diaspora through economy and finances. To make it a public-private partnership, which should be made possible through future regulations, hopefully by the end of this year.