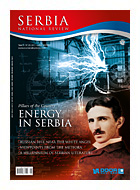 SERBIA - National review no. 29

Prologue
You are tired of everything?
Tired of history and geography, of speculators and marketing dictatorship, of reformers and conservatives, of professional optimists and passionate pessimists, of charlatan experts and pretentious amateurs, of hands in the sand and playback crowing roosters, of politics holding head up high but with pants rolled down, of moral freaks and freaky moralists? You are disgusted with killers-visionaries, globalist bullies who first falsely accuse countries and peoples, massacre them, occupy, rob, and then sell their confessions on reasons why they lied to the survivors?
But, what can we do, you say, this is their time.
And ours? When will our time come? Yours and mine?
Christ is born!
Happy New Year 2012!
GALLERY

CONTENTS
Prologue
ELECTRIC POWER DISTRIBUTION, ONE OF THE PILLARS OF SERBIAN ECONOMIC STRATEGY
Masters of Their Energy
Vitrage
NUMBERS, EVENTS, INTERESTING THINGS
Album
PHOTOGRAPHY BY DEJAN KNEŽEVIĆ
The Heart of Serbia
ON THE ROAD: THIRTY-SIX HOURS TO PRILUŽJE IN KOSOVO AND BACK
It's All Right, Even When It Isn't
Going down a dusty road, through the woods, we cannot recognize anyone in the darkness. We are hoping no one can see us either. We are going slowly, winding uphill a goat path, certainly impassible in rain and mud. That narrow path, non-existing in Belgrade news and insincere statements of political marionettes, is one of the rare remaining connections between Serbia and itself. The sky is clear this November night and above the mountain slopes, among faraway stars, shines the halved moon
By: Milorad Ćirilović
Photo: Dragan Bosnić
Consecration
FOR THE UPCOMING 800TH ANNIVERSARY OF THE MONASTERY OF MILEŠEVA
A Russian Bell with the White Angel
People say that it is the largest bell in Serbia now. Weighing nine tons, cast in Kaminsk in the Ural, from local ore. It was gifted by the devout Russian Andrei A. Kositzin and consecrated, on the day of the Holy King Vladislav (October 7), by Patriarch of Serbia Irinej. Its manufacturing cost half a million Euros, the transport from Ural to Mileševa another 20.000. Can we hear what it announces and where this wondrous bell echoes from?
Text and Photo: Jovo Bajić
Catalogue
BAJA'S GARDEN, EMBRACED BY THE DRINA AND THE TARA
The Pearl of Western Serbia
"Some cities are located on the slopes of powerful mountains, others have clear rivers flowing through them, some have a beautiful lake and others are interesting for their tradition and culture. Bajina Bašta has it all!" So writes a local chronicle writer, and without any exaggeration and we, with pictures more than with words, remind and invite you to see for yourselves
By: Goran Budimir
Photo: Dragan Bosnić
Sponsor: "Elektroistok Izgradnja"
Autumn Silk
THE MOST BEAUTIFUL SEASON IN SERBIA, SEEN THROUGH A FOLK SONG AND EYES OF GRANDFATHER TUGOMIR
Full Granaries, Empty Houses
In the fall people used to go to the army or get marries. As soon as harvest is finished, crops are prepared, rakia distilled. "People where there, and everything else – whatever you have." Today there is everything, a peasant turned into a lord, but people are missing. There are fewer and fewer of those who are for marriage and giving birth, and there is no army any more either. Brides no longer sing: "God, let it not dawn until Đurđevdan!" Everybody, especially those for whom worrying is a part of their job description, a part of official grimace, are asking whether there is a cure and a doctor for Serbian village
Text and photographs: Dragan Bosnić
Exploration
AGAIN THIS YEAR, ERCHAEOLOGISTS AT SITE BUBANJ NEAR NIŠ
In Layers of Time
From that small hill, on the former confluence of the Nišava and South Morava rivers, the most important roads in this part of Europe were controlled, through many millennia. The first archaeological explorations were conducted in 1935, and afterwards in the 1950's. Since then, this site has been on the map of the most important sites from the Copper Age, and an entire archaeological culture was named after it (Bubanj-Hum). Meanwhile, under the influence of erosive and other forces, Bubanj almost disappeared. We visited a team of experts of the Archaeological Institute from Belgrade and the National Museum from Niš, who are very much in a hurry
Text and photographs: NR Pres
Links
"NATIONAL REVIEW" WITH CHILDREN FROM PROKUPLJE AND KURŠUMLIJA VISITED GREECE
Views from the Meteora
Neofitos Kjurcidis, the owner of Greek agency "Mayak", is called a Serb by his friends, which he takes as a great honor. His company from Paralia, in which Serbian is the mandatory language of communication, covered all expenses of the stay of Serbian children, mostly from families of refugees or low income families, as well as those with exceptional results in arts, science and sports. "Can joy and serenity of children that we feel while standing with children from Serbia in this temple be measured with money?" says Neofitos in the Meteora, the second largest Christian orthodox monk city
Text and photographs: Ruža Srbinović
Foundations and Peaks
MONUMENTAL PUBLISHING PROJECT OF MATICA SRPSKA FROM NOVI SAD
Ten Centuries of Serbian Literature
The best works were chosen from a millennium of national literature, in all dialects, from all areas (spatial, oral and written). The criteria were high, objective and without any adjustments. This is the only way a golden series from St. Sava to the present times and afterwards could have been established. Motto: "All the best in one place." There are no vulgar books, party literature, clans and chat rooms. The first two series consisting of twenty books are already before the readers
By: Zorica Todorović Mirković
Photo: Branko Lučić
Old Masters
MIROSLAV RADOJČIĆ (1920-2000), THE INCOMPARABLE CAVALIER OF SERBIAN JOURNALISM
Our Window into the Great World
He reached the first exam at the Faculty of Medicine, but was then forever drawn by the whirlpool called journalism. He was the goalkeeper of "Slavija", chess master, Belgrade Don Juan with a bow tie in the grey times. The first correspondent of "Politika" from New York and London. He met Ava Gardner at the "Big Apple" airport, had a seat with his name written on it at the Wimbledon official lounge, wrote about Miloš Milutinović in the most sentimental manner. He never accepted the vulgarization of his profession. He trusted only winners in sports
By: Aleksandar Mihajlović
Worlds
GORDANA GAJIN, A PAINTER DEFENDING PAINTING, HENCE BEAUTY
Notes from an Internal Journey
Her painting is pervaded with deep calmness and endless meditation over the plain. She paints in loneliness, with asceticism, and dedicates herself to each painting as if it were her last. As if part of a ritual of gentleness and sincerity, with an unspeakable dust of ancientness, still-lives, nudes, gates, houses, deserted train stations, monasteries and landscapes in snow in the lowlands appear before us. Without any excessive ornaments, pose or deceit. At first sight common, yet miraculous world, discovered primarily in her inner self
By: Dejan Djorić
Road Sign
ANDREVLJE, ON FRUŠKA GORA: CENTRE FOR ECONOMIC-TECHNOLOGICAL DEVELOPMENT OF VOJVODINA
Excellent Work and Rest
In the area that looks like paradise, this Centre was founded in 2008 by the decision of the Provincial Assembly. It has become the seat of congress tourism, gathering of experts in different formats, but also a place for rest, enjoyment and health. It is easy to get there and easy to return to
By: Helena Duković
Destination
HOTEL "NORCEV" ON IRIŠKI VENAC
New Centre on Fruška Gora
The latest facility on the well-known mountain, with beautiful surroundings and excellent geographic position, opens up great possibilities for individual, corporate and congress tourism
Strategy
SERBIAN NATIONAL INVESTMENT PLAN IN FACE OF NEW VENTURES IN 2012
Emphasis on Big Projects
Recent amendments to the Law on Financing Local Self-Governments have enabled municipalities and cities to have more money in their budgets, and therefore more possibilities to resolve local infrastructural issues. Therefore, in 2012, NIP is shifting its focus from local to regional and national projects and projects in the least developed municipalities
Action
ANOTHER VERY INTERESTING CAMPAIGN OF "DDOR NOVI SAD" IS CURRENTLY UNDERWAY 
Advices for Movie Theatre Audiences
The action takes place in movie theatres "Arena Cineplex" in Novi Sad, and "Roda Cineplex" in Belgrade
Remembering
125 YEARS SINCE THE FOUNDATION OF THE NEW CEMETERY AND BELGRADE PUBLIC UTILITY COMPANY "POGREBNE USLUGE"
A Place of Memory and Piety
It was founded in 1886, at the time of the rapid urban rearrangement of the town of Belgrade. Its founder, famous Vladan Djordjević, M.D., donated his estate for the construction. The history of this city and this country, their highest achievements and deepest dramas, can also be observed through the heritage of the New Cemetery. In 1983, it was officially proclaimed a cultural and historical good of extraordinary importance for Serbia
By: Zoran Marković

Knowledge
MILAN BJELIĆ, MS, GENERAL SECRETARY OF BELGRADE BUSINESS SCHOOL – COLLEGE OF VOCATIONAL STUDIES
Results and not Advertisement and Bells
Studying here also implies practical work in more than 1,200 commercial and other companies. In order to facilitate learning and additionally raise its quality, the school has developed its professional publishing activity. Good cooperation has also been realized with universities in Rome, Thessaloniki, Stuttgart, Canada... Success, of course, has its numerical expression, exact and easily verifiable
Knowledge
DR MLADEN VEINOVIĆ, DEAN OF THE FACULTY OF INFORMATICS AND COMPUTING AT "SINGIDUNUM" UNIVERSITY IN BELGRADE
Electronic Literacy is Simply Necessary
The power of knowledge is in its applicability. Every IT specialist who knows economy, accounting, bases of finances, marketing and, of course, program development, has many possibilities for good employment. People who complete their studies at this Faculty become excellent program developers, have good knowledge of information systems, networks, data bases, security mechanisms... That is why everybody, literally everybody, has a job
Text and photographs: Rozana Sazdić
Opportunities
ECHOES OF THE SEVENTH JOB FAIR IN BELGRADE
To Create One's Own Future
Over 3,500 visitors and 40 companies that offer employment are confirmation that young and educated people ARE in demand. There is employment for them, regardless of the difficulties of the time and severity of crisis
Health
DR DEJAN STANOJEVIĆ, DIRECTOR OF SPECIAL HOSPITAL "MERKUR" IN VRNJAČKA BANJA
Towards European No. 1
Continuous investments, raising of all standards, superior expertise and modern equipment have made "Merkur", officially, "the institution that marked the decade". They have resisted many temptations, including dubious privatization. "Merkur" is now on a good track to grow from national centre of medical tourism into European one
Health
PROFESSOR DR TOMISLAV JOVANOVIĆ, SCIENTIT, MEDICAL DOCTOR, TOP EUROPEAN EXPERT
A Seeker Ahead of His Time
Excellent researcher in the field of physiology, balneo-climatology, hyperbaric and sports medicine. A scientist, medical doctor with a gift to find answers for many patients suffering from severe diseases, those that are known and, more often, those that are still unknown, who would repeat, as wee have found out, numerous times: "God himself helped us to meet with him." An expert willing to unselfishly share his knowledge with others. His curiosity, ability to observe and judge, his search for scientific answers, creativity and professional skill to, by combining two methods, create a third one, marked one entire field of medicine. He is one of the best ambassadors of Serbian knowledge and country
By: Jagoda Plavšić
Photographs: Dragan Bosnić
Lighting
HOW THE ELECTRICITY RAN THROUGH THE VOJVODINA PLAINS
Thanks to the Millionaire with a Vision
Electrification in Vojvodina started in Stara Pazova, in 1893. Then came Senta in 1895, Subotica in 1896, Vršac in 1897, and others. By 1918, 44 settlements were electrified, supplied with power from 31 power plants. By 1939, there were 63 operational power plants, with total installed power of 36,800 kilovolt-ampere. Annual production was about 7.5 gigawatt hours, which is less than one third of today's average daily consumption of electric power in the northern Serbian province
By: Zoran Plavšić
Energy
"ELEKTROVOJVODINA" AS THE LEADER IN ECONOMIC AND SOCIAL DEVELOPMENT IN THE NORTHERN SERBIAN PROVINCE
Formulas of the Regional Leader
"We are trying to anticipate challenges and to face them on time, before they become a problem", says Dr Tihomir Simić, Director of this company. "In this way we prevented the loss of value of what had been created through the previous several decades long efforts, that is how we overcame the previous stagnation, that is the foundation of our expectation of positive business and financial results in 2011, after previous four negative years. Therefore, the formula is as simple as it is demanding: to preserve what we have, to build the new, to integrate the advanced and technologically better"
Energy
MIJODRAG ČITAKOVIĆ, DIRECTOR OF "DRINA-LIM HYDRO POWER PLANTS"
New "Bistrica" as the Crown
This complex company is striving to equally develop all its parts. It produces more than three billion kilowatt hours of electric power annually, which is one third of the total production in Serbian hydro power plants and 11 percent of production in the entire Electric Power Distribution of Serbia. In addition to successful revitalization of the existing capacities, the plan is to build a new reversible 680 megawatt hydro power plant, the largest investment in the Drina-Lim basin (550 million Euros)
Energy
MANAGERS OF THERMAL POWER PLANT "NIKOLA TESLA" AND ELECTRIC POWER DISTRIBUTION OF SERBIA ATTENDING PROFESSIONAL TRAINING IN JAPAN
The Biggest Environmental Project in the Balkans
Construction of the plant for desulfurization of flue gases in this giant power plant in Obrenovac will be realized with assistance provided to Serbia by the government of Japan, through its national agency for international cooperation. The value of this work is EUR 250 million. This is one of more important prerequisites for EPS to meet the standards of environmental protection prescribed by the European Union
Energy
"THERMAL POWER PLANTS AND MINES KOSTOLAC", ONE OF THE PILLARS OF SERBIAN POWER INDUSTRY
Reliable Supplier of Electric Power
In the year that is about to end, this electric power giant will exceed the highest production ever recorded here. And in the year ahead of us, the second phase of revitalization of Block "B2" is expected, establishing of a system for desulphurization of flue gases, construction of railway and port on the Danube... With Chinese partners they have been negotiating the construction of a new 350 megawatt block and on expanding the production at Mine "Drmno" by one third. In all this, the key postulates in their work are professionalism, ethics and social responsibility
Science and Economy
SEVENTY FIVE YEARS OF WORK OF THE INSTITUTE OF ELECTRICAL ENGINEERING "NIKOLA TESLA" IN BELGRADE
Fathoming the Phenomena of Electricity
In order to respond to contemporary trends in science and economy, the Institute is organized in four research-development centers, and it also has a laboratory for testing and calibration – says engineer Dr Dragan Kovačević, Director of this reputable institution, for National Review. We will lead our readers through some of its important organizational segments
Introduction
"VIA OCEL", RELIABLE PARTNER TO LOCAL AND FOREIGN INVESTORS
Wide Road of Steel
Their core business is engineering of thermo-technical and thermal energy plants. In the past decade they worked for the biggest and technologically the most demanding clients