The Forgotten Ones
THE PAINTER WHO MERGED WITHIN HIMSELF ETERNAL RUSSIA AND IDEAL SERBIA
Four Chapters of Vasa Eškićević
Destiny refused to make this talented man from Irig (1867-1933) become a village barber. It took him to Belgrade, then Vienna, then St. Petersburg. He was the first and only Serb who graduated from the Imperial Academy of Arts in Russia. He was highly esteemed, his paintings were reproduced in many copies and entered many Russian homes (later also Serbian and French). When Serbia was attacked in 1914, he left everything behind and put himself at the disposal of the Serbian Army command. He was given the position of the First Army war painter and accompanied it all along, through all the sufferings and resurrections. He left behind multiply important works, contributed them to the glory and memory of Serbia. He rests at the Uspensko groblje cemetery in Novi Sad. Forgotten?
By: Đorđe M. Srbulović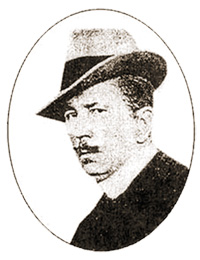 When asked "What holds nations together?", Confucius allegedly replied: "The army, bread and the spirit of ancestors." Carrying the heritage of ancestors within and brought up in such a spirit, as children had been brought up throughout centuries in Serbian villages, Vasa Eškićević went a long and more than interesting road: from the son of an Irig peasant meant to be a village barber, to an important phenomenon in Serbian art, unique in many ways.
THE QUEST
He was born in the village of Irig in Srem, Serbia, in 1867, on the day of St. Vasileus the Great. Thus his name: it chose him, not the other way round. Already as a child he began copying pictures from folk calendars and illustrations from Cyrillic magazines and books, therefore beginning his journey towards permanent knowledge of Serbian, Orthodox Christian and epic history, religion, beauty, myths and customs. He inherited his talent from his father, a man of "thousand skills", famous in Srem and further for decorating weapons with unusual ornaments in long winter nights, showing that beauty and knightly battle are one and the same in folk tradition.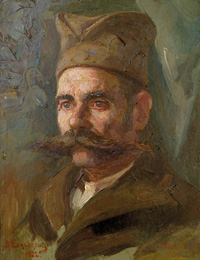 Painting and his wish for knowledge took him from his parents' home, which his father did not accept well at first. Over Novi Sad, the capital of Serbia over the Danube, he started off to the capital of all Serbs – Belgrade, beginning his artistic career in the National Theater. He didn't stay there long: after having seen his works, his colleagues from the theater encouraged him to go to Vienna, to continue studying painting. He spent two years there, but, as he used to say later, he neither learned much, nor was satisfied with what he had seen there. At the time, Vienna was carelessly spending the heritage of ancestors for entertainment, just as the whole Europe was. It was the period of Belle Époque, which had its climax in world wars and disasters that still last. The skill of Vasa Eškićević however didn't go unnoticed: the Viennese press was full of praises for him.
In each of his journeys to Irig from Vienna, he would travel through Pest, and find refreshment in the Tekelianum. During one of his visits, he met Teophan Nikolaevich Kardashov, a Russian priest who knew about Vasa's works from the press. This man, noble as only a Russian could be, first held him a lecture about "Serbs who constantly speak about Russia but go to schools in the West". Then he suggested him to continue his studies in St. Petersburg, promising him financial support. This encounter ended the first chapter of the life of Vasa Eškićević – the quest.
THE FULFILLMENT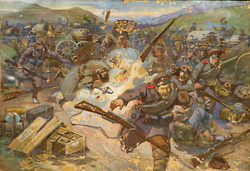 In the autumn of 1883, at the age of 26, Vasa arrived to another center of the world, this time to the capital of the Orthodox Christian Empire. Only then, when he found the place he belongs to, his real life began, and only then he found himself on the real path of his painting.
Since he hadn't had any pre-education for the academy of arts, he enrolled at the state School of Arts. He immediately received a scholarship as a regular student. He completed all five years of studies in three. He was then invited to enroll at the School of Arts of Princess Tenisheva, reserved only for the best and most talented students, managed by the great Ilya Yefimovich Ryepin. He stayed at this school for another four years. Maria Klavdievna Tenisheva, an artist herself, a benefactor, founder of the school of arts, draw together an important and interesting circle of artists of St. Petersburg. It was especially respected by Nikolai Rerih. Besides St. Petersburg, she also opened a school of arts in Smolensk. The works she collected for years were later gifted to the Russian State Museum.
After having successfully passed the preliminary exam in 1900, he was enrolled at the Imperial Academy of Arts. He completed all "courses" there (pedagogic, junior and senior), and already during his studies began working as a high school teacher. He successfully passed the final exams in 1908. He received the diploma of an artist and silver medal for his exhibited painting Baykal Cossacks in Manchurian Gorges. He was 41 when he finished his education.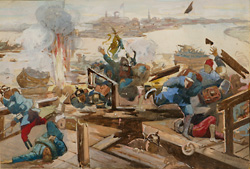 His life in Russia, where he spent 21 years, is hardly known to us. It is, however, more than obvious that this is where he found answers to questions that have continued tormenting his fellow countrymen for decades after him. By knowing Russia, he discovered his Serbian nation, homeland and heritage of the ancestors. His paintings: Death of Deacon Avacum, Vagabond Musicians, Dahis, In the Eve of the Serbian Uprising under Karadjordje, Distant Dreams, After the Battle (scene from the Russo-Japanese war)testify about it.
Vasa used to come to Novi Sad occasionally, dressed in the high style of the Russian capital. Each of his arrivals provoked great attention. Everything coming from Russia had a dose of mysticism and unreachable beauty, noted the later secretary of Matica srpska Milan Savić in his memories.
He would have probably stayed in Russia till the end of this life if it hadn't been for the Austro-Hungarian ultimatum to Serbia, and then declaration of war. He immediately left everything, came to Serbia and applied to the Serbian Army command as a volunteer. His wish to fight in battles was not granted. Instead, he became a war painter of the First Army. He accompanied it to all battle sites, the Golgotha through Albania, Corfu, the Thessalonica Front… The paintings of Vasa Eškićević created during those times are firstly a permanent testimony of the suffering and resurrection of the nation and its army, secondly valuable works of art, and at the end the Kingdom of Serbia's means of propaganda.
Thus ended the second chapter of Vasa's life: the accomplishment.
THE DEPARTURE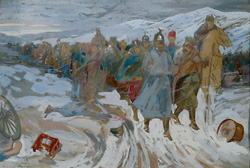 He arrived to Novi Sad in 1918 with the Serbian army and settled there. His studio was in the yard of the house in present Zmaj Jovina Street no. 4, and this is where he spent his days. He wore the Serbian uniform for years, showing his belonging to the world whose time had passed. His homeland – Serbia – didn't exist any more; neither did the country he loved and in which he found the meaning of this life – Russia. Different ones appeared instead, with different people and measures of value.
His paintings with Serbian themes had a similar fate as the Russian ones: they were reproduced and decorated many patriotic homes. The same happened with the paintings purchased by France. Many ministries of the Kingdom of Serbs, Croats and Slovenians also purchased his paintings.
Vasa Eškićević died on February 3, 1933, at the age of 66.
THE LASTING
After World War II, no one except narrow professional circles spoke about him. The critics stated that he was "under the strong influence of this and that", he was classified as academic realist, treated as a war painter, his works were given documentary value, while their artistic value was disputed…
As Trifun Militar said in the necrologue, Vasa was not prone to coterie, he never imposed, recommended himself; he wasn't strict to anyone except himself. He lived humbly, better to say in poverty. Except for the Albanian Medal, the medal given to everyone who survived the Golgotha, he never received any other honors. He did not belong to the modern world of abstract and hyperactive culture. Perhaps his life and his art could be better entitled traditional realism, but such a style doesn't exist in modern science.
He painted a few iconostases by the end of his life, including the Serbian military chapel in Petrovaradin, dedicated to Holy Apostles Peter and Paul. Several days before his death, he had, as usual, many listeners around him, who absorbed his words about Russia or the Serbian fight for freedom, looking at his face glowing and shining while he speaks.
Then he became silent, went to bed and… departed.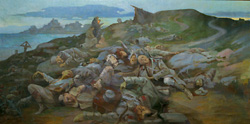 Vasa Eškićević's waterman gave the best evaluation of his life and work. On February 3rd, 1933, when Vasa passed away, uncle Aksentije, although living in great poverty, bought a candle longer than a meter, over 15 centimeters in radius, and lit it on the doorstep of the painter's studio. It burned for days.
Several works of Vasa Eškićević are exhibited in the Irig Home of Culture, some paintings are in the possession of the Matica Srpska Gallery, an unknown number is in private collections. Vasa's cousin Ljubica Eškićević kept the painter's manuscripts, diary entries, notes and sketches and handed them to Matica Srpska, which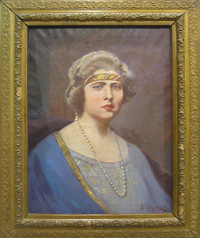 still keeps it in its manuscripts' department. Besides the mentioned necrologue, an obituary was also written by Dr Jovan Savković. In the early 1970s, Teodor Pavljanić wrote an inspiring text about Vasa Eškićević.
Vasa Eškićević was buried at the Uspensko groblje in Novi Sad, but the story doesn't end there. At the same cemetery, just across his grave and humble tombstone, Russians have been buried since the 1930s, those "white" ones, refugees from their homeland during the bloody civil war and revolution, those who found their sanctuary in Novi Sad, where they ended their journey on this earth. Eternal Russia and ideal Serbia thus continued their journey together.
And that is the fourth chapter of Vasa Eškićević: the lasting.

***
Fulfillment and Fruitfulness
The more than fruitful painting opus of Vasa Eškićević, the letters he occasionally sent to his homeland, translations of Russian writers and poets, as well as his private life known only in traces, testify about him discovering his path and answers to important questions. His texts and translations were published in Serbian papers: Branik in Novi Sad, Brankovo Kolo, Srbija, Severna Srbija in Subotica, Luča in Cetinje... He occasionally visited his homeland, where he participated in group exhibitions with other Serbian painters.
***
Paintings, Reproductions, Presence
The Russian critics had a very favorable opinion about the paintings of Vasa Eškićević.
Besides his final exam work Baykal Cossacks in Manchurian Gorges, his best works include January 9, 1905 (Pop-Gapon's Uprising), Holy Thursday in the XVI century, Distant Dreams, On the Neva, Former People, Self-Portrait, Landscape...
Many Eškićević's works were reproduced in many copies and are thus present in many Russian homes.