The Winner
NENAD BOROVČANIN, EUROPEAN BOXING CHAMPION IN CRUISEWEIGHT CATEGORY
I Don't Have a Spare Homeland
For him, he says, the treason is unacceptable also in love, friendship, work, and let alone when comes to the country. Box is an honest story, maybe more honest than life. Low blows are unacceptable, as well as back blows, intrigues and machinations are of no use. Two men voluntarily enter into the boxing ring and stay there alone, face to face. There are no withdrawals, replacement from the bench, time out. There is no possibility that someone else would resolve your problem instead of you. To fall down is not so much a weakness, as it is the virtue to stand up. Box, simply, teaches you how to fight
By: Dejan Bulajić
Photographs: NR Pres and archives of Nenad Borovčanin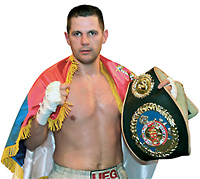 The times when Serbian boxers were reaping the glory in boxing rings around the world arte long gone. The Kačar brothers, Puzović, Vujković and many others, have remained as a relic from an era when guys with a good heart, and with dynamite in their fists, knew how to add a nuance of Balkan knighthood to a noble mastery. Today, among the generations that have just come of age, very few people know anything about sports box. In this, they often overlook the only bright episode offered by this sport in the territories of Serbia –Nenad Borovčanin from Loznica, already crowned with titles in the professional scene.
His life and sports story breaks the cliché that box is a choice only for guys from the margins of social life, who most often do not have an opportunity for better choices in life.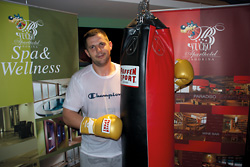 – It is true that boxing attracts a large number of those who have some troubles in their lives – Nenad begins his story. – Socially endangered children have desire to prove themselves and to fight for a better place in their community. However, there are those who chose boxing without such burden, like me. The unsuccessful are always looking for an alibi for failures, whereas the strong uvek always find a way to succeed. Unfortunately, it is exactly the unsuccessful boxers who, abusing the skill, created this image that boxing halls are the meeting ground for frustrated buys, who are trying to treat their childhood frustrations with their fists. I believe that they are exceptions, and not the rule.
The beginnings of Nenad Borovčanin are connected with the well known boxing school in Loznica, which created many champions.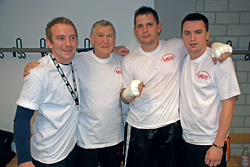 – I began to practice boxing when I was 15 years old, out of mere curiosity. I did not even suspect then how far I would go in the boxing. My first coach was Dragan Vasiljević, who had a strong influence on my commitment to continue practicing this sport. Even today I remember the excitement from the first sparing trainings. That adrenaline rush is exactly what would not let me leave box later.
He could not have suspected then that the box would help him feel the joys of being a champion.
– I secretly hoped that one day I would reap the glory of famous boxers, but I could not have imagined what kind of a road was ahead of me on the way to the top. The reality has showed me that I had to forge myself on many fires, so that I could think of myself as a champion.
He reached those levels in 2011. First, in Banjaluka, he won the title of European Champion in cruiserweight category, and he defended it in Novi Sad at the end of December, in a duel with Lars Buchholz from Germany.
TRULY NOBLE SKILL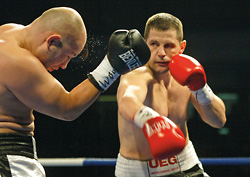 – Now I fully understand why the box is noble. We are witnesses to different daily competitions in which people would use any means to achieve life victories. They use low blows, blows from behind, they make intrigues, frame other people. All this does not exist in the boxing ring. Two men voluntarily enter this space and are left there alone, face to face. Then the fight begins, in accordance with strict rules, and which is not subject to standards from daily life. They take the maximum from their heart and muscles, often exceeding themselves, and at the end they congratulate each other from the heart, because they know that hey have no one to blame for defeat and that only they can be credited for victory. Also, boxing needs a virtue that is not required in other sports: courage, which is noble in itself. Additionally, boxers are not only involved in hitting, but they are also forced to think quickly, to react in a split second, to perform a kind of an art, because in boxing, creating a position from which you can hit the opponent is truly an art.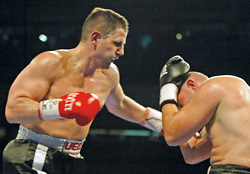 We live in the era of new gladiatorship, they want to use violence create a sports spectacle, an aphrodisiac for spiritually hollow and the fallen masses.
– I am proud of the knightly tradition of my sport, which also existed in ancient Greece. I am not interested in sports in which someone can hit someone else while that person is lying helplessly on the ground.
If the amateurism still owes something to his ambitions, then professionalism, it seems, has fulfilled his expectations.
– Professional boxing has provided me with life that I could not have dreamed, even in the best dreams, to achieve in amateurism. I often remember Nelson Mandela who said that sport has a power to easily unite people, like no other thin in the world! I felt the
truthfulness of these words in my own experience. Traveling, socializing, connecting with people of different religions, nations, colors, different opinions, life stories and experiences. There have been unpleasant experiences, but I am not one of those who are whining over their destiny. The life goes on, with or without us. We cannot stop or turn back time.
Encounter and cooperation with Kličko brothers are a kind of a turning point in his life.
– When our mutual friend Aleksandar Petrović introduced me to them and their coach Fritz Zdunek in Düsseldorf, many things in my career changed for better. I have met the system of work on the world level. Not only the training system, but also organization, marketing, financing system, production and many other aspects.
STRATEGY FOR DEVELOPMENT OF SERBIAN BOXING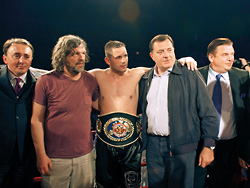 – I have also started to apply this experience in Serbia. Camp "Balkan Boxing", founded by my partner Darko Popivoda and me, has long been realizing the strategy of development of boxing sports. Boxing school "Košutnjak" in Belgrade was also opened, and we are planning to create a large network of Serbian boxing schools, which will be led by young coaches and good teachers. We will create a new base of Serbian boxing, enable stronger competition, which is a prerequisite for creating new champions. Our sector for professional boxing has facilitated the entire system: organization of preparation in superb conditions for all six professionals who are members of the camp, ten matches in 2012, strong marketing, full bleachers on matches. I would like to directly present all these activities to Kličko brothers, and I hope that in a foreseeable time we will have an opportunity to be their hosts in Serbia.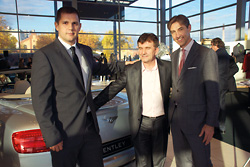 When speaking about his country, Nenad Borovčanin does this without any restraint.
– I am proud that I am a Serb and that I can contribute to the affirmation of my country in the world. I don't have a spare country. I don't like any type of treason, either in friendship or business, let alone when it comes to one's homeland. I cannot look at people who have done nothing for their country, have not contributed to it being better than it is, and find it useful to renounce it.
Many of his positive experiences are also connected to Srpska, especially Banjaluka.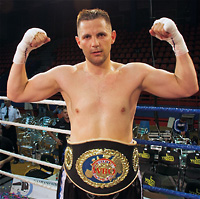 – I come from Romanija, more precisely from Sokoc. I was born in Loznica, I graduated from gymnasium there. After that I enrolled to a university in Belgrade, and then transferred and began boxing for "Slavija" from Banjaluka. That was my first encounter with the capital of Srpska. Later, when I returned to Loznica and Belgarde, I continued to promote Srpska. I became its sports ambassador. A very beautiful memory will always connect me to Banjaluka. On June 11, 2011, in "Borik" Hall, I won the title of European Champion in WBO version. The promoter on that match was Emir Kusturica, and from the first row, under the leadership of Milorad Dodik, I was cheered by the legends of our boxing – Marijan Beneš, Zvonko Vujin, Ljubiša Simić, Dragan Vujković, Tadija Kačar and Ante Josipović, but also many other athletes.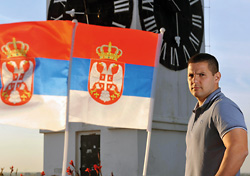 Nenad has very strong ties with his family, and they are always there for him. His brother has already become a serious boxing second, because he was learning the skill from experts such as Fritz Zdunek. His wife and father are always in the first rows, and the mother is at home, because she does not like to watch his matches.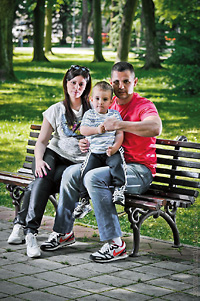 – Unfortunately, Serbs have taken over from the West mostly immorality and various vices, but not organization and discipline, This had powerful influence on the family, the most important and the most sensitive element of the society, led to alienation, lack of respect, conflicts. For me, the family is my strongest foothold for everything I do in life, motivation for successes and a refuge from sometimes difficult reality. I spend most time with my wife Ana and son Andrija. I like to travel with them, go for a walk, talk, Simply, they are my life, and I try to spend as much time with them as possible.
As the current European champion in cruiserweight category (in WBO version), Nenad will have to defend his title already in the first half of 2012. If he succeeds in this, he will be facing another similar challenge by the end of the year. After that, he could earn the right to fight for planetary title.

***
Defending the Title
– I am overjoyed that everything was superb during my defending of the title in Novi Sad, in December 201 – says Nenad. – I boxed the way I should have, kept Buholtz at a distance, was careful and precise, I did not accept the rhythm that he had offered at the beginning when he started with lower guard. I knew that he was waiting with a ready counter hit, and was careful enough. As more time passed, I became aware of my superiority, and when I got a chance to attack him, I seized it... I am glad that this match fulfilled some other standards for a superb spectacle. It was excellently organized and covered by the media, and the audience was animated in the right way. It was a great help during the match.
***
Sports Boxing Today
– There are good quality people on leading positions in the association, but many bodies in it are old and obsolete, which dragged boxing quite low. There is no mass presence at trainings, no audience on the bleachers, no international results, let alone the system of competitions, organization of referees, professional personnel... Boxing needs energy of young experts and modernization of operations. Without this we will not get far.
***
The most Beautiful Frame
– If somebody wants to venture into sports – says Nenad – they must work a lot and not give up when difficult days come. And they do come. It is exactly the hardship that is forging real champions out of talented boys, through temptations. And in this, a real champion must not forget his family and education, These two moments, together with sports, make the most beautiful frame for the life of a young person.
***
I Have Learned to Fight
– I have overcome many life situations thanks to boxing. I have learned what it is to be alone in a fight. There is no giving up, no replacement from the bench, no time out, no possibility that somebody will solve my problem instead of me. Boxing has simply taught me how to fight. It is true: to fall down is not so much a weakness, as it is the virtue to stand up. Boxing also warns about illusiveness of victory. One should know how to carry the burden of victory. She intoxicated and spoiled many. They have forgotten how difficult is to reach it, and they had moments both in career and personal life that were more difficult than any defeat in sports.
***
Education, Projects, Organization
– I try as much as I can to be successful in other fields of life as well. I graduated from the College of Economy, and I will soon graduate from the Faculty of Law. When I don't have matches, I work on boxing projects and I think that I can significantly contribute to revival and improvement of the image of this sport, not only as a boxer, but also as a direct organizer.