Health
PROFFESOR DR STAMENKO S. ŠUŠAK, RESPECTABLE SERBIAN CARDIO SURGEON
Having a Heart in Your Hands
He works at the Institute for cardiovascular diseases in Sremska Kamenica. He is a professor of surgery, cardio-surgery and medical ethics at the Faculty of Medicine in Novi Sad. He teaches at the Faculty of Theology at SPC in Belgrade and Pan-European University in Banjaluka. He specialized in cardio-surgery in Berlin, at the most prestigious European centre for cardio-surgery. He is the only civilian in the Committee for Bio-Ethical Issues of the Synod of Serbian Orthodox Church, a member of All-Orthodox Bio-Ethical Committee under the auspices of Ecumenical Patriarchate of Constantinople
By: Igor Despotović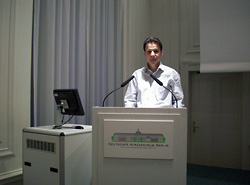 He was born in 1969 in Prnjavor, a small town near Banjaluka, Srpska. His father, late primarius Dr Slavko Šušak, was his role model, "not only in medicine, but in that metaphysical, transcendental, trans-logical, in he real sense of the word human". He regards that fatherly kindness and unobtrusiveness and continuous material support as the key to his success. And love for cardio-surgery, he says, was born during a study visit at the famous University "Johan Wolfgang Goethe" in Frankfurt.
You were one of the best students at the Faculty of Medicine in Novi Sad, and today you are a respected professor there. How much has changed between these two time periods?
For me, the Faculty of Medicine was a temple of knowledge and a place for developing the ontological aspects in us: humanity and ethics toward a sick person, namely every person who needs care and help. That "Ray of Microcosm" has always guided me. A proposal made by students to be Student Vice Dean in two mandates was truly an honor for me. It was then that I encountered the reality, various guiding "rays". I realized that university could be very difficult for some people, Today, as a professor, I can say the same. The pseudo-Bologna process is over, study programs are not much different from the former ones, and students have remained the same. There are students who disarm you with their knowledge, but also those – majority of them, unfortunately – whose knowledge does not go beyond the margins of popular magazines of type Beauty and Health. Being a good student is the same as being a good doctor and a good person, The main purpose of all this is exactly this combination of horizontal and vertical, the immanent and transcendent, physical and metaphysical, earthly and eternal.
Unfortunately, there are fewer and fewer doctors who want to become real professionals, true medical elite. I don't know if this is a reflection of our immediate past or uncertain future, but the processes that unfold before our eyes must be immediately stopped and transformed.
GREAT BERLIN EXPERIENCE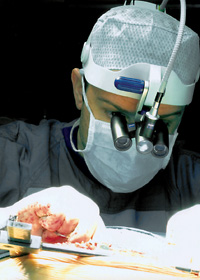 Immediately after graduation, you came to the Institute for Cardiovascular Diseases in Sremska Kamenica. What did your further advanced education look like?
Soon I became an assistant-trainee at the Department of Surgery of the Faculty of Medicine in Novi Sad. I completed my specialization in general surgery within the schedule with the highest grade, and soon I completed my Masters studies in cardio-surgery. Thre years later, under the mentorship of Professor Dr Ninoslav Radovanović, an academic, I also defended my doctoral thesis under the title Long-Term Survival and Quality of Life After an Open-Heart Surgery Soon after this I was reelected an assistant professor at the same Department. Upon personal initiative, in 2006 I began a two-year long specialization in cardio-surgery. At the most prestigious European centre for cardio-surgery "Deutsches Herzzentrum Berlin", under the mentorship of Professor Dr Roland Hetzer, I sub-specialized in cardio-surgery. At the same time, there I graduated from the European School of Transthoracic and Transesophageal Doppler Echocardiography. It was a great experience. I met great European and world cardio-surgeons. I hope that this will be invaluable for the development of Serbian cardio-surgery in the future.
I came back to Serbia in 2008. I continue my work in operating rooms of the Institute in Sremska Kamenica and at the Faculty of Medicine. I have between 170 and 200 open-heart surgeries per year, including the most complicated ones. In December 2011, I was elected professor at the Faculty of Medicine in Novi Sad.
Why did you sub-specialize in cardio-surgery exactly in Berlin?
It is one of the most prestigious cardio-surgery centers in the world. The center that completes about 5,000 open-heart surgeries every year. Patients with the most severe diseases from all over Germany and Europe go there. It was there that the artificial heart was developed, the so-called "Berlin Heart". Many cardio-surgeries in China, Indonesia, Russia, Bosnia and Herzegovina also operate under the auspices of "Deutsches Herzzentrum Berlin". Many directors of European cardio-surgery centers had their advanced training and worked exactly in this centre. All this motivated me to go to Berlin. Professor Hetzer is a man with big heart, great expert and surgeon. He has helped many patients and experts from our country. Several patients from Serbia were given a new heart exactly in this institution.
NOTHING WITHOUT A SPIRITUAL VERTICAL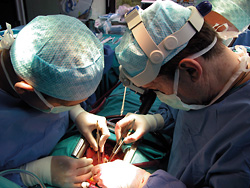 Where is Serbian cardio-surgery today in comparison with the European one?
Serbian cardio-surgery in the sense of personnel does not does not lag behind the German. Germany, however, has implemented and developed contemporary methods for the treatment of the most severe heart diseases (patients that can no longer be helped with the so-called conventional cardio-surgical procedures), Which should also be the priority for Serbia in the upcoming period. I see the future of medicine and cardio-surgery in Serbia in the revision of higher education, medicine based on ethics and evidence, struggle against nepotism and corruption in healthcare.
It is fascinating to listen to you talking about heart surgeries. What does it feel like to hold a human heart in your hands?
The only feeling: for a sick person I have to do what will provide him or her with a better life after my intervention. That is not easy. You often operate on patients with very severe conditions, acquaintances, friends, even immediate family members. There – of course, if it is possible – you have to turn off all the feelings and work professionally. Just like patients, during surgery, has no feelings for any external stimuli, since they are under anesthesia, a surgeon during surgery must be in a kind of "spiritual anesthesia". Only in that way he can complete the planned surgery with good quality. That is achieved through long and exhausting "trainings" in the operating room, great knowledge that you gain at the university, during specialization and sub-specialization, but also through that spiritual vertical that I have mentioned. No quality can be achieved without it, regardless of whether you are a believer or an atheist. Holding a human heart is a great blessing, but also a gift that makes us accountable.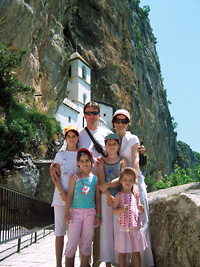 Your book Mitral Regurgitation – Cardio-Surgical Aspects of Diagnostics and Therapy was published recently. From reviews by Roland Hetzer and academician Ninoslav Radovanović, we learn that this is the first serious textbook in cardio-surgery written in Serbian language.
Yes, it is a textbook on which I was working already during my stay in Berlin. Cardio-surgeons know well what mitral regurgitation is. It is frequently a topic of medical councils. Whether to "fix" it, when and how to do the surgery, it is the topic of many debates at international congresses. From professor Hetzer, I hav learned several ways of reconstruction of mitral valve. Some of them carry his name. Also, professor Radovanović has been developing a special reconstructive method of mitral-tricuspid orifice ("RADO-procedure"). I have had a chance to learn a lot working with these two world renowned experts, and I can now implement all this in my daily practice. Hence the idea to put all the knowledge and experiences of my teacher and my humble knowledge on paper and for the first time to publish in Serbian language. I hope that this will be of great use for current and future cardio-surgeons and cardiologists.
In late 2011, the foreign textbook Aortic Valve by Ying-Fu Chen and Chwan-Yau Luo was published, and in this book you are one of the authors of chapter "Aortic Valve Endocarditis"?
This book is the result of multi-disciplinary and multicentre cooperation of doctors who have been publishing their knowledge and experiences for the past few years in eminent world journals from the so-called "SCI List". Taking into account that in the past two years my associates and my humble self have published two articles on aortic valve bacterial endocarditis, as well as several articles related to pathology and surgery thereof, we have been invited to write the said chapter for that book. That is a great honor for all of us, because this is a world famous textbook, which comprehensively treats the problems of aortic valve.

***
Support
– To attend a school in Berlin implies the following: to have good recommendations and resolved scholarship issue. The recommendations I received without any problems on the basis of my previous results and curriculum, and I received a scholarship for the entire education from foundations "KAAD" and "Hemofarm". I owe gratitude for material, human and spiritual help to Serbian Orthodox Church, especially to His Grace Bishop of Bačka, professor Dr Irinej Bulović. After validation of my diploma and the beginning of my work in Berlin, I also received a scholarship from professor Hetzer, which has greatly contributed to the quality of my life in Berlin and the life of my numerous family in Novi Sad.
***
Time
Do you have any free time at all, and how do you manage to be the a husband, and a father of four daughters at the same time?
I do not have much time. In addition to heart surgeries, lectures, practical work and examinations at the Faculty of Medicine in Novi Sad, I am also a professor at the Pan-European University in Banjaluka, and I occasionally lecture at the Faculty of Theology in Belgrade. But despite all this, I find time every day for a family walk and spending time with friends. My wife could tell you more about what kind of father and husband I am. For the duration of my education and traveling around the world, she was raising the children and was a great support for me.