Event
TOWARD THE FIRST INTERNATIONAL WINE FAIR "ŽUPA 2012" IN ALEKSANDROVAC
According to the Science of Old Winemakers
Grapes and wine are in the centre of life of this little town, situated amidst the famous Župa vineyards. In September, wine festival "Župa Harvest", has been held for decades. And it will be the first time this year that winemakers from Serbia and abroad, about 80 of them, meet in April as well. It will be beneficial, interesting and useful. Like wine
By: Goran Budimir
Photographs: Tourist Organization of Aleksandrovac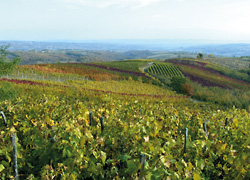 Thirty four kilometers southeast from Kruševac, Aleksandrovac is the centre of the municipality, with 54 settlements and a population of about 35,000. The centre of the famous Župa and one of Serbian "wine capitals", it used to be called Kožetin. Under this name, historians say, it appeared for the first time in the famous charter of Stefan Nemanja to Studenica Monastery, in 1196. Only eight kilometers to the west of this little town, in the Middle Ages there was fortified city of Koznik. There are numerous legends about the origin of these two names.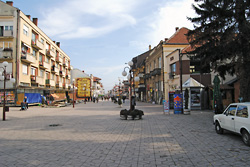 According to one, as quoted in the travel encyclopedia Serbia – By Roads, Railways, Rivers, the Celts who settled and were Romanized here worshiped Diana, the goddess of hunting as their supreme deity, and one of her symbols is goat. The fortress above the town could be reached only by goat paths. According to another legend, in the place where Aleksandrovac church is located today, a long time ago there was a temple covered with hide (koža). The town grew around the temple covered with hide.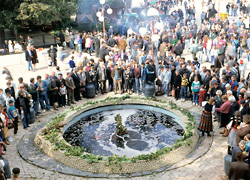 Anyway, in 1882, by a decree of the newly crowned king Milan Obrenović, Kožetin was given a new name after Prince Aleksandar, and was at the same time proclaimed a town.
Grapes and wine are in the centre of life of this little town, situated amidst the Župa vineyards that are known far and wide. Festival "Župska berba" has been taking place here for over three decades, every September, attracting numerous tourists, connoisseurs and those who like wine. This year, on April 20 and 21, there will be The Fist International Wine Fair "Župa 2012". About 80 winemakers from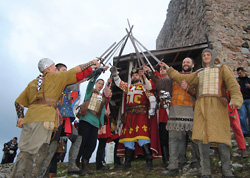 Serbia and abroad will present their best achievements in the ancient art of winemaking. Both tourists and media representatives will gather here, as well as numerous "ordinary guests". Wine tasting and selling are implied, as well as concluding important contracts with restaurant and hotel managers and merchants, promotions of products and packaging designs, round tables, exchange of experiences, cultural and artistic programs, excursions around Župa. Music too. Prof. Dr Slobodan Jović, from the Faculty of Agriculture in Belgrade, will give a lecture at the Museum of Enology, entitled Production of wine and most common errors in it.
If we need to list more reasons why you should be in Aleksandrovac during these two days, then you are not made for this. Turn the page.
***
Fields
Vineyard settlements in Župa of Aleksandrovac are called poljane (fields). They are primarily grouped along creeks or on elevations, in the vicinity of vineyards. The field in Pribojevac used to belong to vineyards of Knez Lazar. Knez used to drink Župa wine and come here for hunting. According to one legend, he was born in the vicinity of this field. Some fields in Župa, such as Lukarevina, are today under protection of the state, as unique ethnic units.
***
Recommendation
Museum of Enology and Viticulture, Župa Home Museum, Drenča and Rudenica monasteries, Holy Healers Cosmas and Damian, field Lukarevina, Župa wineries, excellent restaurants, Kožetin church, Wine Fountain, medieval town of Koznik, Mitrovo Polje... This is only a little of what you should visit in Aleksandrovac and the surrounding area. "And you better be there!"
***

Tourist Organization of Aleksandrovac
Jaše Petrovića 42
037 35 54 404
www.sajamvinazupa.org.rs