Style
31ST BELGRADE FASHION WEEK
All Shades of Spring
Psychologists believe that people today buy clothes led by emotions, not the mind. "Love and fashion / are inviting us / to their merry carnival", sang Djuza Stojiljković in the popular Belgrade movie from 1960, starring the unforgettable Beba Lončar. What did this year's Belgrade Fashion Week bring us? What spark lights the heart of Amelie Poulain from New Belgrade before the carnival of colors, textiles, designs…? Love? Fashion?
By: Dragana Barjaktarević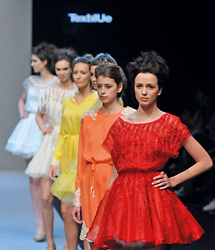 Twice a year, in spring and in autumn, Belgrade celebrates fashion, gives an opportunity for young designers and steals from oblivion the already famous names. Having the slogan "New Energy", the energy spring is exploding with, Belgrade Fashion Week organized the celebration this April for the 31st time and glorified design. Commercial and author shows take turns, installations, exhibitions, workshops, various social initiatives, new spaces – a rich seven-day program for fashion lovers. It started with the "Software" line by Dragana Ognjenović in "Expo Center" and ended with the extravagance of Bata Spasojević in the National Museum. In the middle were rich colors and floral motifs borrowed from spring. Each show is a story for itself. Each designer draws ideas from the pockets of his or her heart. All the clothes breathe with a refined femininity and romance, designed in silk, tulle and lace.
It seems that all designers were dreaming in color during the sharp winter. The catwalk was full of fluttering awakened shades, delicate palettes, powder, vanilla, reseda, and audacious red, orange, lemon yellow – pastel and garish – extremes in perfect harmony. Despite the frost. Celebrating the "new energy", the first snowdrops and swallows, the staggering sun, short sleeves, spring shoes, walks, ice-cream...
Two tender designers, Ana Ljubinković and Nataša Pejović, told us where they draw their ideas from. And a few more things about spring, music and plans.
ANA LJUBINKOVIĆ, THIRD EVENING AND QUIET SPRING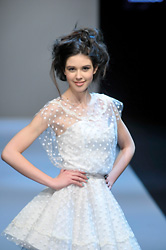 It is clear to anyone familiar with your creative work that you are not burdened with rules imposed by world fashion dictates. You have imagined your small fashion world with recognizable sharp forms and strong colors. And it has been surviving and evolving for eight years now. How do you manage that?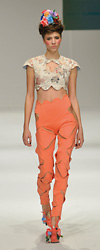 Every human creates his own world and draws inspiration from it. My imagination is driven by creative energy initiating constant action, meaning creating new collections…
At the moment, colors from shop windows are screaming and your collection is entitled "Silent Spring". Why is this spring silent for you?
My collection is full of colors too, it only screams in a different way. The name "Silent Spring" is personal and doesn't have much to do with the visual, but with the emotional moment in the collection.
Stripes, beads, flowers, mostly pastel – what do all these elements have in common?


The basic idea is the stylization of the armor, symmetrical reduction of form compared to the silhouette. I enriched the construction with floral motifs, stripes, details such as beads and zircons, in a way that they don't disturb the form, but rather emphasize it and make it more beautiful.
Since the forms of your designs are pretty unusual and complex, how difficult is to adjust the idea to the potentials of materials and constructions?
The biggest problem in realizing this collection was findingan adequate quality of material in adequate color. Unfortunately, getting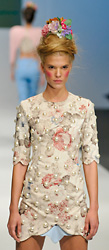 these two elements united is almost impossible in Serbia. As a designer, I am most often confronted with the problem of adjusting the idea to the limited choice of material, while construction, high quality sewing and original ideas are never a problem.
The music accompanying your show was Lana Del Ray's. How much does music lead you while you're creating?
Music is an element which gives me great inspiration. The atmosphere made by the music of Lana Del Ray has perfectly merged into the presentation of the collection. A French reporter visited me in the backstage before the show and was curious about the music at the show. He was disappointed when I told him we'll listen to Lana Del Ray. After the show, however, he came to me thrilled, congratulated me and said I haven't made a single mistake and that the music fitted in perfectly!
NATAŠA PEJOVIĆ, FIRST EVENING AND RED PETALS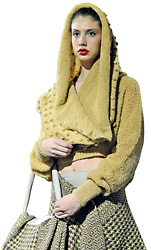 You have shown your first collection at the Montenegrin fashion event "Fashion Connection" only a year ago. Now you have also thrilled the Belgrade audience at the Fashion Week. Were there any significant changes in your work from last spring?
A year is a long time for the one who works and learns, therefore there were many changes. Besides, I met many interesting people.
While designing, are you driven only by your personal feelings or do you surrender to the international fashion requests?


Following the fashion scene is part of my job, but during my creative work, I am driven only by my sensibility. When I create, I start from myself, from what I would like to wear and usually this is how designs that draw attention are made. When speaking about trends, there is an overlap in coloring in this collection.
The "Red Petals" collection is very tender, romantic, fluttering. During the course of creating, do you ever imagine who would be wearing your designs?
My designs are intended for self-assured women who mainly wish to look feminine.
Do you have a constant inspiration or are you wandering in the infinity of ideas?
I have many interesting ideas and I must admit I can hardly decide which to realize. The "Red Petals" collection is inspired by spring, blossoming, awakening, and the 1950s in terms of design. I enjoyed dreaming about light and fluttering forms during the winter days covered with snow.
Future plans?
I will present my actual collection in Montenegro and have a catalogue shoot. Afterwards I will turn to opening my showroom in Podgorica and preparing the autumn and winter collections.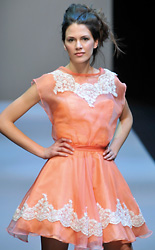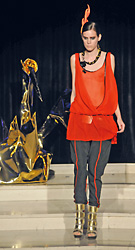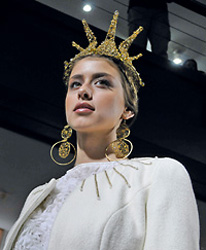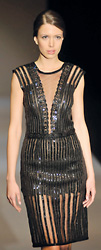 ***
Awakening
Belgrade Fashion Week has a big social significance and certainly an obligation to promote social responsibility. This spring, it supported the "Say NO to family violence" action and "Best Friend" campaign, which organized the "Doggy Style" show for dogs' accessories.
The "Smile for a Smile" exhibition was an important part of the program and collected donations for the Center for Education and Rehabilitation of Children with Disabilities.
The "Old Crafts for a New Age" network presented an exhibition at the Museum of Ethnography. The objective of the project was to show the potentials of female entrepreneurship in rural areas and the significance of preserving old crafts. The "Potpourris" collection, created in the design colony in Čajetina, was exhibited in a fashion installation.
***
Highlights of Fashion Week
New names: Nataša Pejović, Danka Karović, Aleksandra Mitkovska, Nina Karlavaris, Tatjana Stanković.
Old masters: Dragana Ognjenović, Iva Stefanović, Ljuba Sikimić, Ana Ljubinković, Belgrade District Design, Dejana Momčilović, Gordana Ćirić Krstić, Sanja Krstić, Valentina Obradović, Bata Spasojević.
Fashion vignettes: Aleksandra Žiravac, Tijana Žunić, Jovana Marković, Milica Opačić, Živko Stoilov, Academy of Fine Arts Students.
Shop windows of the metropolis: Miss Sixty, Killah, Energie, Sisley, Benetton, Martini Vesto, Patrizia Pepe.