Arena
WOMEN'S VOLLEYBALL CLUB "RED STAR" CONTINUES ITS SUCCESS DESPITE ALL
Sport Requires More Attention
For third year in a row, they are superior on the domestic scene. By displaying an excellent work with youth categories, they managed, so far, to overcome a high outflow of players and other long-standing social illnesses that invaded sports. The cadet team includes four "Red Star" players, junior team six of them, and most of the senior team consists of them. However, one cannot be enduring something like that endlessly
Text: NR Pres
Photos: NR Pres and "Reds Star" Archive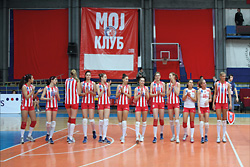 For years, Serbian women's volleyball team has been recording good scores on the world's scene. It would be logical to assume that it is the result of a strong league and of the appropriate work in clubs. Unfortunately, it is not. From season to season, we are faced with a relatively modest quality of domestic competitions and with mediocre teams. It is easy to spot former champions among them, such as "Jedinstvo" from Užice, which barely sustains in the premiere league elite company, where there is no "Poštar" team, a multiple state champion not so long ago.
Therefore, it is even more important that a team manages to resist the challenges and to maintain the quality in such an atmosphere. It is the "Red Star", the present state champion and the winner of the National Cup.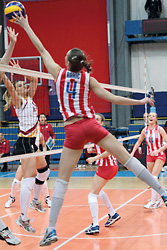 For third year in a row, red and white ones seem superior on the domestic scene, where there are almost no worthy rivals. The "Red Star" also suffers a large migration of players, which prevents it to create a team in the long run.
– Our winning formula is based upon the excellent work with youth teams – believes Ana Avramović, General Secretary of the Club, who used to be a very successful volleyball player under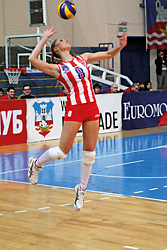 maiden's name Jokanović. – Despite difficult conditions in which we function, as well as Serbian sport does, we are trying and we manage to gather the most talented girls in youth categories. In our hall, which represents a special privilege in relation to those clubs that lease the premises, we provided good conditions for regular trainings and an uninterrupted development. It is important because it allows the individual work under the supervision of prominent experts. Coincidentally, these girls are relatively promptly given the opportunity to distinguish themselves in the first team, which indicates that they acquire valuable experience regarding the elite competitions at an early age. On the other hand, it also provides a recommendation for them to enter appropriate national teams, and, undoubtedly, affects their prompt affirmation. Unfortunately, we are aware that this path leads them out of our club volleyball too soon, but these are matters which neither we, nor any other club, can influence significantly. I am convinced that we have the best volleyball school, and it, actually, makes us dominant in terms of domestic competitions.
UNRESTRAINABLE OUTFLOW OF TALENTS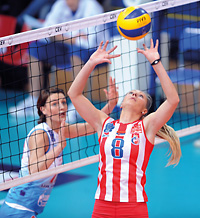 Ana belongs to the generation that won seven champion titles and five National Cup trophies, and achieved one of the most valuable results in the Club's history: the placement in the final Champions Cup in 1976. It was a time when sports functioned in much better conditions than today. However, good results on the European scene are not only a privilege of earlier generations. From 2008 to 2011, the "Red Star" won three medals in the CEV Cup – one silver and two bronze medals.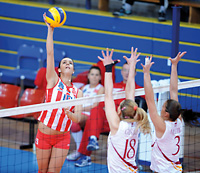 – These are excellent results when we bear in mind that we change players year after year. Whenever we appear on large tournaments, everybody asks us how we manage always to achieve good scores with a new team and such young players. After all, we made the youngest team in Europe to win any medal in the European Cup! This fact already proves how we work with our youth teams. We can only assume what results of the team that won two last medals in CEV Cup would be if the team stayed together. However, unfortunately, we cannot offer financial contracts to our players due to the general situation in the country. That is why we do not prevent them to leave when they get good deals abroad, although, in my opinion, it would be better for them to have played for "Red Star" for another season, and then moved abroad.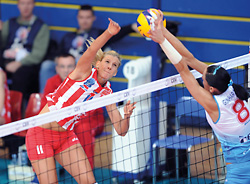 The very glance at the list of winning players speaks volumes about frequent migrations of players from the "Red Star." Stefana Veljković, Jelena Blagojević, Nina Rosić, Nađa Ninković and many others who have paved the road to success by medals, are now successfully playing in Europe. From the present generation, we will mention Ana Bjelica, Bojana Radulović, Tamara Rakić, Mina Popović... However, the question is how long they will wear the read and white jersey. That point is very significant for the national team, for we should not forget that only three players form the "Red Star" are not on the list of some national team. Should we remind you that the majority of players from the national senior team, the official European champion, used to wear the "Red Star" jersey? The cadet team includes four "Red Star" players, junior team six of them.
THE STRONGEST SUPPORTER OF SERBIAN VOLLEYBALL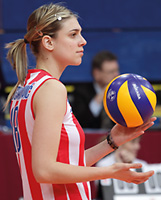 "Red Star" can also be proud of its excellent coaching staff constituted of already prominent coaches. It used to be Zoran Terzić, the present coach of senior national team, and, today, the team is skillfully led by Ratko Pavličević, who is not lacking an abundant experience with the national team. Other experts from the "Red Star" are engaged in other national teams as conditioning coaches, scouts or statisticians. Therefore, "Red Star" presently represents the strongest supporter of Serbian women's volleyball team.
How long will it last, and how long can this Club endure the bad situation in the country, which endangers the normal functioning of sport?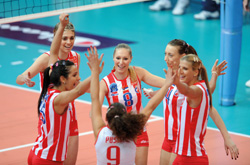 – The entire contemporary sport depends on the finances, especially those particularly ambitious – says Zoran Manasijević, a member of the Management Board. – The "Red Star" is such a club. Our goal is not only to win national titles, but also to gain the complete affirmation on the international scene. We used to manage it during previous years, but it was rather the result of the good, hard work and huge enthusiasm of everyone from the Club, than the result of a strong financial structure. That is why we are forced to change the team year after year, because players go abroad for better deals. We are pleased that they are not disappointed with the Club, on the contrary, they are aware that the "Red Star" gave them everything it could: good conditions to work, to develop and to gain the complete affirmation. Unfortunately, nobody is powerful enough, not even the "Red Star", to offer good financial deals to our women's volleyball. Simply, we are in the same boat with the entire country, and we all know in what difficult times we live. Nevertheless, we imposed high standards in women's volleyball. The society will have to do its part in order for some other clubs to join us and in order for us to broaden our ambitions. We must offer more to sport if we are to expect more from it. If that does not happen, there is a risk to lose that what has been done so far.
***
Greatest Successes
> 26 champion titles (first in 1959)
> 15 times winners of the National Cup (first in 1960)
> One silver (2010) and three bronze medals (1986, 2008 and 2011) in the CEV Cup.
> Forth place in the Cup of European Champions (1976)
***
Interest
According to certain data, even 75% of girls in Serbia listed volleyball as their favorite sport. Such interest is not only a reflection of the current trends, but also a result of good scores achieved by Serbian women's volleyball team over the years. If we do not use such an enthusiasm, a great damage will be done.