Together
STUDENTS FROM NON-ALINNED COUNTRIES CONTINUE THEIR
STUDIES AT THE UNIVERSITY OF BELGRADE
World in Miniature Under Avala
Belgrade now hosts another group of students, more numerous than last year, as a part of the project "The World in Serbia." They come from 42 countries from four continents. They received scholarships from the Serbian Government. They are learning Serbian with the help from professors from the Faculty of Philology in the Students' Resort on Avala, and they will start the selected studies in October
By: Aleksa Mitić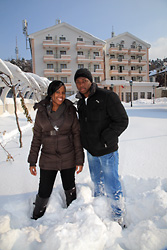 They came to study, as their parents and friends used to come in the second half of the previous century. Their ancestors from the countries members of the Non-Aligned Movement have become and stayed our friends, our best ambassadors in their countries who have built bridges between the two countries. Their descendants and compatriots are our guests. They are provided with accommodation, meals and free education. They are also provided with excellent faculties, professors and academic study programs.
They know much more about Serbia now, after having been here for six months. They have mastered the basics of Serbian, and they are trying to speak it whenever possible. They miss their home and family. Some of them regard professors and assistants from the Faculty of Philology as new family members.
– Our work at faculty is not the same as with local students. Here we also encounter their personal problems. Some of them feel helpless, and we must understand what bothers them and help them – says for the National Review professor Vesna Krajišnik.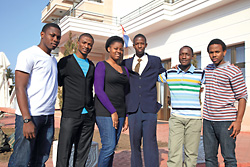 – The classes are being held from last October, they last for eight months, six classes a day from 9am to 2 pm. In the afternoon, they work on their homework, and they have plenty of time for leisure activities. According to the program, they have 960 classes. They come as absolute beginners and, eventually, acquire the knowledge of B1 level (European standard), which enables them to attend the lectures at faculty, to watch TV programs, to read newspapers and to communicate with others. Their vocabulary consists of two and a half to three thousand words, which is sufficient for them to pass the final exam and finis the studies at faculty. However, only via an active participation in lectures during first two years of studies, they master the language completely. They also attend special classes where we study the necessary technical terminology.
We teach them Serbian by means of gesture, facial expression, lexical internationalization, by role play, by demonstration, by using English or French – explains Professor Zona Mrkalj.
– It is like that in the beginning. Now, we speak solely in Serbian, but they still make mistakes. They can explain the entire grammar, but they make speaking mistakes. They are very devoted to studying and are quite motivated. For those who have come later, or have not mastered sufficiently, we organize additional classes three times a week in the afternoon, three respective classes.
THE REALIZATION OF A LIFETIME DREAM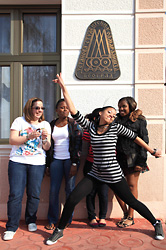 They spent the icy days of last winter mainly in the Resort on Avala. Once the spring came, they relaxed. When they first came to Serbia, some from tropical places did not have socks. They came in flip-flops. Pascal Haki Bujumbur, from Burundi, usually wears T-shirts in his country. Prior to coming to Serbia, he inquired well and prepared himself for the winter. He owns a collection of sweaters now.
– I came to study Medicine for two reasons – he tells us. – I used to love biology in the high school. Secondly, I want to help sick people. Doctors are needed everywhere in the world. I do not like your climate. We have only the periods of sun and rain. There are no temperatures below zero.
Pule Mukuma from Zambia finished high school; he intends to study at the Faculty of Economics at the University of Belgrade.
– It used to be my dream when I was little, and I want to realize it now. I will become a rich economist. People in Zambia think that there are bad people in Serbia. They are wrong. People here are very pleasant. I was at Ada with my friend last week. It was fantastic. I love water and fish.
Amanda Hill arrived from the distant Caribbean, from Grenada. She is going to study Civil Construction. She enjoyed, she said, the first snow. She threw snowballs; she tried to sleigh and skate. She gave up skating since she was falling down. However, the spring is the most beautiful season for her; it is neither hot nor cold. Certainly, she will travel throughout Serbia. She is looking forward to a three-day trip to mountains Zlatibor and Tara with her colleagues. The trip is organized by hosts from the Resort.
TO HELP THEIR COUNTRY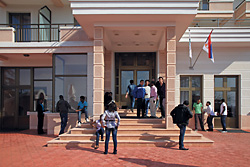 Adi Bramasko from Indonesia is a genuine globe trotter and polyglot. Beside French, German and Dutch, he is learning Serbian now.
– I work at the Ministry of Foreign Affairs. I graduated in International Relations in Indonesia. Here, at the Faculty of Security, I enrolled in master studies. I have chosen Serbia because few of us really know what this country is like and what type of cooperation there is between it and my home country. You are kind and friendly people. Traffic is not heavy, as opposed to Jakarta where traffic is disastrous. I am not very fond of the city. It is boring. I find most interesting to walk to Zuce, Beli Potok, Pinosava... Nature and villagers are very interesting. Serbian is interesting, too, because it is different. When I graduate, I will work in my country. We work a lot in my country. Official working hours are from 9 am to 3 pm, but it takes up to 9 pm. I feel as on a long vacation here.
Michael Bing, from Trinidad and Tobago, the Caribbean, wants to study Political Sciences in order to help his country in future. He has seen the invitation for scholarships and he liked the idea of studying in Serbia. He has seen snow for the first time. He only saw it on TV before. He likes Serbia very much, and he has already traveled throughout Vojvodina with his friend. He hopes to see more, he says, he will have a plenty of time.
Gabriel Adine from Nigeria was also drawn by the invitation for scholarships. He holds a degree in Physics and he is preparing himself for master studies.
– It was not easy to decide, but I want to be professor, so I have to work hard. I answered to the invitation; I took a test, an interview and won it. I was among the top four.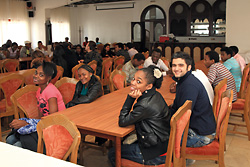 Having graduated from high school, Sadam Shauvambra came from Palestine to study Medicine. He has been visiting surrounding villages and forests with his friend, but he prefers Zemun, especially the part alongside the Danube.
And so forth, here under Avala, something happens everyday. They obtain condition for learning by hiking. They climbed the Tower of Avala. They also visited the Faculty of Philology. They made a fashion show of traditional costumes from their countries. Some of them stroll along Belgrade alone. Some are engaged in music. They have a studio and a rehearsal room in the Resort. They sing in a choir, they learn traditional and old songs in Serbian, such as "Hajde, Jano", "Fijaker stari", "Beograde, Beograde". When they appear in the streets of Belgrade, they draw attention of passers-by who want to take pictures with them. They are slowly adapting to that kind of attention, they say.
***
The Institution With Long Tradition
They are moving to regular student dormitories from October. They are going to study Economics, Medicine, Political Sciences, Security, Engineering, Psychology, Telecommunications…
According to Rade Dabetić, the Director of Students' Resort "Belgrade", Serbia provides accommodation, meals, tuitions and scholarships for these students as a part of the project "The World in Serbia."
By the way, the institution Students' Resort and Rehabilitation Centre of Serbia exists since 1948 under the auspices of the Department of Pupil and Students' Standard from the Ministry of Education and Sports. It has facilities on Avala, Zlatibor and Palić.
***
Students' Parliament
In order to help solving the problems they encounter, students from non-aligned countries have appointed their Parliament which will represent them, contact Ministries, faculties and other institutions, as well as with the management of the Resort. They have appointed respective representatives from all four groups, and the President is David Soumano from Mali, the future student of Electrical Engineering. Thanking them for the appointment, he announced numerous activities, from trips and sports competitions, to visits to cultural institutions: "I will be helping you to live in peace. If you encounter any problems, we will solve them together. We will represent a link between professors and yourselves."