Album
HOW DID TERAZIJE CROSS THE SAVA
Belgrade, God Bless You!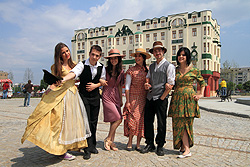 The "Belgradization of Belgrade" project continues. Intelligent and creative, witty and charming. So much Belgrade-like. The objective of the mission is to revive and enliven the cultural scene of the capital city, new crystallization of self-consciousness and the genuine spirit of Belgrade. It is conducted by the City, while the "Dadov" Theater is the executive producer.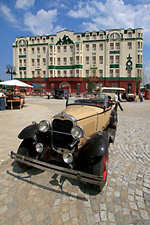 As part of the project, a cultural and tourist park "New Old Terazije" was opened on May 5th in New Belgrade, near the Flee Market. Ten objects with 4.500 square meters of office space, 6.800 square meters of paving stone, 30.000 square meters of park… A replica of the central old-Belgrade square from the 1930s. "Moskva", "Balkan" and "Kasina" hotels, "At the Golden Cross"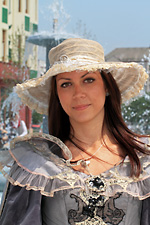 inn, Terazije fountain, trams and cars from those times, ladies and gentlemen dressed according to the then fashion… "It is not just an image and decoration; it is the new center of the most populated Belgrade municipality", the organizers state. Interesting various programs will be organized here every weekend, for all generations. The "Dixieland Orchestra" and students of the "Stanković" School of Music Jazz Department, for example, played at the opening, the high school graduates performed their "Dance with Europe", Jovan Maljoković was excellent with his band, along with "a bunch of charming program niches on all sides"… We are sharing with you some of the things our photo-reporter noticed during the occasion.