Road Sign
KAMENA GORA, ABOVE PRIJEPOLJE, AT THE VERY SOUTHWEST OF SERBIA
The Creator Was Generous Here
It is no exaggeration when people say it is the most beautiful village of the Prijepolje municipality and one of the most beautiful ones in Serbia. It is not a way station for anyone; the beauty requests you to put an effort and reach it. And when you do, you cannot stop wondering: why have the people left this place? where? what were they looking for and have they found it? are then happier, healthier and better now? do they regret it?
Text and photo: Olga Vukadinović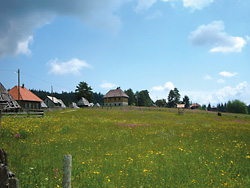 There are a few places in Serbia with such a descriptive, yet less adequate name as Kamena Gora (Rocky Mountain). Instead of stone, the eye is captured by green meadows with scattered flowers of the most different colors and shapes. Even a layman will easily discover at least forty species. Small islands of evergreen forests and small streams, which murmur you cannot hear, complete the image of this garden of Eden. Therefore there is no exaggeration in the saying that this is the most beautiful village of the Prijepolje municipality. Still, located at the very southwest of Serbia, far from the Prijepolje-Pljevlja highway, Kamena Gora is not a way station for anyone. In spite of the fact that the Creator was very generous while making it. There is no stream of visitors arriving, despite the billboards, posters and cover pages of tourist guides with pictures of the famous huge local pine tree, which has been fighting against time for four centuries and in which foot, among the knotty roots holding it firmly to the ground, one cannot but feel awestruck before this lonely giant.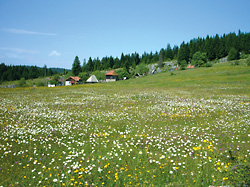 A hardly noticeably road sign for Kamena Gora can be easily missed if one drives fast. Those cautious enough might find discouraging the narrow and windy asphalt road full of potholes, most often passed by trucks loaded with lumber. However, already after a kilometer or two, the narrow valley grown into thick woods, with a stream cutting through it, will seem to you as a place where you would, even though you are the greatest adorer of the sea, like to spend a few days. And just as your eyes become saturated with beauty and the road begins going uphill, you arrive to a plateau, the center of Kamena Gora. The word center should be taken conditionally. It doesn't even resemble what it usually implies.
LJUBIŠA'S ROSE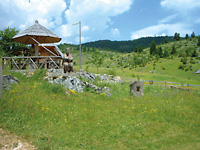 On the left hand side is Ljubiša Cmiljanović's "Rose" inn, and on the other is a spacious yard of the elementary school, closed for two years now. At its end, a bit to the right, partly hidden by plants, is a first aid station and nurse's apartment. A path, hardly wide enough for a car to pass, separates the school yard from another deserted building, the former textile plant. Next to it is a building with a humble village store, and behind it, already at the edge of the forest, the house of "Srbijašume". A few hundred meters away, the newly built small church dedicated to St. Marina, and a bit further from it several seemingly desolated houses. That is the end of the center of the town, which villages are located at an altitude of 800 to 1.496 meters. Most of them are hidden, visible only from a belvedere such as the one on Milovče Hill,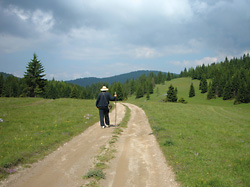 where one's gaze reaches far, all the way to the peaks of Durmitor, Jadovnik, Zlatar, Zlatibor, Golija.
There are no professional tourist guides here, but the owner of "Rose" will always find time to take the visitors around. The inn stays locked in the meantime, although thanks to it Ljubiša enabled education for his daughters. It is a bigger pleasure for him, he says, to show people the beauty of this area than to make a few hundred dinars. Anyway the business is not going well, but one must do something for a living. Luckily the children are modest, good students. He sends them what he manages to earn. They are not the only good students from here, he says. Whoever leaves this floral desert, invests all his or her efforts never to return back to its solitude,
except for vacations. He returned by chance, he confided. During the nineties he ran a shop in Prijepolje, but dissatisfaction began eating him, all his efforts seemed meaningless – he was always tired, unhappy, at the edge of his nerves, and the income was low. So, one summer day of 1999, he went to rest in a house in Kamena Gora. He came around noon, dead tired, and went to sleep already at two. He slept until four and woke up reborn. No sign of tiredness. As if he had slept not two, but 24 hours.
He felt, he said, what the mountain purity means and decided to forget the city.
Soon he opened a shop in the house he owned there. When "Srbijašume" erected their house, he thought Kamena Gora needed an inn. "Rose" began working in 2005, and three years later he built a few extra rooms, for travelers to have a place to sleep and stay a few days. With mutual pleasure. For 12,5 Euros for full board, guests can enjoy the peace, fresh air, beautiful nature and homemade food, for which Ljubiša became a real expert. Except for the opportunity to make money,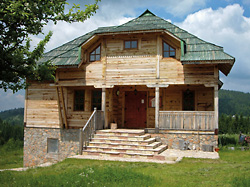 he also has the pleasure to meet people, which is not a common thing here. Always unobtrusively, according to the guests' wishes. In the meantime, he finds time to work in his garden, in which, at an altitude of 1.250 meters, everything ripens much later than in the Lim valley. He picks mushrooms and forest fruit, and makes various unforgettable beverages, such as the magical raspberry liqueur. Such drinks cannot be tasted in any other Serbian inn. From time to time he goes to Prijepolje to shop for supplies which cannot be found in Kamena Gora.
GIFTS OF THE MEADOW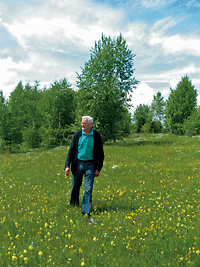 Shopping for supplies is one of the weaknesses of Kamena Gora. There are no bus lines; one can go shopping only by car. Besides Ljubiša Cmiljanović, accommodation can be found in one of the fifteen-odd cottages, in the 6-7 kilometers away village of Gumnište, in the "Kovčica" camp, or mountain lodge above the "sacred pine tree". And the problem of supplies for those who don't want full board is resolved in the same way everywhere. The owners, since almost all of them live in Prijepolje, are told what supplies are needed and they bring them once or twice a week. Or their neighbors going to town bring them – solidarity is pretty developed here. Taxi drivers are there for emergency situations. A 19 kilometers drive from Prijepolje to Kamena Gora costs from 800 to 900 dinars.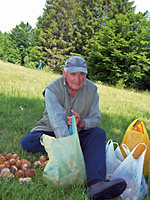 Milk, cheese, kaymak, honey, can be bought at the spot. The prices of cheese are not high, 300 to 350 dinars, but kaymak and honey are expensive. It is hard to find them for less than 1.000 dinars per kilo. Many of those who decide to stay in one of the cottages or houses in Gumnište, "Breza", "Bor" or the "Mountain lodge" and cook by themselves are people familiar edible plants and herbs, as well as plentiful mushrooms. According to Ljubiša Cmiljanović, experts have found 250 species of herbs here. His first neighbor, academic sculptor Milenko Rvović, supported by Pelagić and Tucaković, managed to distinguish about seventy.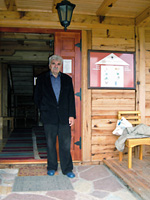 Milenko has been living in Kamena Gora for eleven years with his wife Sandra, nurse who replaced her workplace at one of the Belgrade clinics with a village first aid station. Happy and satisfied. His health problems, which made him retire and settle here, have disappeared completely. Fresh, healthy tan and confident steps resemble a young man rather than a sixty-year old who, according to his own words, couldn't walk a hundred meters when he came here. It's due to fresh air, healthy food and motion. Collecting mushrooms, which he is engaged in, implies lots of motion. Milenko starts searching for them with the first days of spring. Of all the "gubas", as they call mushrooms here, morel appears first. It usually grows in the vicinity of spruces, on stone plates covered with moss, where snakes are frequent visitors.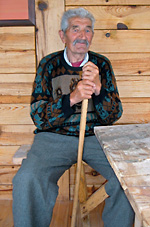 Perhaps this is the reason why morel, which used to be a regular item in the cuisine of these highlanders, is not so popular today. People are afraid of snakes. Milenko is too, but he doesn't give up on the tasty morel. He believes that he is holding the world record with the 170 kilograms he picks from March to May.
He is also successful in picking other mushrooms, chanterelle, forest mushrooms, puffball, especially boletus. Thanks to his hobby, he walks at least ten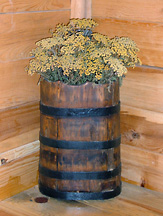 kilometers every day, mainly searching within his estate, where he seems to know every blade of grass, every bush, every tree. He doesn't mind other pickers coming into his meadows and forests – there is enough mushrooms both for him and for others. He goes picking twice a day, at dawn and in the afternoon. Most often to Pribojno, 1.300 meters high cone-shaped hill, and Miloš's Meadow where purchasers of mushrooms come. And while fresh boletus cannot be bought in Belgrade for less than 1.000 dinars per kilo, in Kamena Gora, 150 is paid for the same quantity. Milenko, however, is satisfied, not only because he manages to pick about ten kilos every day, but because of all the walking beneficial for him and his health. He complemented the knowledge he gained about mushrooms as a boy, and intends to write a book about it. It seems that he knows a thousand and one interesting stories about mushrooms. And how to prepare them. But these are not the only stories he knows. It's just that, if one wants to hear them, one must first come to the most magical village in Serbia.
***
Lucky Milutin
Kamena Gora is rich with water, which is probably why its flora is so rich. Those who know the area counted 108 species, and as much as 32 only on Pribojno and Miloš's Meadow.
***
Tito's not Dead
Kamena Gora is perfect for hiking. According to Dragan Gluščević, president of the "Kamena Gora" Sustainable Development Center, there is 84 kilometers of marked hiking paths. One of them leads to Gumnište, with the ethno-house for which the land was given by Dragan's father. It also passes near the cottage of Željko Kijanović, drawing attention with its wooden sculptures which, like guards, stand in front of it. Besides, there is also a bronze plate, fixed to the rock, with the image of Josip Broz Tito. A memory of the political orientation of this area after World War II.
***
Under the "Sacred Pine"
The most recognizable motif of Kamena Gora is certainly the gigantic old pine tree. The famous Serbian painter Milutin Dedić (brother of singer Arsen Dedić), amazed by its size and beauty, proclaimed it sacred. People believe that those who dare to rip off a twig or pinecone from it will inevitably be punished by God. Local storytellers will give you many examples.
One of the numerous legends about the "sacred pine" says that the people of Kamena Gora had to migrate 350 years ago. This is stated in an inscription left in a crack grown long ago and covered with resin. Based on this story, it is estimated that the pine tree is at least four centuries old. New settlers came to desolated Kamena Gora from Montenegro, mostly from Lijeva Rijeka.