Adventurer
JOVAN MEMEDOVIĆ, AUTHOR OF THE FAMOUS TV SHOW ON RTS "COMPLETELY NATURAL"
It's Over, I'm Leaving
"The current direction of migrations of people is from villages to cities, from nature to concrete. As if humanity is striking the final blow to itself, or it is a way for the earth to defend itself from the overmultiplying of the human race. In developed countries however, a reverse process has begun: return to nature. My regular holidays under a tent, on the Drina or Kokin Brod Lake, will soon become my entire life. I will only replace the tent with a log cabin"
By: Branislav Matić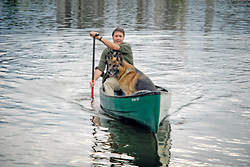 His TV shows are completely different from the banal shallowness and loud monotony of most TV programs today. Completely opposite from the surplus of silicones and lack of vocabulary of the "world of celebrities". Towards the "industry of dreams" and marketing mystifications. Completely natural, just like he is. Pervaded with simplicity one must mature to.
Jovan Memedović (Beograd, 1960) has been with RTS for more than 20 years. He started his career in Belgrade Program, and from 1992, he has worked as sports reporter and commentator. In 1996, he began working on the World of Hunting and Fishing show, numerous documentary series and travel logs. He won the "Laza Kostić" award for his reports in 2007. He is married to Mirjana Memedović, graphic designer and has Maša (16) and Uroš (12).
You are a Belgrade kid, you graduated from high school and studied physical education in your home town. How did you come to the media world, to TV journalism?
That is what I've been asking myself for a long time. However, all in all, I made a perfect combination. I stayed in sports, I lead a healthy life, my job as a reporter enables me to go anywhere, I see everything. What I don't know, I can ask. However, I'm still not clear what I'm doing here. I guess fate wanted it to be that way, to love my work and make a living from my hobby. You cannot plan something like that. It is arranged by fate.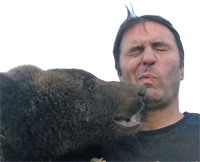 You do live sports programs, documentaries, reports, travel logs. Which of these areas are closest to you personally, to your expression and sensibility?
Documentaries are my thing. That is truly the real space for me: to research, travel, film at the spot, come back and make an interesting story out of it.
You introduced many novelties in each of the genres you were engaged in with your spirit, charm and personal touch. Did you encounter any resistance?
I have never had any problems, no one has ever restricted me. My topics don't hurt anyone, my stories are for the people, I travel to places not many people know. As far as I can see myself, I don't behave like a star, nor am I imagining that I'm God-given. I am just doing a job called journalism.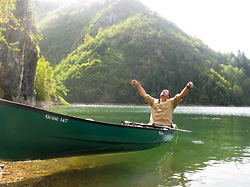 If you compare Serbian journalism with world benchmarks, where are we in terms of ideas, content, professionalism, production?
I don't have any dilemma: we are still ignorant in TV journalism. We still don't know all the possibilities of the media, we don't use the tools, all the frequencies are in vain. All this exists in the BBC, tested and purified. They have schools, courses, workshops, trainings. Richer TV stations frequently send their journalists to regular seminars. Since we don't do that, and we are not born with knowledge, our televisions are as they are. Pale, idealess, without original design, without recognizable talk show hosts, the commentators of sports events repeat the same sentences, newsreaders inform about both accidents and celebrations in the same tone. Bad tone, uninteresting picture.
NATURAL BEINGS, NOT ROBOTS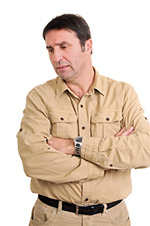 Shows such as yours, turned to authentic nature, have very good ratings. On the other hand, the modern man is more and more living in his simulacra and virtual worlds, increasingly distant from nature and himself. How do you interpret the great interest in nature and rapid distancing from it?
It is the current direction of migrations of people. From villages to cities, from nature to concrete, to sitting before a computer. I think humanity is striking the final blow to itself. Perhaps this is also a mean of optimizing the number of people; perhaps it is a way for the earth to defend itself from overmultiplying of the human race. I believe it will last for a while, and then a reverse process will begin. The return to Mother Nature. The process has already begun, even progressed, in developed countries.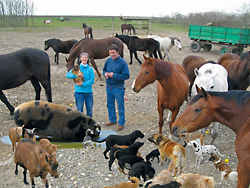 You have seen many hidden corners of Serbia, you traveled to distant, little known parts of the world (Arctogeia, Norway, Čukot, Siberia, Kazakhstan, Tajikistan, Kirgizstan...). What do you like to tell from those exciting journeys, what remained in your memory?
These are places where laws of survival in nature still rule. Many get the creeps from thinking of going there, while for me it is the meaning of life. I don't believe we are created to live as we do now, with mobile phones, tablets, laptops, completely dependant on technology. We are natural beings, not robots.
My experiences from my journeys are similar, but the last one was something really special. I spent a few days in Germany with a man who lives with twenty-five wolves. He says for himself that he is half wolf – half man. After meeting him, I began considering the possibility to become, let's say, half man – half bear.
What would you, Jovan, like to forget, but cannot?
I'd love to forget the period when I was working as editor of the RTS Sports Desk. It's not for me.
How do your city and your country seem to you when you return from your unusual journeys?
We are a beautiful country, with a gentle and mild nature and climate. We are a bunch of intelligent and leisured people, above everything we are the heavenly nation. It is nice to wander through the north, but it's best to be home.
I'M NOT GIVING UP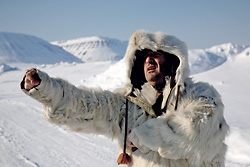 You once said that Serbia is very unsuitable for filming shows based on surviving in nature. Why?
What survival! It would really be a shame to talk about it in Serbia! If I passed by a village without saying hello, without dropping by for a rakia, if I escaped the housefather who would place all the best he's got on the table, that would, believe me, be a serious insult. Such things don't happen in Serbia. I tried, but instead of coming back hungry, I returned with a few more kilos. This just isn't the topic in this Serbia of ours. We are small and not very developed, but no one will ever be hungry here.
What kind of team must one have to film programs such as yours?
It is simply a team that works and lives like me. Imagine one of my men starting off to a journey in shimmy shoes, afraid of wild animals, or not fancying rain or snow. The cameramen must be ready to endure more than me. I watch and gather information, while they have cameras in their hands all the time.
You say you don't like to travel or film unprepared. How do you prepare?
I train every single day, I live an orderly life. I must be physically prepared, and I seek motivation by watching foreign TV shows, for example "Discovery" or "National Geography". Or I watch the movie The Last Trapper.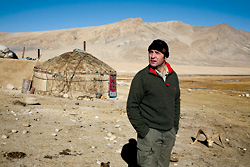 Do you manage to bridge the "generation gap" and provoke interest in your children for the beauties of the worlds you present to millions of viewers?
I can overpower everything somehow, except for the new kids and their ideology. They are not interested in absolutely anything, and staying in the wilderness for them is a waste of time. There is no curiosity, adventure spirit, playfulness. Going to some God forbidden places is not an adventure; it's boring, because there is no internet and mobile network. Still, I'm not giving up. There will be time to fight with their internet hours on the computer.
Serbian swimming champion Milorad Čavić, graduate student of Berkley, says: "Turn off the TV, turn on your brain." What do you say to that?
Turn on your brain and tune in to RTS First Program on Sunday at 18:30, watch Completely Natural. Perhaps something might inspire you run away from the city and begin loving life.
Do you still spend your holidays "under a tent in Tara" and are you still fascinated by the Drina?
It is a holiday for now, but soon it will become my life. I will replace the tent with a log cabin, but the destination remains the same: the Drina or the Kokin Brod Lake. It's over, I'm leaving.
***
HALF-HALF
Are there places in Serbia you like to go back to?
Yes. Stara planina, Vlasina, the Drina, mountain Tara, Zlatibor, all the way to Montenegro... It is my view of nature, it is where I sleep normally, eat, where I'm always laughing and in a good mood… Why? Because I am half man – half bear.
***
IF BELGRADE DIDN'T HAVE…
What about your hometown?
Belgrade is beautiful, but if it didn't have Ada and Košutnjak, the Sava and the Danube, it wouldn't be worth a penny. It would be a suffocating dump in which local newcomers and those from neighboring countries push around.
***
STORY OF THE MAN-WOLF
Are there any new treats prepared for the TV audience in the workshop of Jovan Memedović and his team?
I am preparing an attack on their senses; I'm bringing a story of the man-wolf. They should see that not everything is in technology and telecommunication, there is something in wolves. Something that can bring us back our died-out instincts and give us a new desire for life.