Nursery
FOOTBALL CLUB "TELEOPTIK" CELEBRATES 60 YEARS OF EXISTENCE
Balkan "Barsa" as the Ideal
From the old solid factory club, through the symbol of Gornja varoš of Zemun, to one of the best Serbian junior football schools, there has been a long road. "Teleoptik's" and "Partizan's" sport centre, called "Zelmunelo", is a great nursery of excellent football players and coaches. This is where Dejan Stanković, Albert Nađ and Milošević brothers came from, this is where Saša Ilić, Igor Duljaj and Danko Lazović forged their skills, and where experts like Vladimir Vermezović were gaining their mastery... And now, some other champions are growing up there, that are yet to be heard of
By: NR Pres
Photographs: Svetlana Dingarac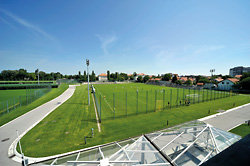 It all began sixty years ago. On September first, 1952, the wish of workers of then respectable company was made true and Football Club "Teleoptik" was founded. To gather fans, to nurture sports and general ethics, to raise healthy generations. Without an obligation to achieve great results at competitions.
– In a long number of years, the club slowly advanced and reached the second league level – reminds us Branislav Jeremić, secretary and one of the legends of "Teleoptik". – At the beginning there was only the first team, and junior sections were organized later. A part of Zemun around Gornja Varoš strongly identified with the club, which created even bigger obligation. We tried to ensure that the club preserves primarily high standards of behavior, that all of its me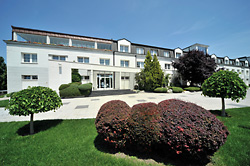 mbers are exemplary in all aspects. Then the years of crises and turmoil ensued. The company from which the club was born was sinking into difficulties. The leaders of football club "Teleoptik", before all the late Slobodan Jokić, thought then that they should connect with a stronger sports club in order to avoid being shut down. The first offer was submitted to the nearest, FK "Zemun", but we did not receive positive response. Then we turned to "Partizan". Former management of the black-and-white shoed interest in this initiative. Žarko Zečević was especially involved in the realization of this. And this is how the sport centre that we are today proud of was created.
And sports centre of "Teleoptik", in slang known as "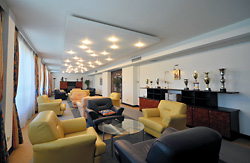 Zelmunelo" (as association to the famous "Milanelo"), is today considered the best in Serbia taken as a whole. It has eight superb courts, two of them with artificial grass. There is also a building with 4,000 square meters, with all segments that comprise a modern sports complex: fitness, sauna, restaurant (where nutritionists are especially taking care of proper diet of athletes), contemporary administration, medical ward, fifteen dressing rooms, a hotel part (for accommodation of football players during preparations or during quarantine)...
– We have our own water supply, and this enables us to have all the fields in excellent condition. Each is equipped with spot lights. Even the club facilities, beautiful and modern, enable efficient wo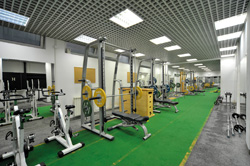 rk of the management, headed by the president Koviljko Hajder, which is trying to provide excellent conditions for work in all selections. Our cooperation with "Partizan" is defined in accordance with the following formula: "Partizan" has 80 percent of the facilities, "Teleoptik" has 20; "Partizan" has 70 percent of the land, "Teleoptik" has 30. Since company "Teleoptik" does not exist any more, mi we can proudly say that we are the only ones who preserved the name of this formerly respectable company, without letting ourselves to be struck by its fate.
STRONG FEELING OF TOGETHERNESS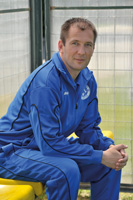 Dedication to junior categories is the focal point of "Teleoptik".
– The confirmation that in this area we worked well are numerous players who started here, and who then had prestigious careers on European level, such as Dejan Stanković, Albert Nađ, Milošević brothers... The main point of the agreement with "Partizan" is to send the talented children who grew up in our club to selections of the "black-and-white". Those that "Partizan" finds are currently not necessary can easily find engagement in other strong clubs, because there is great interest for them. Behind all this is an exceptional professional work in all our junio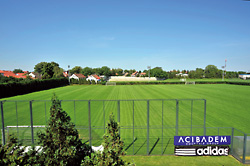 r categories, which are entrusted to our proven young coaches, such as Obradović, Đurić, Đukanović, Zavišić, Mijatović. There are seven age categories, born between 1995 and 2002. In our first team, together with those who came from "Partizan's" school, the axis is formed by the players who came from "Teleoptik". Young goalkeeper of the "black-and-white" Nikola Petrović is from our centre and we are very pleased to know that he was already given the chance to defend the goal in the derby. In the cadet selection we now have several extremely talented young boys. If they are not selected by "Partizan", we are planning to have them bound with scholarship agreements and to send them to our first team. This entire generation is excellent and it would be a pity to just hand them over to other clubs as already formed and profoundly trained players – says Branislav Jeremić.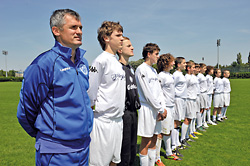 Every year, "Teleoptik" invites parents to bring their talented children to a trial. It regularly organizes camps where the applied boys are selected. The goal is to recognize the talent and select the children who have true predispositions for this sport.
– There are problems with some parents who are, unrealistically, convinced that exactly their child is absolutely the best – says Secretary Jeremić. – Our coaches are professionals, unbiased and very conscientious. We guarantee that the most talented children will be given the real chance. It is exactly on this foundation that we have gained our reputation as one of the best football schools in Serbia: We also confirm this with results in all leagu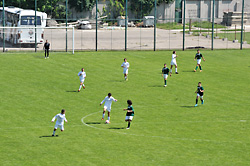 es in which we play. We are also specific for not charging tuition to children who train here, and therefore we do not have an obligation toward anybody's child to let him play here, if the child does not deserve this with quality. I repeat, the door is open to everybody, but we only accept the best. We provide the best conditions and our young players, aware of this, are very respectful because they were given the opportunity to show what they can in a community like this. This respect brings a strong sense of togetherness, permanent connection with this club and Gornja varoš of Zemun.
SKILL OF WORKING WITH YOUNG PEOPLE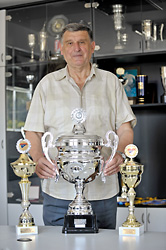 Dragan Obradović is the child of "Teleoptik". Formerly a player, he later became one of the best coaches in junior categories. He started playing when he was twelve years old, as a boy from a Zemun neighborhood.
– I remember great experiences with my first coaches Sava Soldatović and Dragan Šipka – he says. – I spent five years in junior selections. As an adolescent, I was trained by Zvonko Živković, as the borrowed coach from "Partizan". Already then it was possible to anticipate the future cooperation between "Teleoptik" and the "black-and-white". After returning from the military service, I joined the first team and settled in the starting selection. At that time, "Partizan" was sending its most prospective players to forge in our club, and it was not easy to stand out among them. Saša Ilić, Igor Duljaj, Danko Lazović, and others were being orged there.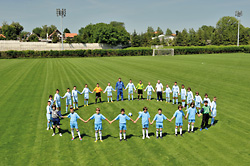 The following football career of Dragan Obradović was hindered, in his best age, by a severe injury that is still talked about.
– During one match, an intervention of our goalkeeper Đorđe Pantić ended with a fracture of my arm. I had to wear pins for six months, and afterwards I had a complicated rehabilitation. The break was too long, and because of it one loses pace and the position in the team that had been acquired with a lot of effort. Then a position opened in the team for a junior category coach. Meanwhile I enrolled at the Sports Academy, and I was proposed to take over that duty. That is how I accepted this job – remembers Dragan Obradović.
At the beginning he was working with the youngest ones. He taught them how to make the first real football steps. Three years after, he too over the generation of 1995, and has been with it for six years now.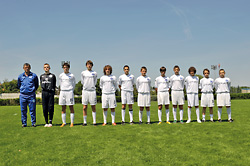 – In that period children made a great improvement in football, and they also matured a lot on personal level. I have always tried to influence them not only as a coach, but also as a pedagogue to point out to them important things from football, but also from life in general. The results came as the logical consequence of that. It turned out that we are equal with the best quality clubs in the country. In the last three seasons we were the champion in the First League of Belgrade.
The method of work with junior categories, which he remembers from the time of his football beginnings, is no longer applicable. New generations are valued based on different criteria, in all aspects of life.
– Generation gap is obvious. I try to also present to the boys a system of values on which we were raised, a more profound approach to sport and life, because I see that there are many things today that confuse them, draw their attention away and disturb realistic thinking. Too often the media encourage superficiality and superficial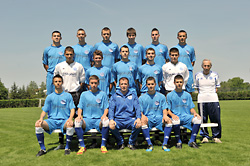 understanding of life, they advertise suspicious shortcuts and instant solutions for different things, flame the "base instincts" – explains the trophy winning coach of junior category of "Teleoptik". – I am trying to present to the boys the proven values. To stimulate them, if they have already decided to be involved in sports, to do their best, to give their maximum, so that one they would not regret because they did not invest sufficient effort. I recognize their dilemmas, I see lack of attention and wandering, I understand how the wrong media examples influence them. I explain to them how wrong they are when they think that one can become a star football player by buoying a certain brand of sneakers, or changing one's hairstyle. One must be patient with them, must come sufficiently close to them and speak to them in the language that their generation understands.
ON THE ROAD FULL OF CHALLENGES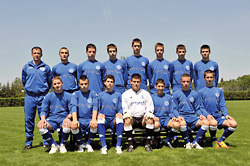 Being a true coach today is much more complicated and bears much more responsibility than before. There is also a complex relationship with parents of the children who practice here.
– I have been lucky not to have any problems with parents of my players. And they have not had problems with me – says Obradcović. – These are serious and realistic people. They are not trying to impose on their children their frustrated ambitions and through them to achieve goals they could not have achieved themselves. They do not push their children over their limit, which generally creates lots of problems for the children, as well as coaches and professors at school. Parents of my boys are aware that their children are practicing in a serious club, where people work carefully and honestly, and that it is only up to them how far they will get in their football career. I am glad because they give them great support, but without overburdening ambitions.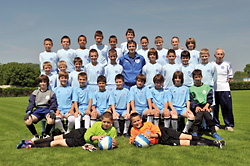 He speaks with caution about the future of today's cadets that he leads. They have come a long way, "Partizan" already has its eye on several of them, but there are good opportunities for others as well. However, we should bear in mind that these are still boys, both as football players and as human beings they are still being formed, still susceptible to oscillations.
– I am sorry that our talented football players usually do not get a real chance – says Obradović. – We should bear with them, show them that we believe in them, so that they would show their talent in a foreseeable future. Serbian football will not have long-term benefits from bringing used players, with sound names, for as long as in this way we take away the chance from this young boys, that we created ourselves, to prove themselves. Even some managers often play a negative role in creating someone's careers, with their artificial "business moves".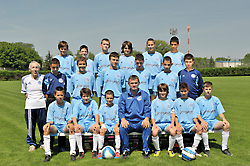 The young coach had a great start in his profession. He believes that in this way he will make up what he was deprived from because of interruption in his active sports career. Many people already see him as the best solution for takeover of some of "Partizan's" junior selections. People in "Teleoptik" and "Partizan" are more than satisfied with his work, development and attitude toward the club. It is logical that in a short time he will start leading a more respectable senior team.
– I will be patient. I want to truly master the work of a coach, in all its aspects and on all levels. When I think that the time has come, I will certainly use the opportunity to show what I know on elite scene. Maybe in one European club, because with that I would round up my football ambitions.
***
High Standards
– People from the management and profession of "Teleoptik" have seen how they do this in the best European clubs. Fro example, we have introduced and adopted organizational experiences from the Netherlands, Italy and Switzerland – says Branislav Jeremić. – Our coaches are always right on the source of information on the most contemporary methods of work with junior categories. We also give our own contribution in this exchange, because in many elements of work we have offered our own standards and attracted great attention of professional audiences.
***
Coaches
Together with people in the management, led by President Koviljko Hajder, who are investing great skills and effort in stable functioning and realization of "Teleoptik's" sports strategy, the axis of work in the club consists of excellent coaches of junior categories. Children born in 1995/1996 are coached by Dragan Obradović, those born in 1997/1998 by Dejan Mijatović, 1999 by Zoran Đurić, 2000/2001/2002 by Nenad Đukanović. An important many years long coaching mark in the work with junior categories was also left by Zoran Mamić and Branislav Nikolić, who changed the environments meanwhile.
***
Mešetari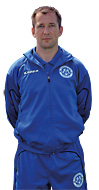 This type of nursery of football talents, certainly, is targeted by managers. Many of them are, unfortunately, very incorrect.
– This is already a great problem of entire Serbian football – says Branislav Jeremić. – They are trying to, by trading with talented boys, gain profit quickly. They promise all kinds of things to them, stimulate their imagination, recruit their parents... This is later followed by many bitter experiences. There is a decision of FIFA that the club in which a football player came of age must be fully respected in each subsequent transfer of that player. We hope that this will be consequently complied with. This will give the opportunity to nurseries of talent, such as "Teleoptik", to get financially stronger and continue their mission of football development.