Style
FRENCH SCHOOL OF FASHION DESIGN AND FASHION MANAGEMENT "MOD'ART" IN BELGRADE
By Paris Standards
Students of this prestigious school have had significant achievements on the local and international stage. At this year's National "Young Creative Chevrolet" they won all prizes in fashion category and will represent Serbia at the planetary competition. They also achieved significant results on last year's prestigious open call of the Moscow State University of Technology and Design. They will present their graduation collections at a fashion show in SKC on June 29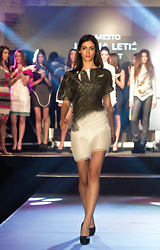 The best testimony of great reputation of this prestigious Fashion College from Paris is the network of its departments around the world: Lima (Peru), Mumbai (India), Beijing and Shanghai (China), Budapest (Hungary) and Madrid (Spain). Six years ago, it also opened its centre in Serbian capital.
Long tradition of this school, high quality curriculum and a very experienced team of lecturers provide the students of this program superb professional education, in accordance with all standards and requirements of contemporary fashion industry. Students are enabled to follow the classes by means of the most advanced teaching tools, to master computer programs necessary for working in contemporary production plants, as well as to become familiar with the skills that today constitute high fashion.
Educational profiles in school "Mod'Art" are Bachelor in Fashion Studies and Bachelor in Fashion Management.
At the Department of Fashion Design, students learn esthetics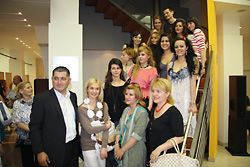 , modeling and realization of clothing for industrial production, and at the Department of Fashion Management, in addition to primary courses of management and marketing, students also learn fashion, its widest historical and sociological aspects.
Undergraduate studies last three years and are organized in Belgrade, with a possibility of internship in Paris, during the studies. The obtained diploma is recognized by French educational system and has an equal academic level as all other diplomas that are obtained through similar programs in France.
DOMINATION IN FASHION CATEGORY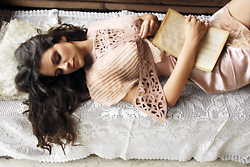 This year again, company "Chevrolet Europe" organized an open call for young artists called "Young creative Chevrolet", gathered creative young people around a new challenge and rewarded the best. The competition was conceived in 2007, in order to nurture creativity and provide support to developing artists, in early stage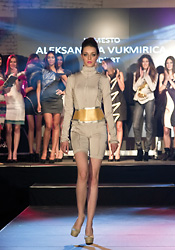 s of their careers, to enable them to gain professional titles and provide them with valuable experience in building a professional relationship toward the leader in the world market such as "Chevrolet".
Students compete in three categories: fashion, photography and visual arts. In 2011, the first place in the category of fashion went to Emina Ćor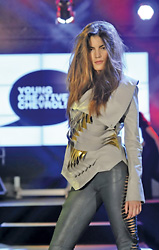 ić, student of the School "Mod'Art Internacional", who represented Serbia at the international competition. This year in Serbia, the competition was held for the fifth time, on May 31, within "Mixer Festival". Students of College "Mod'Art" from Belgrade decisively won all pries in fashion category. At the international competition, Serbia will be represented by the first prize winner Jelena Letić, and monetary awards went to Majda Rujević and Danica Aleksić for the second place, as well as Aleksandra Vukmirica for the third place.
Students of this prestigious college continue to achieve new successes in 2012. And graduates of School "Mod'Art" will present their collections at the fashion show in Student Cultural Centre in Belgrade on June 29.
***
Advanced Education
Belgrade students of this French school have a possibility of advanced education (the fourth year of study) at "Mod'Art International" in PAris, as well as in cooperation with prestigious institutes of higher education such as University Perpignan in France or The University of Arts (London College of Fashion), University of Westminster–London, Nottingham Trent University and Huddersfield University in Great Britain. This will earn them diploma Bachelor of Arts Honors degree in Fashion, (BAC+4, DU level Master I).
***
"Kremlin Stars" from Belgrade
The Moscow State University of Technology and Design has a 250 year long tradition. Of all institutes of higher education in the world, it has produced the highest number of Nobel Prize winners. Every year, this University organizes a competition entitled "Kremlin Stars", and this year "Mod'Art" School from Belgrade was invited to participate in the field of fashion design in different categories (from creative design to different design skills). In a very strong competition, Emina Ćorić, student at "Mod'Art", placed third in the category of creative design, and Ksenija Đurović received special recognition for professionalism in realization of the collection and selection of materials.