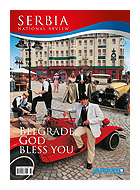 SERBIA - National review, No 32

Prologue
There is this feeling of closeness with all those old noble wanderers and chatterers who knew how to "make life more bearable, and escape from poverty of facts possible". Following their footsteps, by using their lucid road signs, this time we are exploring how Terazije crossed the Sava and how the spirit of Belgrade from the time between two World Wars was resurrected. We arrive in the village of Kamena Gora, abandoned idyll above Prijepolje, in Prilep of King Marko, in Arilje of Dobrilo Nenadić, at adventures of Jovan Memedović, at Postal Museum, in the Orphic world of painter Slobodanka Rakić Šefer, at football school of "Balkan Barsa" in Gornja varoš of Zemun...
GALLERY

CONTENTS
Prologue
CAN WE BE EUROPE IF WE ARE ALREADY AMERICA
Hollywood in Our Neighborhood
Vitrage
NUMBERS, EVENTS, INTERESTING THINGS
Album
HOW DID TERAZIJE CROSS THE SAVA
Belgrade, God bless you
Shore
"DIPLOMATIC WEEKEND" IN ZEMUN, AT THE END OF MAY AND AT THE BEGINNING OF A NEW WAY OF LOOKING AT THINGS
Wide, as the Danube
Zemun has a lot to offer to its guests, both to passers-by and those who stopped by to stay here for the rest of their lives. But it is high time that it does this in a way much better than before. Project "Zemun on the Danube", within which this meeting was organized, has been realized for fourteen months now and there are less and less basic things that are missing
Road Sign
KAMENA GORA, ABOVE PRIJEPOLJE, AT THE VERY SOUTHWEST OF SERBIA
The Creator Was Generous Here
It is no exaggeration when people say it is the most beautiful village of the Prijepolje municipality and one of the most beautiful ones in Serbia. It is not a way station for anyone; the beauty requests you to put an effort and reach it. And when you do, you cannot stop wondering: why have the people left this place? where? what were they looking for and have they found it? are then happier, healthier and better now? do they regret it?
Text and photo: Olga Vukadinović
History and legend
REPORTER OF "NATIONAL REVIEW" ON UNUSUAL ROADS OF PRINCE MARKO (1335-1395)
And Thunders Were Striking the Peaks
He lived in the time after the death of Emperor Dušan, when the noblemen, adman their souls. broke the empire into pieces. We will probably never fully find out why it was exactly him, the firstborn of frivolous Vukašin Mrnjavčević, that was used by the poet to create a romantic hero, mythical in a way, who resists the occupier. (There were more suitable personalities for that, such as Despot Stefan Lazarević.) But it was him who ploughed the sultan's roads, chased away the Turks and preserved a flame of hope, at the time when there was nothing else. And what has remained of that in Prilep today, the city in which he reigned?
Text and photographs: Dragan Bosnić
Belvederes
DOBRILO NENADIĆ, ONE OF THE MOST POPULAR SERBIAN WRITERS, AGRONOMIST FROM ARILJE, EXCLUSIVELY FOR "NATIONAL REVIEW"
The One Who Talks to Herbs and Time

The writer of "Doroteja", "Despot and Victim", "Novel of Obilić" reads every day, and it has been so for sixty years. He began by discovering a fraud of the socialist publisher of "Robinson Crusoe". After he had graduated from the Faculty of Agronomy in 1964 with the scholarship of the Agricultural Cooperative, he did not accept a position at the Faculty. He returned. "I didn't want to deceive the people who lived in poverty, yet spared for my education." Only a few agronomists and the Lord know all that had been done to make Arilje, an area naturally not gifted for it, become the most famous place for raspberries. "If the Lord forgets, we won't"
By: Momčilo Dimitrijević
Photo: Dragan Bosnić
Adventurer
JOVAN MEMEDOVIĆ, AUTHOR OF THE FAMOUS TV SHOW ON RTS "COMPLETELY NATURAL"
It's Over, I'm Leaving
"The current direction of migrations of people is from villages to cities, from nature to concrete. As if humanity is striking the final blow to itself, or it is a way for the earth to defend itself from the overmultiplying of the human race. In developed countries however, a reverse process has begun: return to nature. My regular holidays under a tent, on the Drina or Kokin Brod Lake, will soon become my entire life. I will only replace the tent with a log cabin"
By: Branislav Matić
Origins
THE FIRST BELGRADE SINGING SOCIETY, AN IMPORTANT INSTITUTION OF NATIONAL CULTURE
Potpourris and Song Wreaths of the Greatest Ones
The oldest choir in the country, founded in 1853, is the third cultural institution of resurrected Serbia in the XIX century. Its patrons were Serbian princes and kings, starting with Mihailo Obrenović. Until they disappeared. It's heads where great people of Serbian music and culture such as Kornelije Stanković, Davorin Jenko, Josif Marinković, Mokranjac, Kosta Manojlović, Stevan Hristić... They were officially the best European choir several times, the only foreign choir at the celebration of 1000 years of Orthodox Christianity in Russia, they sang the liturgy at the Holy Sepulcher upon the invitation of the Patriarch of Jerusalem, were inevitable in the ceremonies of crowning all Serbian monarchs and enthronement of patriarchs… Is that why today they are marginalized, financially on the verge of existence?
By: Radmila Tamindžić
Treasuries
RENOVATED POSTAL MUSEUM WAS OPENED IN BELGRADE DURING ANNUNCIATION
Symbol of the State,
not the Government
Visitors (they say) may enjoy watching how rich the "Post" is, as well as generations of people who have been creating it, for entire 172 years. Times were changing, as well as technologies, but the essence of "Post" has remained the same. It does not make difference among people, but enables everybody to be connected. It does not judge. It is always trying to complete the task and bring the news, without getting into whether it is good or bad. The museum collection in Palmotićeva Street is a testimony to this
Palette
SLOBODANKA RAKIĆ-ŠEFER, RESPECTABLE SERBIAN PAINTER, IN THE WORLD OF INCREASED SENSIBILITY
Invoked by Orpheus' Lyre
Her paintings open up like scenes. Images of natural treasure or Mediterranean world, which is nothing but the lost paradise, homeland, childhood and innocence. The historical landscape of the Mediterranean, Crete, Greece and Etruria, the revived light of the Aegean Sea, faces from old frescoes which restart their game with gods and mortals. Her Mačva and the Balkan hinterland of fairy-like nature, the Balkans as the subconscious and bad conscience of Europe, are in the background
By: Dejan Djorić
Eye
MARIJA HLAVATI KRIŠAN, REPUTABLE NAÏVE PAINTER FROM KOVAČICA, CELEBRATES 20 YEARS OF HER WORK
Lady with Sunflowers
In terms of technique and motif, her paintings belong to the Slovak naïve painting of the Kovačica school, slightly moved towards hyperrealism and poster. "The most frequent motif in my paintings is the sunflower. I paint landscapes full of old houses, covered with old reed, old windmills, carriages, wells, jugs and flourishing nature. I live in nature, I live nature. It is enough for me to take a walk down the street, to see a flower, a sunset, a cloud, and a painting begins sprouting in me"
By: Milica Despot
Gifts
PIANIST NIKOLA VUČIČEVIĆ, A SIXTEEN YEARS OLD FROM BELGRADE, CONQUERS EUROPE
Dream of Perfection
Despite growing up in a tennis family, from the first moment when he saw a piano he knew that it was what he had been looking for. He started playing at thee age of eight. Behnd him are successes in Rome, Padua, Brescia, Bologna, San Sebastian, Sankt Petersburg, Moscow, Paris, Brussels, Arezzo, Sent Georgen... Everything is very simple, he says. When he sits at a piano, stage fright disappears, the fact that he comes from a small country is unimportant, or the fact that he competes with those who are older than him. He focuses his entire being to play the best he can
By: Jagoda Plavšić
Winner
ALEKSANDAR BORIČIĆ, HEAD OF ONE OF THE MOST SUCCESSFUL SERBIAN SPORTS
Volleyball as an Example
He was the famous volleyball player of "Zvezda", coach, and then one of the most successful Serbian sports officials of all times. He is the first vice-president of the European and vice-president of the World Volleyball Federation. The ascent of Serbian volleyball is directly related to him. Medals from the biggest competitions, generations of internationally renowned volleyball players, globally appreciated working mode, confirm the opinion that a right man in the right place is worth more than entire teams of pure theoreticians
By: Dejan Bulajić
Nursery
FOOTBALL CLUB "TELEOPTIK" CELEBRATES 60 YEARS OF EXISTENCE
Balkan "Barsa" as the Ideal
From the old solid factory club, through the symbol of Gornja varoš of Zemun, to one of the best Serbian junior football schools, there has been a long road. "Teleoptik's" and "Partizan's" sport centre, called "Zelmunelo", is a great nursery of excellent football players and coaches. This is where Dejan Stanković, Albert Nađ and Milošević brothers came from, this is where Saša Ilić, Igor Duljaj and Danko Lazović forged their skills, and where experts like Vladimir Vermezović were gaining their mastery... And now, some other champions are growing up there, that are yet to be heard of
By: NR Pres
Photographs: Svetlana Dingarac
Style
FRENCH SCHOOL OF FASHION DESIGN AND FASHION MANAGEMENT "MOD'ART" IN BELGRADE
By Paris Standards
Students of this prestigious school have had significant achievements on the local and international stage. At this year's National "Young Creative Chevrolet" they won all prizes in fashion category and will represent Serbia at the planetary competition. They also achieved significant results on last year's prestigious open call of the Moscow State University of Technology and Design. They will present their graduation collections at a fashion show in SKC on June 29
Together
STUDENTS FROM NON-ALIGNED COUNTRIES VISITED WESTERN SERBIA
One Hundred and Twenty Young Ambassadors
They are old acquaintances to the readers of "National Review". Arrived from 42 countries, from four continents, they are fellows of the government of Serbia. One hundred and twenty of them. At the Student Hostel on Avala they are studying Serbian, the language in which they will be attending lectures at Belgrade University starting from this fall. How do all those eyes collected from afar see us? Our reporters recently traveled with them around Serbia and returned with full notebooks and memories
By: Jovan Vučković
Photographs: Dragan Bosnić
Care
HOME OF THE STUDENTS OF RAILWAY HIGH SCHOOL
More than a Dormitory
They come from all parts of Serbia and they attend one of 44 high schools in Belgrade. They live in nicely furnished rooms, with central heating, bathroom, telephone. They have a library, internet, restaurant, swimming pool, club, organized studying, continuous security... In close cooperation with schools and parents, the teachers take care of their education and healthy upbringing, fitting into the society and life of the city. Good results are there, in all fields
Knowledge
BELGRADE BUSINESS SCHOOL AHEAD OF NEW ENROLLMENT OF JUNIORS
For Practical Applicability of Knowledge
Formerly the oldest and the most popular state college, today a respectable college of vocational studies, will enroll 1,200 new students into five study programs. Candidates may submit applications from June 25 to 27, and the entrance exam is scheduled for July 2


Knowledge
"SINGIDUNUM" UNIVERSITY STUDY CENTRE ON ZLATIBOR
For the Value of Tourist Product
A contemporary tourist wants quality, creativity and best programs. The value of tourist product, and therefore profit, cannot be increased without continuous innovations and improvements. And all this can be achieved only with educated and capable people. Exactly for this reason, the renowned University from Belgrade has made this exemplary endeavor in the tourist centre, second in Serbia by the number of visitors. The results are encouraging
By: Rozana Sazdić
Photographs: R. Sazdić and Archives of "Singidunum"
ECONOMY
> Economic Mosaic
> Grains
Recognitions
SPECIAL HOSPITAL "MERKUR" RECEIVED A PRESTIGIOUS INTERNATIONAL AWARD
Brand Leader in Health Tourism
At the Eight International Brand Conference, the award was received by Dr Dejan Stanojević, Director. A lot of effort, knowledge and capital have been invested in the development of this brand, and this is an example that encourages and obliges
Undertaking
NEW POWER PLANT ON THE BANJSKA RIVER NEAR VRANJE
Let It First Be "Prvonek"
It is the first in a series of small hydro power plants on the existing water management dams in Serbia. It was worth 1.6 million Euros and all this was financed by the "Electric Power Industry of Serbia". It will produce 2.5 to three million kilowatt-hours of electric power annually. The plan of the EPS is to build eight similar hydro power plants, and reconstruct 15, from the loan of the European Investment Bank


Energy
FORTY YEARS OF "ĐERDAP 1", THE LARGEST SERBIAN HYDRO POWER PLANT SRPSKE HIDROELEKTRANE
A Symbol of Development until the Present Day
In four decades of operation, this giant of hydropower has produced over 230 billion kilowatt-hours of electric power and exceeded its forty-year plan by as much as 10 percent. After the reconstruction worth 134 billion Euros, which is in progress, it will be stronger by 66 megawatts, and useful life of the equipment will be extended by another 30-40 years


Energy
OVERHAUL OF ANOTHER TWO BLOCKS BEGAN IN THERMAL POWER PLANTS "NIKOLA TESLA"
Billions for Reconstruction
Almost eight billion Euros will be invested in stability of electric power production and ecology, mostly from own funds, based on the formula that has already produced excellent results. The profit generated last year was the highest since the establishment of thermal power plants in Obrenovac and the highest among companies of the "Electric Power Industry of Serbia"
By: Zoran Plavšić
Photographs: Archive of TENT
Introduction
"ELEKTROVOJVODINA" CONTINUED MAKING BIG STEPS IN 2012
Being Average is not an Option
Realization of projects worth over 40 million Euros is being completed. This year, it is necessary to confirm the ability to operate successfully in the free market of electric power, according to the standards of the new Serbian Energy Law and high standards of power industry community in the single European area. And this does not happen without supreme professionalism and full commitment