Solidarity
"NATIONAL REVIEW" IN THE ACTION OF HELPING THE ENDANGERED FAMILY FROM LIPNIČKI ŠOR NEAR LOZNICA
To the Ilić Family on the Day of St. Ilija
About a dozen tons of construction materials was collected for reconstruction of the house of single mother Marica and her three children: Nemanja, Nataša and Nina. "National Review" will also cover the costs of construction works, but here is much more work to be done. The action continues, invitation to other partners to join
By: Goran Budimir
Photographs: Dragan Bosnić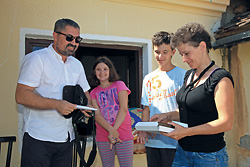 In the spacious field near the Drina, in the vicinity of Loznica, today practically grown into the city, there is the village of Lipnički Šor. This place of "old and new immigrants", by surface are and population has long grown to the size of a town. And when one takes a turn from major road Loznica-Šabac toward Tekeriš, and then turns right toward Lipnica, just before the playground and railroad, one reaches the house of old immigrant family, the Ilićs. Single mother Marica and three children: eighteen years old Nemanja, fifteen years old Nataša and twelve years old Nina.
Marica works in a small private factory near the Loznica roundabout. She goes to work by bicycle, summer and winter, in order to save transportation money for other much needed things. Her salary, the only family income, is small. They live at the very edge of existence, and they often don't make even that much, and they always have to use their wits, painstakingly and with no certainty. And the roof is leaking, walls are slanted and cracked, a part of the house built with no foundation is about to collapse at any moment.
This spring, the Teachers' Council of Primary School "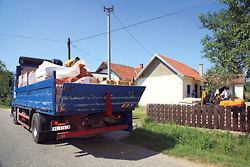 Sveti Sava" in the village, upon the proposal of director Dobrivoje Đukić, decided to initiate an action to help the Ilić family, three members of which attend this school. Some funds were collected, as much as to replace the roof and remedy damages in walls in the less endangered part of the house. And this is where the stopped, running out of funds. They contacted the correspondent office of the RTS from Loznica to record all this. The story was broadcast in News 2 of the national television. That is how we learned about the Ilić family and their problems.
– What would you like to be when you grow up? – asks the correspondent of RTS Milena Jakovljević Antić.
And little Nina, in dilapidated house on the Lipnica road, not far from the railroad and the playground, says: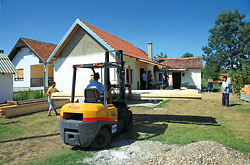 – I want to be an architect, to build houses for other people. For all those who do not have them.
This sentence uttered by a girl with intelligent eyes, radiating goodness, was the engine that brought our train to Lipnički Šor. "Since you want to build houses for those who do not have them, then we are going to make a house for you."
National Review invited its friends and partners, business people with entrepreneurial spirit and good will. About ten tons of assistance was collected in construction materials and everything that is necessary in order to furnish a family house in the 21st century. Enough to demolish the unsafe part of the family house and to build it again, even partially furnish it. The value of this assistance was 300,000 dinars. Contribution in food and some special gifts were also donated.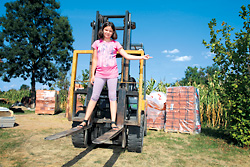 – Everything that "Princip Pres" and "National Review" are doing is based on affirmation of true values and evoking the best that our country and our people have deeply ingrained – said Mišo Vujović, director and editor-in-chief, while handing out the assistance to the Ilić family, on the Day of St. Ilija, in Lipnički Šor. – It is much more persuasive to testify on these values with personal example than with big words, long worn out from dubious use. That is our motif. We will also cover the costs of construction works, but after that a lot of work will remain to be done to furnish the house. We would like others to follow our example, both the partners of National Review and the others, because everybody's help is big and important.
***
Donors
The action of National Review was supported by partner companies from Belgrade "Nikša komerc", "Mijopan", "Magni baza", restaurant "Romantičari", and "Mesopromet" from Pančevo.
We also invite other partners to join us and help us successfully finalize this humanitarian action.
***
Bishop
Having learned about the action led by National Review, His Grace Bishop Joanikije of Budimlje-Nikšić also joined as the sign of his support. Together with monetary donation, he sent to the home of the Ilić family in Lipnički Šor a consecrated icon of Bogorodica Trojeručica (Three-handed Theotokos), made on Mount Athos.