Links
THE RUSSIAN AMBASSADOR ALEKSANDAR KONUZIN, APPROACHING THE END OF HIS MANDATE IN SERBIA AND PROFESSIONAL DIPLOMATIC SERVICE, EXCLUSIVELY FOR "NATIONAL REVIEW"
Precious Mutual Heritage
"I have had a long and dynamic career. Everywhere I have been interested in real life of the people in the country I am in. I will bring the warmest impressions from Serbia. We have so much in common, a treasury of memories and hopes, which opens huge perspectives in the best interest of our countries and peoples. I do not mind other perspectives on this, but Serbs must have all the arguments ready when they start making far-reaching decisions. The richness of our many centuries long brotherhood should be preserved and enhanced"
By: Marina Gorski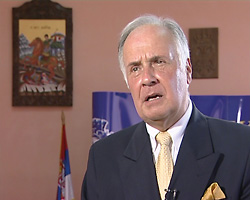 On June 25, in Bela Crkva, in Banat 90th anniversary of the migration of Russian Crimean Cadet Corps into this town was celebrated. On the same day, Cadet Symphony "Serbia 2012" began – the festival of Russian cadet schools opened by Ambassador Aleksandar Konuzin.
It was a nice opportunity to talk to His Excellency, just before the end of his mandate in Serbia and finalization of his professional diplomatic career.
It seems that both here and in Serbia there is an increasing awareness of the value of heritage left by Russian immigrants in Serbia?
Russians did not end up here willingly, but as the result of dramatic and tragic events in Russia in 1917. Although they had just survived a great tragedy, destruction of their country in World War One, Serbs still gave all the help they could to Russian immigrants and enabled them to continue their life here. The Russians returned the favor and got involved in the life in Serbia. They designed and built, lectured at universities, serviced in the Army of the Kingdom. They had a big influence on the development of this country, and the works they have left behind are today a part of general historical and cultural heritage.
Among Russians who came to Serbia at that time, there were many cadets who continued their education here. Several hundreds of Russians served at the Cadet Corps of Great Duke Konstantin Konstantinovič in Bela Crkva. In 1990's, this cadet tradition returned to Russia. They remembered their ties with Serbia and the new generations of Russian cadets, from three years ago, have now arrived in Bela Crkva and are learning about cadet traditions transferred here by their predecessors. This now has the meaning of our mutual heritage.
STRENGTHENING OF PAN-SLAVIC CULTURE
Although we do not remind of sufficient number of things and we do not celebrate many things, bridges between the two countries and two peoples exist, continue and are growing stronger?
Ties between our peoples are profound and rich, especially in the area of culture and religion, but also in direct contacts between our peoples. We are Slavic peoples, our cultures are close, they enrich and strengthen each other. Exactly these are the areas that we want to further support and develop. We have had good results. We see strong colors of Serbian culture that complement Russian culture, and vice versa, and together they maintain and enrich Pan-Slavic culture. The centuries-long ties between our churches are also beneficial. We are currently developing connections in the field of education. Young people go from Russia to Serbia and vice versa, and this is creating good atmosphere for the development of multi-leveled cooperation in the future.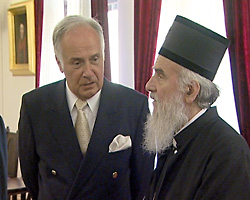 You are at the end of your diplomatic mandate in Serbia, but also at the end of your diplomatic career. You have worked in embassies in Cameroon, Gabon, Algeria, France, Permanent Mission of Russia to the UN in New York, you were Director of the Department for international Organizations of MIP Russia, and finally ambassador in Serbia. How would you order all these duties based on your own diplomatic priorities, maybe a challenge, turbulence, personal and professional satisfaction...?
I have had an active career. Everywhere I have been interested in real life of the people in the country I am in. This also applies to black Africa, where I started my career. While working in Algeria, I opened for myself a very turbulent Arabic world. I was in France when the former Soviet Union fell apart and new country – Russia – was created, which required additional efforts in the development of relations between these countries.
The most strenuous period in my career was definitely the one in the UN. I worked at the UN Security Council, one of the most important bodies of the world organization, which almost exclusively deals with conflict problems. Almost on a daily basis I had to consider conflict situations within certain countries or between countries.
For me and my diplomatic work, Serbia was a very interesting place. Firs, I came here as the ambassador, which means that I had a chance for different meetings and discussions with the management of this country. We discussed bilateral cooperation, joint activities on the international stage, and the problem of Kosovo (of course) required great attention. In addition to discussions in Belgrade, I would often go to Kosovo. That is why I am very well informed about this issue, from political and international-legal perspective, as well as with problems of people who live in Kosovo. Generally, my career was very active and very interesting: I am satisfied with my work in Serbia.
DIPLOMACY AS AN ART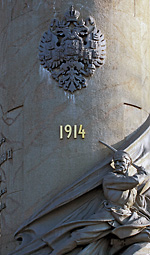 In Serbia you received the Order of St. Sava of the first order, the highest recognition of Serbian Orthodox Church, but certain groups criticized you for "undiplomatic openness", even "demonstration of force". They compared you with Archibald Rice, great friend of Serbian people who bluntly pointed out their flaws. What will, after all this, prevail in your memories from Serbia?
I have the warmest impressions from my stay in Serbia. Serbia is in the phase of developmental transformations. In it, there are different opinions as to how it should be developing. My starting point has always been that Russia has a rich past and a very perspective future, and that it is our common interest to develop cooperation in accordance with traditions of our ancestors. I am very happy that majority of Serbs with whom I have communicated share such an approach. But I don't mind when someone has a different perspective either. However, I am convinced that we have a lot in common, which opens far-reaching perspectives in the best interest of our states and peoples.
You said: "Diplomacy is the art of unifying efforts of countries for the purpose of achieving common goals. This work must be done in the spirit of the best human relationships." Diplomacy and art!?
You know, diplomacy is at the same time a skill and an art. Skill – because it is a daily effort. Art – because success is achieved when you have a result that reflects maximum degree of interest of all those who are related to a certain problem.
Your experience will be if utmost importance for your successor as the ambassador of the Russian Federation in Serbia. What message could you give him and what message would you give to us who live in Serbia?
I think that my colleague who will replace me here is well informed about the long tradition of relations between our peoples and countries. I am convinced that he will successfully continue the work that I was doing here, just like I was building on the foundations of efforts of the colleagues who had been here before me.
I wish to both Russians and Serbs to preserve this precious mutual heritage. The richness of centuries-long friendship. The richness of closeness between our peoples. To preserve and enhance them.
***
THE SPEECH OF ALEKSANDAR KONUZIN TO CADETS OF VORONEZH CADET CORPS, TAMBOVSKY AND YAKUTSK CADET SCHOOL, AT THE SQUARE OF RUSSIAN CADETS IN BELA CRKVA
Example of National Diplomacy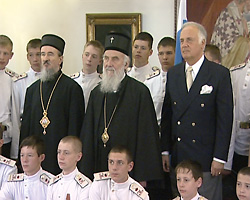 You have arrived to the friendly country of Serbia. Relations between our countries have existed since the states of Serbs and Russians were created. Since then, we have always been together. Even in the most difficult moments of our history, when both Serbs and Russians were enslaved by foreigners, we were finding a way to maintain our connections. Our peoples have rich, dramatic and tragic history. We have never fought each other, but we often fought together against our enemies. In the 19th century, Russian army repeatedly came to the Balkans, in Serbs, to help the liberation of the Serbs from Ottoman slavery. In 1914, when aggression against the Serbs was launched, Russia arrived to help. Both Russians and the Serbs had great casualties, paying the horrible price in that war. Between the tow wars, tens of thousands of Russians found refuge in the newly formed Yugoslavia.
In 1941, the Red Army, together with National-Liberation Army of Yugoslavia, liberated this country from the occupier.
Today, cooperation between our countries has reached a high level in all fields. We have a stable political dialogue, we have achieved a high level of economic relations, high level of cultural exchange. Humanitarian ties are also being developed. Your coming to Serbia is also a proof of good relations between Serbs and Russians. It is an example of "national diplomacy".
During your stay in this country, you will also learn a lot about yourselves. You will also learn that Serbs do not live an easy life, but you will se and feel that you are welcome here, that people here love you and welcome you with their hearts wide open. And by looking at you, Serbs will find out a lot about the life in Russia.
I wish you a successful stay in Serbia, success in your education and happy future.