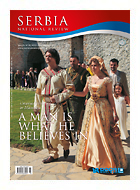 SERBIA - National review, No 33

Prologue
Before us is the new edition of National Review. In creating it, we had in mind the words of Ernest Renan: "People should always write only about things they love. Oblivion and silence are the punishment we impose on everything that is unworthy and ordinary in this walk through life." This led us to Kosovo, to the Holy Land, to one unusual wedding in Resava. It made us join a humanitarian action of providing assistance to one family in the vicinity of Loznica. It brought to our minds Serbian bridges and Andrić's words about these remarkable buildings. That is why we wrote about Radmila Marinković and Bo Vongar, Konuzin and Suhecki, "Kolo" and "Kolibri".
That is why we are here again, after all. On your screens.
GALLERY

CONTENTS
Prologue
SUMMER NOTEBOOKS, OLD AND NEW
Real World around Us
Vitrage
NUMBERS, EVENTS, INTERESTING THINGS
Album
IVO ANDRIĆ (1892-1975) ABOUT BRIDGES
WithAll the Hopes on the Other Side
Photo: Svetlana Dingarac
Wreath
UNUSUAL LITURGICAL WEDDING IN MID JULY IN MANASIJA
Man is What He Believes
She is a theologian and philologist from Moscow, a Russian born in Belarus town of Lida. He is a Serb, who was born, raised and educated in Paris, art historian and actor, who moved to the country of his ancestors in late March of the war year of 1999. They got married in the way people would do at the court of Despot Stefan Lazarević, at the times of Eastern Renaissance, Byzantine and Serbian, the older and better than the Western one. It was not a revival of the past, calculated for cameras, but an illumination of an important but submerged part of ourselves
By: Branislav Matić
Photographs: Dragan Bosnić
Solidarity
"NATIONAL REVIEW" IN THE ACTION OF HELPING THE ENDANGERED FAMILY FROM LIPNIČKI ŠOR NEAR LOZNICA
To the Ilić Family on the Day of St. Ilija
About a dozen tons of construction materials was collected for reconstruction of the house of single mother Marica and her three children: Nemanja, Nataša and Nina. "National Review" will also cover the costs of construction works, but here is much more work to be done. The action continues, invitation to other partners to join
By: Goran Budimir
Photographs: Dragan Bosnić
Mark
THE OLDEST MULBERRY TREES IN EUROPE GROW IN KOSOVO AND METOHIJA
Three Trees, Three Millennia
Black mulberry in the yard of the Patriarchy of Peć was planted 223 years before discovery of America and 120 before the Battle of Kosovo! Archbishop Sava II brought it from the area of Bilaad al-Shaam, today Damascus, Syria, coming back from the Holy Land into the Holy Land. Its shoots are murika in Rudnik near Srbica and kara-mulberry on Gazimestan. Together they have over two millennia. They are still growing, blossoming, bearing fruit, and they will wait for us to come back
Text and photographs: Zoran Vlašković
Heroes and Stuntmen
THE FIRST TEAM OF SERBIAN STUNTMEN'S ASSOCIATION, EXCLUSIVELY FOR "NATIONAL REVIEW"
Examining One's Limits
There are a few professions in which you can so easily face your fears and overcome them. Overcome risks, without being reckless and taking chances, with the power of body and mind, with level of training of a samurai. Rising up to the danger and being above it. When spoiled and overpaid superstars hide in the corners and cannot even watch the shooting of scenes that would make them famous. Technology has advanced, virtual reality and animations are there, but artistry and skills of these heroes from the shadow remain indispensable in the movie magic
By: Dejan Bulajić
Exploration
JERINA'S TOWN BRANGOVIĆ, IN THE CANYON OF THE GRADAC RIVER
The Key of Roads from Ancient Times
Seven kilometers from today's Valjevo, in the deepest part of the canyon, on western slopes of Branig hill, this fortification was probably built in the middle of the third century. It controlled the old road that connected the Kolubara valley with Valjevo mountains and the Drina region, areas rich in important minerals
Text: NR Pres
Road Sign
VRANEŠA, ETHNO-ECO VILLAGE ABOVE KOKIN BROD
Dreams Do Not Pay Toll
When he came for the first time, Leon Srnec, a Slovenian from Celje, everything was made clear immediately, by itself. Afterwards, he had neither will nor money left to travel 270,000 kilometers in two years, coming here every weekend. In the spirit of the old Serbian tradition of construction, from local materials and by hands of local builders, he built a fairytale-like and modern ethno village, as a model for others
Text and photographs: Olga Vukadinović
Travel
ITALY (1): ROME
Dolce Vita, Despite the Crisis
Nobel Prize winner Henryk Sienkiewicz did not say by accident that every man has two homelands: one is the country where he was born, and the other is Italy. Last year, its income from tourism amounted to 31 billion Euros. And Rome, the eternal city, has always been the main one in this empire of culture, hedonism and high lifestyle. It is difficult to get a real grasp of it in a period covered by contemporary tourist packages. In order to understand its essence, says Goethe, one needs two lives. So, let us begin
Text and photography: Mišo Vujović
Links
THE RUSSIAN AMBASSADOR ALEKSANDAR KONUZIN, APPROACHING THE END OF HIS MANDATE IN SERBIA AND PROFESSIONAL DIPLOMATIC SERVICE, EXCLUSIVELY FOR "NATIONAL REVIEW"
Precious Mutual Heritage
"I have had a long and dynamic career. Everywhere I have been interested in real life of the people in the country I am in. I will bring the warmest impressions from Serbia. We have so much in common, a treasury of memories and hopes, which opens huge perspectives in the best interest of our countries and peoples. I do not mind other perspectives on this, but Serbs must have all the arguments ready when they start making far-reaching decisions. The richness of our many centuries long brotherhood should be preserved and enhanced"
By: Marina Gorski
Chronicle
NINETY YEARS FROM THE ESTABLISHMENT SERBIAN VOLUNTEERS' SETTLEMENTS
With the Hand of a Serious State
Everywhere where borders still remained unsecured and the new state insufficiently founded, the newly formed Kingdom, after World War One, was establishing volunteers' settlements. Land was given to Serbs from less developed areas, volunteers in the Serbian Army and families of their relatives. Most of them were from Lika, from Kordun, Banija, from Dalmatia, Bosnia, Herzegovina, Montenegro. Places were given names after important people in Serbian history, and the citizens are even today characterized by the spirit of freedom and unconditional loyalty to their homeland
Text and photo: Jovan Gajić
Heritage
"MEDICINE IN SERBIA THROUGH CENTURIES", PERMANENT EXHIBITION OF THE SERBIAN MEDICAL SOCIETY MUSEUM
Health is Part of the National Culture
From the XII century medical postulates of St. Sava to the embryo-transfer of Petar Radović M.D. and other postmodern achievements, Serbian medicine has been persistently holding to its ideas. It is difficult for a contemporary human to comprehend that path and its significance. Now before us we have an exhibition which helps us understand it, systematically and picturesquely
Text and photo: Kristina Janković
Treasuries
PERMANENT EXHIBITION AT THE CUSTOMS OFFICE IN BELGRADE
The State on Its Gates
Exhibited in showcases of this unusual museum are copies of the most important documents, maps, excerpts from famous travel books, artifacts used in performing customs deputies, weapons of customs officers-rebels, the oldest preserved passports, the oldest editions of magazine Customs Officer... Photographs illustrate Serbia of that time, and the oldest customs uniforms from 1899 and 1923 have been reconstructed. We see the establishment and development of customs service in Serbia, until today, when it is a modern system that is approaching the best world practice in this area
By: Snežana Kondić
Illustrations: Archive of the Customs Administration of Serbia
Cathedra
RADMILA MARINKOVIĆ, PHD, THE UNFORGETTABLE TEACHER OF MEDIEVAL LITERATURE AT THE BELGRADE FACULTY OF PHILOLOGY
Mrs. Professor
"We are all, in fact, continuously writing the history of literature", she used to say. She wrote hers. In it we clearly see the Serbian Middle Ages. States and rulers taking turns, cavalries rushing, monasteries being erected and painted, and the spirit, mind, thought and language serving the love of God. Are there any more such professors today, whose goodness is pouring onto everyone and whose lessons are full of parental goodness and profoundness of a sage?
By: Dragan Lakićević
Life, Novels
B. WONGAR, WRITER, AUSTRALIAN NEARLY NOBEL PRIZE WINNER, SERB ON THE SIDE OF THE ABORIGINES
Herald from This World
In Serbia he was a shepherd, baker, amateur poet, journalist. Then, in 1958, he fled to France over the Alps. Simon de Beauvoir called him "the volcano of written word", and Sartre published his stories in "Modern Times". He came to Australia with a certified note writing: "This man claims his name is Sreten Božić". Juburu, "black St. Peter", the son of "those who have been here from the beginning" saved him from certain death in the Tanami desert. He stayed with the Aborigines who called him Wongar, "herald from the other world"
By: Petar Milatović
Palette
TOMISLAV SUHECKI, PAINTER FROM VRŠAC, ARTIST WITH A STAND AND BACKING
Temptations of the Misunderstood Forerunner
That painting is perhaps the only true novelty on the Serbian figural scene. It does not belong to postmedial fantastic art, homeland or urban realism, avant-garde events. He criticizes painting by using painting means. He creates his system, displaced from the ideologically divided scene. He is sharp, succulent, rustic, bitter, cruel, but not raw. He can because he knows. He paints equally well both with his right and his left hand
By: Dejan Đorić
Review
PALIĆ EUROPEAN FILM FESTIVAL, FOR THE NINETEENTH TIME
Drama of a Man in Colorful Dictatorship
With this year's selection of the best product of contemporary European cinematography the Palić Festival continues its affirmation of freedom and autonomy of contemporary man in the empire of soft totalitarianism of global cultural industry
Heritage
APPROACHING THE 65TH ANNIVERSARY OF ENSEMBLE "KOLO"
Dance that Came from Within Ourselves
Since its establishment in 1948, the ensemble of folk dances and songs of Serbia features a rich artistic repertoire, high skills and professionalism. It nurtures choreographies from all Serbian countries. "Kolo" is a discoverer, interpreter and keeper of heritage, but also its creative successors. It performed triumphantly in world's most prestigious concert halls, from the "Metropolitan" and "Carnegie Hall" to "Bolshoi Theatre" and the Sydney Opera House
Nursery
APPROACHING THE 50TH ANNIVERSARY OF CHILDREN'S CHOIR "KOLIBRI"
The Music of Our Childhood
It was founded and led for as long as 44 years by the unforgettable Milica Manojlović. Generations of the best performers and audiences were nursed together with "Kolibri", and the level of music culture in the Southern Slavic region was permanently raised. Lists of those who wrote lyrics or composed songs for this choir, those who sang with it, as well as list of its best songs, are the real anthology and directory of great personalities
By: Radmila Tamindžić
Travel Journal
CENTRE FOR PRESERVATION OF TRADITION AND CULTURE "TENT" IN RETURN VISIT TO JERUSALEM ENSEMBLE "SHORASHIM"
Šumadija in Holy Land
In Nahalal, near Nazareth, a group from Obrenovac delighted the audience with choreography "Šumadija", and at midnight they brought the auditorium to their feet with dances of Vlaška". Similar thing happened with "Queens of Dubočka" and other Serbian dances and songs. The tour had a strong pilgrimage dimension, which can be sent in these excerpts from a journal presented here
By: Hadži Željko Jovanov
Knowledge
JUDGING BY THE INTEREST FOR ENROLLMENT, BELGRADE BUSINESS SCHOOL REMAINS THE MOST POPULAR IN SERBIA
Quality is Always in Style
There were 2,078 candidates who applied, mostly with excellent and very good GPA, and 1,200 of them were enrolled. (The faculty that was second by the number of applicants had 400 candidates fewer.) All enrollment procedures were organized flawlessly, in a manner that was ultimately clean and confidential, and even those who will have to look for other opportunities recognized this. The school continues its development policy
Knowledge
TEACHING CENTRE OF "SINGIDUNUM" UNIVERSITY IN NIŠ
A Step Closer to People
Niš has confirmed itself as a regional centre, and students come here from a number of regional cities, as well as from the Southern Serbian Province. The greatest interest is in tourism, hotel and engineer management, and in business economy. Forty percent of graduates of "Singidunum" work in foreign companies that operate in Serbia, and 15 percent work abroad
Energy
ELECTRIC POWER INDUSTRY OF SERBIA AND PERSPECTIVES OF THE NEW MOMENTUM OF SERBIAN INDUSTRY
Responsibility for National Economy
The so-called Japanese, Chinese or Russian investments are actually credit arrangements concluded and services by the EPS itself. In projects financed by the EPS from its own funds, local economy participates with 70-80 percent. In projects financed by loans, participation of local economy is 30-45 percent. And investment potential of the EPS, in addition to operating and technical efficiency, is to a large extent under the influence of price of electric power, degree of collection, as well as the level of unauthorized use, i.e. theft
Presenting
FIFTY FOUR YEARS OF EXISTENCE AND SUCCESSFUL WORK OF "ELEKTROVOJVODINA"
Vision for the Energy of the Future
On the occasion of company's birthday, June 26, European Commissioner for Energy Guenther Oettinger congratulated "Elektrovojvodina" on goods results in 2011 and 2012. The message was delivered by Dragomir Janković, Executive Director of the European Economic Institute in Brussels. The ceremony was attended by many distinguished guests