Visit
MILAN ĐOKIĆ, PRESIDENT OF THE MUNICIPALITY OF KNJAŽEVAC, IN AN INTERVIEW FOR "NATIONAL REVIEW"
Courage for True Turnaround
"Our goal is to ensure that in four years Knjaževac will cut its unemployment rate by one third. To rebuild, in a possible volume, production activities in former commercial giants. To make the Old Mountain one of the leading mountainous tourist centers in this part of Europe. To have at least 1,000 hectares under sour cherry and other orchards. To make Knjaževac a city rich in programs and to have every part of it thought-through and developed. So that young people would return and stay here, because life here is good"
By: Milica Despot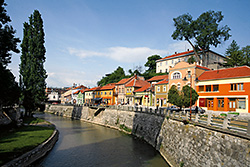 Crisis in Serbia, in its various forms, has been lasted for decades. Those who intend to lead a city or a municipality must certainly be brave, if they are aware of their responsibility and expectations that citizens have from them. To be responsible for a region, city or municipality, is a burden of great obligations and responsibilities. Unfortunately, there are many of those for whom this is only a shortcut to gain privileges, or to satisfy some party interests and quotas – says Milan Đokić, President of the Municipality of Knjaževac, in an interview for National Review.
What condition did you find here when you took the office of the President of the Municipality of Knjaževac?
Knjaževac is one of the least developed municipalities in Serbia. There are over 4,000 unemployed and average salary is a little over 27,000 dinars, and these facts speak volumes about the situation. Thanks to amendments to the Law on the Financing of Local Self-Government, the municipal budget is much higher than in previous years. Unfortunately, at the moment when I took over the responsibility for the municipality, the budgetary expenses were higher than planned, so we will have to cut the costs. Despite this, we are planning to, by the end of this year, realize some important infrastructure projects, and we are also preparing projects for the next year. Also, and this is very important, we will very specifically help our most endangered fellow citizens.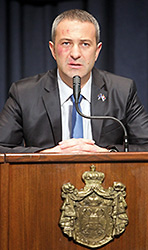 The main elements of developmental strategy that you advocate and for the realization of which you will invest the most effort?
The main points of development of Knjaževac are tourism, agriculture, development of small and medium sized enterprises. Most municipalities in Serbia in their developmental strategies has these same elements, but competitive advantages of Knjaževac are natural potentials, educated and trained work force, and tradition in industrial production.
The entire territory of the former Yugoslavia in the past two decades has experienced decline into a kind of de-industrialization. What is the situation in the territory of Knjaževac and how will you deal with it?
In the 1980's, in Knjaževac, there 16,000 employees working only in the economic sector. Based on the economic growth rate, we used to be one of the leading municipalities in the entire Yugoslavia. Most people were employed by well known giants IMT, "Leda", "Branka Dinić", "Džervin"... All these companies are unfortunately bankrupt today, or no longer exist, except for shoe factory "Leda", which was privatized through acquisition from bankruptcy and where "Falc East" now employs about 800 people.
Our plan is to acquire ownership over deserted, but preserved halls of IMT, and to, with assistance from the competent Ministry of Finance and Economy, find serious partners, contractors from automobile and other industries, who will base their production here. We are aware of the fact that it is not possible to recover all the former industrial giants. We are trying to, with some help from numerous incentive measures from the municipal and republic level, and good service and logistics from the municipal administration, stabilize the small and medium sized enterprises that already exist, but also to bring some new investors, to at least partially mitigate the bad consequences of the closing of former large factories.
OLD VILLAGES AND THE OLD MOUNTAIN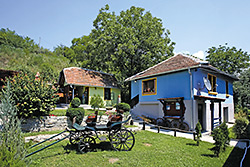 Out of 73 local communities in your municipalities, most of them are rural. What are the challenges you are facing in the strategy of recovery and development of villages in Knjaževac?
Knjaževac is one of the municipalities with the highest number of villages in Serbia. Unfortunately, mostly households with old people only have remained to live there. We do not want to get involved in demagogy and to talk how we will restore all the villages. There is neither money nor need for that. It is necessary to make classification of villages, and to focus on those where there is still some younger population left and which have realistic chances to survive. With increased investments in infrastructure, social programs, agriculture and rural tourism, we would make the quality of life in the village closer to the one in the cities. These are typically villages that are situated in the first ring around the city or on more important regional roads.
Knjaževac is a municipality well known for the production of sour cherry. We have just purchased seedlings for the first 200 hectares of the orchard, and we will distribute them free of charge to interested agricultural households.
Unfortunately, there are also villages where only a couple of old people's households are left. There we must increase health and social protection, we must provide for our elderly fellow citizens adequate supply in food and firewood, because in most cases these are people over 80 years old, and their first neighbors and stores are several kilometers away.
The Old Mountain is the area of the highest planned investments in Serbian tourism. What does that mean for Knjaževac?
It is also an area where the highest Greenfield investments in mountain tourism in the past few decades in Serbia have already been realized. For the last New Year's, a new hotel was opened, one of the most beautiful and most luxurious mountain hotels in the Balkans. New gondola was put into operation, the first in Serbia. Within a system with another two four-seat cable cars and anchors. it enables skiing on about fifteen kilometers of beautiful ski tracks. There are already a couple of hundred of workers from Knjaževac and the surrounding areas working on the Old Mountain. Many people who live in villages at the foot of this mountain see their opportunity in the development of mountain tourism, as well as descendents of those who moved away from this area long time ago. New accommodation capacities are growing fast, and the offer of ethno products, from food to clothes, is increasingly diverse. With continued investments, the Old Mountain will become a driver of economic development of the entire region and an excellent example of how the state can, by recognizing natural potentials and through increased investments, revive some of its areas and prevent extinction.
THE BORDER THAT CONNECTS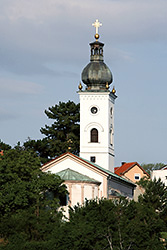 Your municipality is a border one, which brought trouble to it many times in history, but this can now be a serious developmental opportunity. What does it mean for Knjaževac that it is closer to the border with the EU more than many other cities in Serbia?
Yes, what used to be a handicap is now an advantage. Almost all border municipalities in Serbia have excellent cooperation with municipalities on the other side of the border, in Bulgaria. It has already resulted in a series of projects through which the EU is stimulating cross-border cooperation. Economic cooperation is also continuously growing. Transfer of knowledge and experience will certainly in the upcoming period produce mutually beneficial results. We are also creating preconditions for the arrival of possible investors who have their production plants in Bulgaria, and who can also be attracted in incentive measures of our government for new investments, as well as our privilege terms and conditions of doing business with Russia.
A serious problem in Serbia is migration of young people to big cities, depopulation. What will you do to keep young people in Knjaževac, even to attract new people to come here?
We cannot expect from young people to remain or to come back and live here in Knjaževac only for patriotic reasons. We must create life conditions for them, at least close to those that exist in big cities. Jobs and solving of existential issues are certainly the first precondition, but also social life, conditions to be involved in sports, cultural events, developed infrastructure of the city. For somebody who graduated from a university in Belgrade or in Niš it will be difficult to decide to come back to live in a muddy and dark street in their hometown. Exactly because of this, already this year we will complete or initiate many projects that will be attractive for young people. By Christmas, we will build a removable pneumatic balloon hall over the swimming pool, which will enable people to use the swimming pool during the winter period. Works on the construction of children's aqua park are already in progress, as well as preparations for the construction of the city ice-skating rink. After we reconstruct several other streets in October, there will almost be no unrestored ones left in the city. We are also creating a Regional center for advanced professional training, which will be used for continuous education of already employed people, but also for change of qualification, additional qualification, and gaining new knowledge by unemployed people from the entire region, in accordance with the needs of local economies.
DEVELOPMENTAL INSTRUMENTS OF THE STATE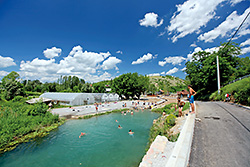 Until recently you were a state secretary and you assisted in the development of much local self-governments. What does this relation look to you from the other side, from the perspective of a local self-government?
First I worked in the ministry, and then In the sector for the National Investment Plan. Our priority goals were to – through realization of important local, regional and national infrastructural projects – create conditions for a better life, faster economic development and reducing differences in development among municipalities. NIP was a good partner to many local self-governments, on many important projects. I hope that the state will have a similar instrument for systematic assistance to municipalities and cities in the future as well. Experiences gained in NIP are certainly useful for me today.
Finally, what is your vision of your city and the municipality at the end of your office?
Our objective is to ensure that in four years Knjaževac will cut its unemployment rate by one third. To rebuild, in a possible volume, production activities in former commercial giants. To make the Old Mountain one of the leading mountainous tourist centers in this part of Europe. To have at least 1,000 hectares under sour cherry and other orchards. To make Knjaževac a city rich in programs and to have every part of it thought-through and developed.
I see Knjaževac as a city in which our fellow young citizens will return and stay, because they will be able to live well here as well. I hope that we will restore dignity and smile on the faces of the citizens of Knjaževac.
***
Nickname
We see on the municipal website that the citizens of Knjaževac, with intimacy that is rare today, call you Kraka. How come?
I inherited this nickname from my father, who spent his entire working life as a professor in Knjaževac Gymnasium. He was loved by generations of his students. Emotions related to this nickname belong to him, and I am trying to uphold them.
***
Recognizability
Rich ethnic heritage (picturesque customs, traditional clothing, festivals, songs and dances...) can also be an important stone in the mosaic called tourist product of Knjaževac. Are you planning to do something in that field?
There are beautiful hotels and good ski tracks in many places in the world, but exactly these things that you mentioned can make someone decide to come here, for the first time, or to return here, in our municipality. Clear definition and promotion of our customs, tradition and culture is a very important job, both because of their inclusion in the tourist offer of the entire region, and because of self-awareness of history and identity of the people we belong to.