Street Art
SHORT GUIDE THROUGH THE WORLD OF BELGRADE GRAFFITI AND THEIR AUTHORS
Don't Be Afraid of Great Ideas
From dusk to dawn, the city turns into a studio of street artists. Modern fairies cancel the monotony of the concrete and dress the worn out facades into a lace of spray. They turn gray dawns into a kaleidoscope of colors and shapes. The city gets masterpieces of anonymous masters for free, involved in their talented game. And do we know just how many talented and educated children are behind it? Do we understand their messages, sensibility and their philosophy of life? Do we differentiate them from the authors of stupid scribbles for whom the city is nothing but a polygon for their haughtiness?
Text and photo: Dragana Barjaktarević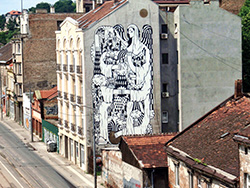 In the layers of lime and color, Belgrade walls carry statements of love, birthday cards, pearls of wisdom, as well as stupid scribbles provoking prejudice towards street art. A demanding eye will not miss masterpieces in all those layers of spray, which some daring young artistic souls grant to their fellow citizens, putting on makeup on the desolated and rusty city facades.
When the entire city becomes a gallery, a walk down its streets gets a new meaning – it becomes an endless quest for beautiful messages. Don't be afraid of great ideas, used to encourage passers-by from the Tanjug building until recently. Life is beautiful is not only the title of Benigni's film; it is also a message written on the pillar of the lapsed "Građa", the meant to be Faculty of Music Arts in Kneza Miloša Street, now one of the most favorite places for Belgrade graffiti authors.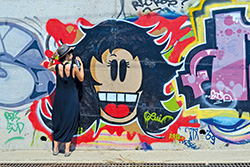 Besides places which have become self-legalized in time – the wall of the IMT factory in Block 45, "Jugopetrol" across the street from Ada Ciganlija, Hippodrome, the wall behind SKC, the last station of the tram on line two – there are also many others, remote and secret. We stumble upon them by accident or someone whispers about them. Belgrade artists also love bridges and overpasses, trams and trains, transformer stations and construction site fences. They paint smiles on garbage cans, unexpectedly, but charming. And Belgrade is big enough for everyone to find his or her favorite canvas in it, whether as a drawer or as an observer.
Everything begins in Block 45, since this is where the first graffiti was drawn almost two decades ago. On the way to the city is FDU with its grandiose murals. A receiver broadcasts "wireless love" from Spasić's pavilion in Staro Sajmište. As soon as you cross Branko's Bridge, with pillars variegat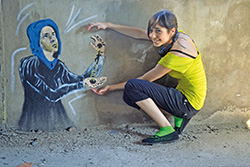 ed with statements of love, the passengers are greeted by the protector of the city – the mural created by Guillaume Alby Remed La Santa del Belgrado. And under the bridge, within this spring's "Mikser" festival, ten desolated entrance doors of the beautiful buildings of Savamala were painted. Dorćol has its special corners, such as the murals in the "Blaznavac" café garden or the painted wall above the entrance of "Supermarket". One of the most interesting city collages is the back wall of the Faculty of Natural Sciences and Mathematics. It is where Strahinja has forgiven Anđelija, and ceramic birds speak about Crnjanski. Then come SKC, Mitić's hole, "Građa", the building of "Ineks-film", the small transit bridge near the Pančevo Bridge, Prokop, Banovo and Lekino from all sides... The list is not final, because every day a new story of an anonymous author appears on some wall, left to the free interpretation of passers-by.
CHARMING BELGRADE GIRLS
Two years ago, Belgrade received new tenants. They live on its walls in different parts of the city. They laugh, frown, dream, transform into swallows and dragons. They draw attention. They provoke smiles. They were brought to life by Zui and Iva Nka. They are not part of any team, they both draw alone and so satisfy the wishes of their hearts. That is why they are easily recognizable. By painting mainly self-portraits, they both leave parts of themselves on walls, only in different techniques.
Zui: "The girls I draw are my infantile projection. They are there to share my emotions with passers-by in the sincerest way, like children do. They laugh, cry, some are even mean... It all depends on how I feel that day."
She doesn't make sketches or plans, because she draws to express her mood in the moment. When she gets tired of studying, she packs her colors, the first she lays her hands on, puts on her hat and starts looking for a wall to give a new face to.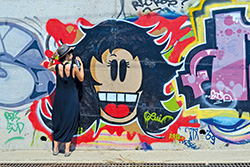 Zui: "I pick the wall along my everyday route, in parts of the city I often pass or used to pass. Thus by graffiti I mark the places that mean something to me."
Iva makes stensils, meaning that she comes to a wall with a ready idea, spray and template. But they are not regular patterns. They always have a gentle, yet strong message, because the transformations she likes to make on her portraits mainly start from the heart.
Iva: "The girls in my drawings are people close to me, very often men whom I transform into girls, I soften their facial marks, reduce their noses, remove the beard, sometimes add hair. I first take a photo of a certain person and then use it as a sketch for the template. Each drawing is further closely related to the story of the person it represents, or with my experience of that person."
Besides making the city more beautiful, they are both engaged in science. As absurd as it may sound, the initial impulse for Iva was microbiology, the subject she studies.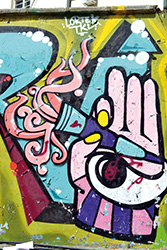 Iva: "My first drawing was created about two years ago. At the beginning I wanted to draw bacteria, simply because I am engaged in microbiology and constantly watch electronic micrographies of these organisms. So, the first graffiti was the cell of the Esherihia coli bacteria somewhere in Rakovica. Later I realized that the whole thing with graffiti can be something more serious – that it is a perfect way to send my thought, experience, dream or some interesting story outside."
Anyone engaged in this form of art accepts the possible unpleasant things it implies.
Zui: "There were several – falling down from inaccessible walls, warnings and confiscating colors by the police, negative comments of passers-by."
As the most unbelievable situation, she states the mad behavior of a tenant of a building, who shot her from a slingshot. Despite the small war, she successfully completed the graffiti and dedicated it to the old sack. Of course, there are many passers-by in whom this creative work provokes opposite, positive reactions.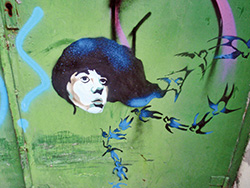 Iva: "Each time I draw, people come to me to ask what I'm doing. I explain them the point of all this and most often they are friendly."
Walls are unsteady canvases. The works of these girls are in the mercy of time and some idle and furious people.
Iva: "I know that my drawings will disappear from the street in time, but their photographs will remain forever. Everything is digitalized today, even art, so the graffiti living as a picture somewhere on the internet is enough for me."
In March it was exactly two years since Zui shared her first graffiti with Belgrade. She diligently continued listing them. Some were painted over a long time ago, some "ran over" by other works, and some simply disappeared in time.
Zui: "You accept all that and enjoy your art as long as it stands the walls!"
***
Beginnings
The history of graffiti begins in the late sixties in New York, when a kid named Julio began leaving his tag Hulio 204 in subway trains. During the 1970s, a new teenager Taki, also in New York, began writing Taki 183 all over the place. Unlike his predecessor, he became so popular that New York Times asked him for an interview. He couldn't even imagine that he had started a new form of culture.
A year later, graffiti began spreading all over the world.
***
Street Art vs. Graffiti
Street art is any art created in a public place. Unlike traditional graffiti drawers, who mainly use spray for creating their works, street artists use many other techniques. Stickers, stensils, mosaics, video-projections, street installations...