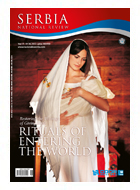 SERBIA - National review, No 34

Prologue
Autumn silk once again covers all those sad-ridiculous scenes. Politicians keep describing us the catastrophe, as if they are beyond it, as if they are the element of the solution, not of the collapse. Third-grade Brussels clerks follow trends by playing the game "Set the most impertinent conditions for Serbia". The gay parade in Belgrade was finally held the only way it should be: "Between four walls".
We, however, what can you do, made another issue of "National Review", abiding to Dučić's saying: "It's terrible when someone doesn't know what he wants, but it's a true disaster when he doesn't know what he can."


GALLERY

CONTENTS
Prologue
GIVING BIRTH, THE LIST LINE OF DEFENSE OF SERBIA

Suicide by
Selfishness
Vitrage
NUMBERS, EVENTS, INTERESTING THINGS
Album
NEAR THE DANUBE, ABOUT ONE HUNDRED KILOMETERS DOWNSTREAM FROM SINGIDUNUM
Revival of Viminacium
Visit
MILAN ĐOKIĆ, PRESIDENT OF THE MUNICIPALITY OF KNJAŽEVAC, IN AN INTERVIEW FOR "NATIONAL REVIEW"
Courage for True Turnaround
"Our goal is to ensure that in four years Knjaževac will cut its unemployment rate by one third. To rebuild, in a possible volume, production activities in former commercial giants. To make the Old Mountain one of the leading mountainous tourist centers in this part of Europe. To have at least 1,000 hectares under sour cherry and other orchards. To make Knjaževac a city rich in programs and to have every part of it thought-through and developed. So that young people would return and stay here, because life here is good"

By: Milica Despot
Guide
SREMSKA MITROVICA, FROM A METROPOLIS OF AN ANCIENT WORLD TO MODERN MODERNOG REGIONAL CENTRE
Ancient Glory and a New Time
The empire was controlled from there for a long time, the greatest one in history. The city itself gave four emperors. It was admired by famous chroniclers and poets. After barbarian invasions, it was rebuilt under the auspices of Saint Dimitris, whose name it is now proudly wearing. Today, it is an important Serbian commercial, cultural and tourist centre

By: Goran Budimir
Catalogue
KOVAČICA, A PRETTY TOWN IN SOUTH BANAT
Metropolis of Naive Art
Almost 17,000 people comes here to enjoy the native art. Works of these talented folk painters can be found throughout the world, and entered many encyclopedias and anthologies. "You should come too, discover why this is so", invite the citizens of Kovačica
Oasis
RAVNE, ON FRUŠKA GORA, THIS SEPTEMBER DURING THE DEER MATING SEASON
Roar of the Mountain Beauty
The best quality dears in Europe used to be cultivated in the open space of this mountain, in old-fashioned way, without using artificial means. According to the official scoring. And then, the construction of highway, overhunting and other factors made the deer disappear from Fruška gora. However, since three years ago, after delivery from Central Europe, the presence of deer has been restored, and there are more than 150 of them now. Here is what the reporters of "National Review" noted there

By: Marina Gorski
Photographs: Jaroslav Pap, Marina Gorski, Archives of NR
Reconnaissance
FROM DUSK UNTIL DAWN IN PRIZREN, THE OLD SERBIAN CAPITAL
Sad Shadows of the Past Glory
We embarked on this journey like Taras Buljba for the pipe. We arrived at dawn, by bus full of Goranci who speak Serbian. We saw the Church of the Holy Virgin Ljeviška, still in soot, locks and wire. We saw a raw and chaotic city that used to be Prizren. The former lovely cobble stone streets are now asphalted and dirtier than ever. The old town begins at the Square of Alija Izetbegović. Entire quarters of beautiful old Balkan houses were demolished, and replaced by warehouses of monstrosities with unfinished facades. Ethnic structure is all that is now clean here. But, as we know, no one lasts forever

Text and photographs: Dragan Bosnić
Travel
ITALY (2): VENICE
Bride and Mistress of the Sea
"So he again set eyes on the most astounding landing, that blinding composition of fantastic architecture, which the Republic has to offer the awestruck looks of the approaching seafarer: the light grandeur of the Palace and the Bridge of Sighs, the columns topped with the lion and the saint close to the shore, the flauntingly projecting flank of St Mark's, the view of St Mark's Clock, and thus contemplating he thought that arriving in Venice from the train station was like entering a palace through the servants' entrance and that one should always, like himself, travel across the ocean to the most improbable of cities." (Tomas Man "Death in Venice")

Text and photographs: Mišo Vujović
Friends
THE FRENCH "SOLIDARITY FOR KOSOVO" ORGANIZATION OR ABOUT THE FOOTPRINTS OF EUROPEAN EUROPE
Arnaud Gouillon Following the Traces of Archibald Reiss
He was only thirteen when he doubted the gentlemen speaking on TV, reporting about the evil Serbs in the Yugoslav civil war. As he was growing up, he came upon numerous irrefutable data about it and realized the terrible proportions of the injustice made to the Serbian people. In March 2004, at the age of nineteen, he was terribly shocked while watching the precious Christian sanctities burning in the occupied southern Serbian province. The same year he founded "Solidarité Kosovo", humanitarian organization committed to helping endangered Serbs in the province, and has been supporting them since, in all available ways. He has been awarded with the Medal of St. Stefan of Dečani in June this year
By: Viktor Dražen
Winner
ŽELJKO OBRADOVIĆ, THE MOST SUCCESSFUL EUROPEAN BASKETBALL COACH OF ALL TIMES, EXCLUSIVELY FOR "NATIONAL REVIEW"
The Top Implies Complete Dedication
After twenty-one years, he had the opportunity to be in Serbia in September. And "he had a summer". While the richest clubs of the planet run after him more than after Guardiola and Mourinho in football, he tells us about the salutariness of freedom in a shady street in the center of Belgrade. "Everything here is beautiful to me. The city, streets, the sun, people, seeing friends, what I eat and drink, this language. I miss everything", he says. And after the year passes, he'll see. If someone able to follow him and his ambitions then shows up, he will speak

By: Dejan Bulajić
Photo: Svetlana Dingarac
Exploration
ARCHAEOLOGISTS ON CORRIDOR 10
Knowledge about Ancient Predecessors
Findings from Meanište site, in the village of Ranutovac near Vranje, bring a series of important shifts in our understanding of early Bronze and Iron Age in the territory of the Balkans. A clearer picture about unity and extent of indigenous culture unravels before us, but studious work on the processing of materials is still ahead
Memory
TWO CENTURIES FROM THE BATTLE OF BORODINO: TEN SERBIAN GENERALS IN THE RUSSIAN ARMY
For the Homeland, Against All Napoleons
Their ancestors have migrated in several waves from the areas under the Habsburg, Ottoman and Venetian dominion. That is when New Serbia and Slavic Serbia appeared in the vastness of Ukraine. Many of them reached the highest command positions, earned war medals and aristocratic titles. General Mihailo Andrejević Miloradović, from Herzegovina, defended the Kremlin in 1812, while Napoleon's National Guard surrendered to General Đorđe Arsenijević Emanuil, from Vršac, in 1813 in the middle of Paris

By: Tatjana Marković
Reminder
CULTURE OF SERBS IN DUBROVNIK – BEGINNINGS, LASTING AND RICHNESS
An Exhibition that Awakes and Refines
The connection between Serbs and this remarkable Mediterranean city has lasted for many centuries and was often transcendent. Temples and palaces, treasuries and books, galleries and collections, archives and cemeteries, and above all biographies and works of some of the most famous people of Dubrovnik testify about it. This heritage, that has long been wrapped in silence, has dived out this summer before our misty eyes, on a grandiose exhibition in the Serbian Archive and once again pointed out how history persistently repeats important lessons we missed to learn

By: Đorđe M. Srbulović
Photo: Serbian Archive and Dragan Bosnić
Gathering
INTERNATIONAL FESTIVAL OF ETHNOLOGICAL FILM, FOR THE 21ST TIME
If You Do not Fight, You Have Already Lost
Twenty films in official selection, fifteen in informative section, interesting works that arrived at the open call "ID 3 min", a series of retrospectives, round tables and workshops – all this make this Festival, this time again, the first class cultural event. From a witness of traditional culture, in recent years ethnological film has transformed into a participant and interpreter of contemporary culture

By: Anita Panić, Tatijana Rap
Street Art
SHORT GUIDE THROUGH THE WORLD OF BELGRADE GRAFFITI AND THEIR AUTHORS
Don't Be Afraid of Great Ideas
From dusk to dawn, the city turns into a studio of street artists. Modern fairies cancel the monotony of the concrete and dress the worn out facades into a lace of spray. They turn gray dawns into a kaleidoscope of colors and shapes. The city gets masterpieces of anonymous masters for free, involved in their talented game. And do we know just how many talented and educated children are behind it? Do we understand their messages, sensibility and their philosophy of life? Do we differentiate them from the authors of stupid scribbles for whom the city is nothing but a polygon for their haughtiness?

Text and photo: Dragana Barjaktarević
Birth
THE SIXTH SEASON OF THE "TIME FOR BABIES" SHOW: RETURN TO THE POETICS OF BIRTH
Rituals of Entering the World
Serbs have never forgotten the importance and beauty of birth. A new life is joy and light, reason and hope, sanctity. Everything should be done to conceive it. Once conceived, it must be preserved and raised, and no sacrifice is big enough. Many names and picturesque Serbian customs related to birth, greeting and protection of the newborn are written in notebooks of the author of this important show on National TV. We will share them with you in this edition, in which we have also reminded of the dark aspects of this topic in Serbia today

By: Dragan Bošković
Studies
BUSINESS FACULTY OF BELGRADE UNIVERSITY "SINGIDUNUM"
Oriented toward Profession
"Unlike the old-fashioned education, with an ambition to introduce all young people into scientific work, in modern education we are using results of science to really introduce young people into profession. Our integrated University is enabling students to select, from various areas, those subjects that would really be the basis of their future vocations", says professor Danijel Cvjetičanin, PhD, Dean of the Business Faculty

By: Rozana Sazdić
Photographs: Archives of "Singidunum" and R. Sazdić
Insurance
HOW TO ENSURE AS PLEASANT A VACATION AS POSSIBLE: INTERNATIONAL TRAVEL INSURANCE POLICY "DDOR NOVI SAD"
With You Even When You Travel
Are you getting ready for a trip? No matter where you are headed, one thing is certain – travel health insurance will make your vacation safer and carefree. DDOR's International Travel Insurance is a new and unique product in Serbian insurance market. With the widest scope of risk coverage, it ensures completely safe travel for its clients
Benefactors
THE TWELFTH SCHOOL OF FRIENDSHIP OF "OUR SERBIA" THIS SUMMER AGAIN ON TARA MOUNTAIN
Still in the Serbian Code
Under general sponsorship of "Banca Intesa", 800 children from Serbia and eight regional countries gathered between July 1 and August 10. For the third year in a row, the School of Friendship is realized within a wider cultural-educational project "Serbian Code" which was launched by "Our Serbia" with support from company "Holcim"
Health
RIBARSKA BANJA, AT THE FOOT OF JASTREBAC, CONTINUES ITS GREAT RISE
To Think about Time
"We have committed all our potentials to health, from natural to professional and technological", says Dr Branislav Katančević, director of Special Hospital "Ribarska Banja". "Our Wellness and Spa Centre stands out for its quality and preventive use of natural factor"
Energy
"ELECTRIC POWER INDUSTRY OF SERBIA" AND RENEWABLE SOURCES
Time for Green Investments
They are already working on increasing power and production in large hydro power plants. They have also prepared projects for reconstruction of the existing and construction of new small hydro power plants, the power of which, just like the power from wind farm and solar power plant, will become very significant for further strengthening of production of "green energy" in EPS
Introducing
ONCE AGAIN, THIS YEAR'S BUSINESS RESULTS KEEP "ELEKTROVOJVODINA" ON LEADERSHIP POSITION
We Must Go Toward the Future
Consortium "Serbia Energy Group" has realistic potential to achieve, in 2013, export of know-how and technologies that are in possession of companies from Serbia, and to successfully compete in the markets of Africa, Central Asia and former Soviet republics – says Dr Tihomir Simić, Director of "Elektrovojvodina" and the chairman of the Consortium Council. – I am deeply convinced that the time when the "Electric Power Industry of Serbia" and its companies were only the buyers of other people's knowledge and technologies has passed
Care
UNDER THE AUSPICES OF PD TENT, SUCCESSFUL CLUBS HAVE OPERATED FOR DECADES
The Leaders of Obrenovac Sport
At the beginning it was about health concerns and support to sports activities of the employees of the electric power giant from Obrenovac. Then many children gathered around these clubs and it attracted the interest of the entire city. Volleyball, wrestling, water polo, synchronized swimming, football... Good quality work, talents and good will contributed to a series of unforgettable results in the big sports arena as well

By: Milan Ašković
Connections
NEW SERVICE OF THE PUBLIC COMPANY OF PTT TRAFFIC "SRBIJA"
Post Export – Easier and Faster
Export of goods, another economically important service in international traffic, has been enabled since the end of the last year in more than 1,500 post offices around Serbia, immediately after signing the Memorandum of Understanding and Improvement of Business Cooperation between the Customs Administration and "Serbia Post"