Jubilee
TWO AND A HALF DECADES OF THE EMERGENCY CENTRE OF THE CLINICAL CENTRE OF SERBIA
Fighters for Everybody's Life
One thousand and two hundred employees here – doctors, nurses, technicians and others – work 24 hours a day, every day. They are running the constant decisive race with time. In the clinics, operating rooms, intensive care, with their knowledge, skills, their dedication to profession, they are fighting an uncompromising battle to save lives. Until now, they have never, not even for a moment, closed their doors to those who are severely ill or injured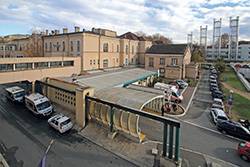 In these twenty five years, the citizens of Serbia could have counted on us at any moment. And we have never let them down. And it will remain like that – says for National Review surgeon Dr Dušan Jovanović, Deputy Director of the Emergency Centre.
"Saving one soul is the same as saving the entire world", says a proverb. And for the experts of the Emergency Centre, continues Dr Jovanović, every life saved means that they have returned someone to their families. For them it is the greatest reward and huge joy. And the merit goes to everybody, because all of them – doctors, nurses, technicians, all employees – are a team who works together and breathes as one.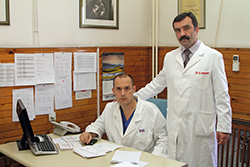 From its opening and until today, more than 3.5 million people were examined in the Emergency Centre, almost 20,000 surgeries were performed, more than 800 patients arrive here every day.
– We can rightly say that we are the hospital for the people, although some of our patients were politicians, ambassadors, presidents, celebrities. There were those who we could not cure, that was god's will, but we have always tried to give our best for everybody. Statistically speaking, every other citizen of Serbia has at some point been at the Emergency Centre, every family has someone who was treated here. We believe that the Emergency Centre, as one of twenty six links–clinics of the Clinical Centre of Serbia, has long been a true Serbian brand – says Dr Jovanović.
IN THE "GOLDEN HOUR"
Time (speed) means life here. Nowadays, the most severely ill patient, from the moment he or she arrives at the ER and until the entrance into the OR, can be fully examine and diagnosed in ten minutes.
– In these two and a half decades, we have achieved the greatest success in the speed of containing the most severe patients in life threatening conditions. Communication with ambulance teams, police and firefighters is organized very well. In this way, if there is an accident, they will immediately inform us about the condition of the patient they are bringing in. This is very important because we will free the operating rooms right away, and we have immediately available teams of anesthesiologists, reanimatologist, surgeons of all specialties (there are neurosurgeons, orthopedic surgeons, vascular surgeons, urologists...). We provide the fastest diagnostics, and in cases when patient's life is under such risk that there is no time, the patient will be on the operating table within minutes. They will be taken care of in accordance with world standards, within the first hour from the injury, the so called "golden hour", which contributes significantly to survival rate of patients – says Dr Dušan Jovanović.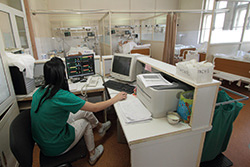 Not less significant and successful are orthopedic, neurosurgical, micro vascular surgery, urology, central intensive care – The well known "Intensive Care A" and "Intensive Care B" – where experts of the ER, on the world standards in terms of knowledge and expertise, are treating the most severe patients. Since they enjoy great trust of people, the most complicated cases come here every day from all over Serbia, and they are also requested by patients for "ordinary surgeries" as well.
The pride of internist group of the Emergency Centre is the Neurology Department, with a centre for acute strokes, which is comparable with the best centers of this kind in the world. Cardiology Department is also like that, because in the short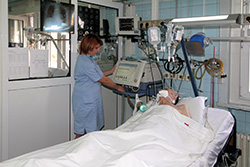 est possible period, in accordance with the highest standards, they take care of patients with heart arrests and other acute cardio problems. Not far behind is the X-ray diagnostics, very well equipped, or the modern laboratory which completes thousands of analyses every day, or departments for gastroenterology, hematology, allergology, physical medicine, with a unique centre for hand rehabilitation.
Enthusiasm, professionalism and dedication characterize 1,200 employees in the Emergency Centre, of which 300 are doctors, 50 surgeons, who daily perform 20 to 30 operations. They snatched from death thousands of lives and are highly esteemed.
– We are pleased that the Emergency Centre has been for many years an important factor of health of our people, with a large number of cured patients. We believe that this is our important contribution to the betterment of this society.
***
Spiritual Health
The Clinical Centre of Serbia is the first state owned and the first healthcare institution which, after 60 years, has officially introduced into its service a priest of the Serbian Orthodox Church. The chapel in the Emergency Centre was consecrated at Easter in 2001.
– We are proud of this. A significant number of patients have received spiritual help and support of our priest. There were many hear-stirring scenes, when dying people want to confess and take communion, some even to get baptized. Our priest, just like all doctors in the ER, is available to the patients 24 hours a day – says Dr Dušan Jovanović.
***
The First Month, Important Results
In only one month, which is how long he has been on the position of the director of the Emergency Centre, surgeon Dr Zlatibor Lončar already has first results that this institution can be proud of.
– A centre for coordination of provisions for patients in life threatening conditions has been created. For the first time in this quarter of a century, the Emergency Centre has finally received a place where voluntary donors can give blood. A council of doctors for malignant diseases is starting to work, so that patients who underwent surgeries here will be provided with decisions of the medical council on further treatment – says Dr Lončar. – All this has been accomplished without a cent of investment, only with better organization. And now I expect from people who have worked in healthcare and profited from it to get involved in the action and return a part of their profit here, for the purchase of the most necessary equipment and for creating better working conditions. I will fight so that this institution gains the status it deserves. So that we no longer have such a high number of extra patients, who cannot be accommodated on 300 beds that we have here, as has been the case lately. So that employees receive true reward for their work.