Catalog
THE OLD MOUNTAIN REGION CONTINUES ITS RISE TOWARD HIGH TOURISM
Mountain Dream of Knjaževac
This mountain is a cousin of the entire Peninsula, which is called after its second name (Balkan). In accordance with the Strategy of Development of Tourism of Serbia (from 2006), tourist destination Old Mountain is a project of high priority and the biggest Serbian investment in this industry. It is clear what significance it all has for the entire area of Eastern Serbia. How far have they gone?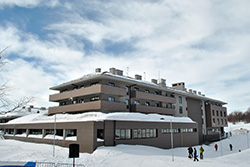 Old Mountain is situated only 60 kilometers from Knjaževac. Its main range, about 550 kilometers long, stretches from Zaječar all the way to the Black Sea. Our entire peninsula, the Balkans, was named after the second name of this mountain. Midžor (2,169 meters) is the highest peak in the Serbian part of the Old Mountain and in entire Serbia. A part of the Old Mountain that is in Serbia belongs to municipalities of Zaječar, Knjaževac, Pirot and Dimitrovgrad.
Natural reservation "Babin zub" is one of the most beautiful landscapes of the Old Mountain, situated at an altitude of 1,758 meters. Steep slopes, sharp gradients, miraculous waterfalls, lush forests and abundance of forest fruit provide opportunities for development of different types of tourism. The climate here is moderate-continental. There is snow almost five months a year, at an altitude of 1,100 to 1,900 meter, which is a serious potential for alpine skiing. The lavish beauty of the Old Mountain captures and attracts people throughout the year. It is a perfect place for those who appreciate unspoiled nature. In the villages below, the hosts are generous and friendly, always ready to welcome travelers with authentic food.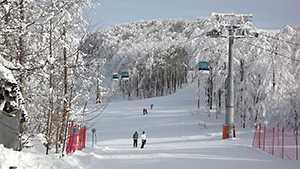 Important sites in the area. The Municipality of Knjaževac and Old Mountain represent an extremely attractive area for rural tourism. Beautiful nature, picturesque villages, rich ancient and medieval heritage, plus an interesting folklore and tradition, are attractive for people from all over.
On the eastern slopes of the Old Mountain there are hunting grounds with the same name. In this area one can hunt roe, fox, wild boar, wolf and deer. In Knjaževac municipality there are three hunting associations: one in Knjaževac itself, and two in the villages of Kalna and Minićevo.
In Donja Kamenica one can see the Church of the Holy Mother of God, believed to be built in early 14th century. Preserved frescoes are a testimony to a great painting skill. On the road toward Gornja Kamenica there is a monastery dedicated to Holy Trinity. Lazar is mentioned as its benefactor, son of despot Đurđe Branković, and the church was built by shepherds from Crni vrh.
In villages of the Timok valley one can see interesting ethno motives, excavations and monuments from the late Roman period. Knjaževac and its surroundings have long been known for excellent wines as well, and wine makers from Knjaževac have received numerous awards from the country and abroad.
In the village of Ravna there is the archaeological site Timakum minus, a Roman settlement from the first century AD. This camp of Roman legionnaires was transformed in the 3rd and 4th centuries in a fortress with towers. On the basis of excavations during explorations conducted in 1975-1990, in the Archaeological-Ethno Park in Ravna, an exceptional lapidarium of ancient and ethno monuments was created. It includes dozens of Roman monuments, imperial honorary inscriptions, numerous items of ancient bronze and marble sculptures, reliefs and other items of high artistic value. The Archaeological-Ethno Park in Ravna also includes an ethno house, the cellar of which is restored as a museum of wine.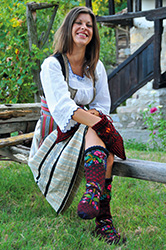 Ski Centre on the Old Mountain. The Ski Centre "Babin zub" now includes ski trails "Konjarnik", "Sunčana dolina" and "Markova livada". "Konjarnik" trail has a four-seat cable car with a conveyor for loading, and can transfer 1,400 skiers per hour. "Sunčana dolina" has a ski-lift with capacity of 1,200 skiers per hour, and "Markova livada" also has a ski-kindergarten with a conveyor belt.
On Jabučko ravnište there is the first gondola in Serbia. It has eight seats and it transports skiers from the hotel into a further system of cable cars and trails. There are more than 13 kilometers of excellent trails, of different levels, prepared for skiers of all categories.
And juts in case, there is a good system for artificial snow in case, due to climate whims of this planet, there should be no sufficient quantity of snow.
Accommodation. A four star hotel "Old Mountain" is located on Jabučko ravnište, one of the most beautiful spots on the Old Mountain, at the altitude of 1,350 meters. The hotel has 146 rooms with 380 beds. It has double rooms, superior rooms, junior and senior apartments, as well as a presidential suite.
It also has three conference rooms, a restaurant, pizzeria, bar, children's game room, ski rink, wellness and spa center with an indoor pool, hair salon, ATM, money changing office, a shop with branded clothes, drugstore, pharmacy, underground garage...
Hotel "EPS Tours", in the foot of Babin zub, has 60 beds, just like the mountain lodge "Babin zub". Accommodation can also be found in numerous small B&B's and guesthouses, with homemade food and exceptional hospitality of the local people.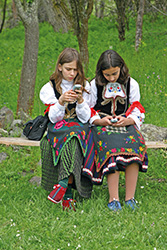 Extreme sports. Old Mountain provides great possibilities for practicing extreme sports. Its slopes are perfect for free ride and snowboard, and the fans of these disciplines are already old guests on this mountain. In summer months, many paragliding competitions have also been organized here. Starting places for this extreme sport, the popularity of which is growing, have been established. Also, competitions in mountain biking are also being organized here. There are also good conditions for mountain climbing.
Symbol and collection. With various ornaments and in diverse colors, double-stitch socks are a masterpiece of folk art. In Knjaževac region this art and craft was born in the 18th century. Double-stitch socks, male and female, are made of local wool in two main colors, black and red. They are knit on five needles, and it takes about 40 hours of work to make one pair. They used to be an integral part of a girl's dowry, and today, as one of the national symbols of Serbia, in accordance with the protocol of the government of Serbia, they are given as gifts to foreign diplomats. A collection of over 600 pairs of wool socks is kept, as cultural goods of national significance, in the Home Museum in Knjaževac.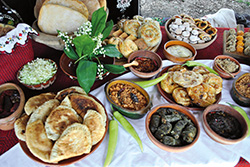 Old Mountain gastronomy. Just like a hundred years ago, national cuisine of the Old Mountain region is healthy and of good quality, preserving all tastes and long memory. The first sign of hospitality for tourists are usually hot bread and the best cheese in the world. Sheep, cow or goat cheese, crumbled or sliced. Dining tables here are always full of various miracles: dried bell peppers stuffed with walnuts or beans, breaded nettle, local chowder, pickled plums, moruznica, salad made of meadow greens. A special place has the famous belmuž, a delicacy made of young cheese and corn flour, "a meal for a cabin and a castle, for emperor and for shepherd". Madžun, a delicacy even older than belmuž, is made of crushed corn, dry bell peppers and one type of grass. A local menu, whether daily or for special occasions, cannot be imagined without a cheese pie, stuffed cabbage leaves (gužvica) and chowder, notably lamb chowder.
Investments. The first hotel on the Old Mountain was an investment of the government of Serbia. The total value, including the related infrastructure, is about 40 million Euros, which is the highest investment in tourism. It has a great significance for Old Mountain as a new tourist destination, but also for economic development of the entire region.
Of course, this is only the beginning of development of this big tourist centre. The first phase includes construction of infrastructure and accommodation capacities for 3,900 skiers per day (over 6,000 guests in total, because not all guests are skiers), opening of over 650 new jobs only in accommodation capacities, and many more jobs in direct vicinity of the resort, in sectors that are connected with the functioning of the resort itself.
***
Grandmother and taxes
Myths and legends of the Old Mountain area are very rich.
Once upon a time, a grandmother hid the taxes collected by the Turks. To make her tell where she hid the treasure, they say, the Turks shook her on Tresibaba (tresti = to shake), tortured her in Mučibaba (mučiti = to torture), and broke her tooth on Babin zub (Grandmother's Tooth).
Today, only legend and toponyms preserve the memory of her.
***
Project of the Highest Priority
Old Mountain Resort is a greenfield project. In the Strategy of development of tourism of the Republic of Serbia (2006) it is designated as a project of the highest priority and as a destination that is to become one of the most attractive in this part of Europe. The resort is conceptualized as an all season tourist centre, with skiing, conference, spa and wellness facilities, gold courses, pedestrian and bicycle lanes... The key advantage of the resort is its attractiveness throughout the year and a large number of activities offered to guests.