More than a Game
LJUBIVOJE RŠUMOVIĆ (1939), POET, EXCLUSIVELY FOR "NATIONAL REVIEW", FROM THE FREE TERRITORY
All the Havocs of Old Ršum
Ljubivoje from Ljubiš, Zlatibor, shared with us all the tips and tricks, all the scams and flicks ever since ancient Greeks. He released news from the swoons, made three knots on an eyelash, sunbathed in the moonlight and said: "The last thing we need is dragons!" He listened to the call of the blackcock and gave us stray poems. He taught us that homeland is defended with beauty. Today, twenty-odd years after the death of Duško Radović, he is still the first to read everything Ljubivoje writes
By: Branislav Matić
Generations have been growing up with his poems and he was maturing with all those generations. He was the best friend from the textbook of all our children. Even in this "staged interview", he participated as a real pal. Together we went through the album he always carries in the place behind the inner pocket of his jacket (some call it the heart). As Ljubivoje said, I could put some more phrases there, but there is no need to.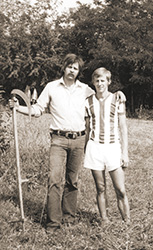 Childhood, homeland. Now it's definitely clear to me: when one is born and raised in Zlatibor, Zlatibor becomes the measure for everything in life: for love and beauty, friendship and gentleness, goodness and success! My personality was formed, among other things, with the optimistic song "Oh, Zlatibor, my tall pine tree, I am climbing into your heights!" It pulled my ears, from horizontal into vertical position. In time, climbing and conquering tops became my obsession and meaning of life.
Ljubiš, where I was born and spent my childhood, and Zlatibor, about which I wrote my first verses ("Zlatibor, you are golden, that is why I love you!"), became the homeland of everything I have ever written in life and everything I have done. My teacher Milica Vođević recognized in me something different from other children. I was enthusiastic about books as objects, as chests of secrets which need to be revealed by reading. She gave me books to read, some as a gift. Then she began giving me ideas what I should write about and how. She wasn't a poet, but she liked poetry, like any other eighteen year-old girl at that postwar time.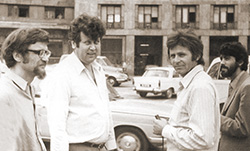 Mihailo and Milesa. My parents were poor peasants with a rich soul. My mother, from the rich Simović family from Gostilj, fell in love with Mihailo, a poor man, and married him (his mother died at his birth and his father three days later from Spanish fever in 1918), although she could've married a teacher or an accountant. I was born and blessed with that love! My father was raised by his grandmother, my great-grandmother Anika, hardworking widow, who formed my personality with her strong rationality. I was brought up by the scarcity we lived in and educated by the language of folk epic poems and the gusle of my grandfather Stevan. My mother kept in her memory, as the greatest treasure, a poem by Zmaj Jova, which she constantly recited to my brother and me. The name of the poem is "When God Created Earth", and it is in the foundation of my creativity.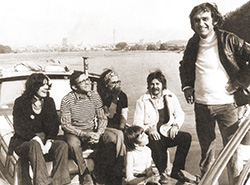 Book. I didn't consider the songs grandpa Stevan and grandpa Božo sang with the gusle as literature. Not even Zmaj Jova's poem my mother told us. They read them from their heads, not books. I didn't know what literature is, but I assumed that it is what's written in books. I read my mother's elementary school textbook, which was full of stories about the battles of Serbian commits against Arnauts. That was interesting literature for me. Someone gave me a little book Great Race of the Nail and Horseshoe. I knew what a nail and what a horseshoe were, so it was interesting for me how they were made from iron ore dug in a coalmine. Then father brought a booklet with drawings from Čajetina. Later I found out it was a comic book, entitled The Three Stooges. Funny characters, witty text and drawings as a divine handwriting, made me begin drawing comics and cartoons myself. Later it turned out that this supported my education in Užice, because Vesti paid well for them.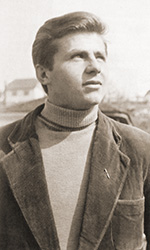 Poet in the highlands. We should believe those who say that a good writer "has to be born", because it's proven that genes can be transferred from generation to generation. I suppose genes also carry a talent for a certain art or some other skill. I am still convinced that the fascination in childhood has a crucial role in creating a writer. If my third grade teacher Milica Vođević had torn the little poem she took from me while I was handing it to my classmate Savo Joksimović, and if she had punished me, I would today be a retired medical doctor, not a poet. The poem went: "There is a Savo, / who slept with his grandma, / grandma moved in bed, / and into Savo she farted! / Grandma, this you shouldn't allow, / our Savo has no teeth left now!" Many teachers would consider it insolence deserving punishment, but Milica didn't think so. She took me aside and praised me "because the poem was funny", but she also asked me if I have ever seen Branko Ćopić using the world "farted". I said I haven't. Then she gave me a lesson on literary language used for writing literary works, and told me to write a poem for tomorrow about the most beautiful mountain we are living in, Zlatibor. I wrote "Zlatibor,

you are golden, that is why I love you". She said that a poem has to be longer, and that I should continue in that manner. So I wrote a few more verses: "Zlatibor, oh, mountain dear, / people all live nicely here. / No one can touch you, / your calm streams too. / My family also lives there, / Zlatibor, you're a fairytale."
She sent the poem to Pioneer Newspaper and I was awarded with a graphite pencil with an eraser on top. This is what decided that I would become a writer. The support in childhood from the teacher and parents is necessary.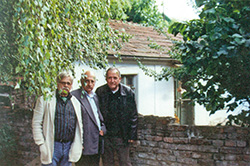 First journey. Departure. My first departure "into the world" was the trip from Ljubiš to "the city", Čajetina, to the Lower Gymnasium. I was surprised to see so many trees "in the city". In the village I imagined the city shackled in concrete streets, packed with houses, skyscrapers, without any greenery at all. I liked Čajetina because it was full of trees. The departure to Čajetina was the first step of my gradual but definitive leaving the country. The idea of "returning one day to be a teacher in Ljubiš", as I wrote in my diary those days, has been with me all the time, but in vain. Some of my poems have traces of that idea. "In mid-spring in Paris, / people wear Japanese silk / and in Ljubiš nearer to me / they are wearing April flowers" ("In Mid-Spring, 1973) Or another, older one: "The sky fell on the chest of the stone / Like unexpected rain / In the place where my shoulder is touched / By the breath of summer in Ljubiš" ("Evening", 1966) I have traveled throughout the world as a reporter of Radio-Television Belgrade, I've seen many wonders, filmed them and wrote about them, but none of the world wonders could outwonder my Ljubiš and my Zlatibor.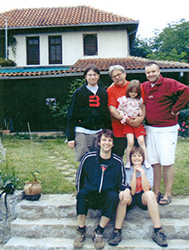 Important stops on my way. From Ljubiš I have taken the fascination with verses and ambition to write. From Čajetina – the first serious love experience and the first written sonnet dedicated to Sekulić Olivera, starting: "A sonnet wreath I make for you / You who are not far / I, who is cheating myself / That someone could love me too!" From Užice, even today I carry the doubt in everything I do, healthy doubt which doesn't encourage, but initiates, makes me work better, write wittier, live more naturally, love more convincingly. I made first real friends from the art world in Užice, first honest friends. One of them is Milojko Đoković, reporter and publicist, also my godfather. From Užice I went to my first working action to Macedonia. There, in Pelagonia, on the slopes of Kajmakčalan, I made a decision to use my work for common wellbeing. After Pelagonia, I went to five or six more working actions and everywhere, besides working on the construction sites, I left a trace of my creative work. I wrote diaries, made wall newspaper, drew comics, entertained the participants! When the city Department of Culture called me in 1986 to become head of the "Boško Buha" theater, I accepted immediately. I left for a salary one third lower than the one I had as editor in the "Književne novine" publishing house. It was one more working action of mine! Even today, at the age of seventy-three, I'm a volunteer in the Culture and Education Community of Serbia and "Friends of Serbian children". I am involved in actions! Now I'm thinking about the last stop, where I'll happily depart from life.
It will surely be one of my Free Territories, in Baćevac near Belgrade or in Ljubiš!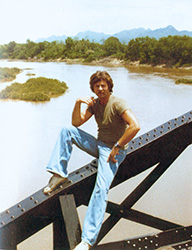 My Belgrade. As a freshman from the country, I got the students' home in Voždovac, the famous "Brioni", where Grozdana Olujić lived and wrote Field Trip to the Sky. The wooden barracks, which used to be dorms for working action participants, were dried, so the wind was blowing from all sides. As soon as the winter came and it started snowing, we would wake up with five centimeters of white coldness on us. I got sick from facial nerves inflammation, facialis on both sides, tragic when you look at it, unbearable when you have it. And fatal too, as Dr. Perišić from the Clinic for Infectious Diseases told me straightforwardly while waving his head. Five months in the hospital, infusion, because swallowing was suspended with paralysis, lost year at the faculty. However, I won. They say it's not tragic to fall, it's tragic not to rise after the fall! Every misfortune has a particle of luck; that is, I suppose, the frame of fate of human survival. If I hadn't lost that year, perhaps I would never have met Nataša, mother of our sons, grandmother of our grandsons, Penelope who waited for me to return from my numerous journeys down the world roads and literary wastelands. While I was in Užice, my Belgrade poet was Mića Danojlić, and when I came to Belgrade I met Duško Radović. Mića taught me to make verses, Duško taught me wisdom. I finished my education with Mića, but with Duško I didn't: even today, twenty-odd years after his death, he is still the first to read everything I write.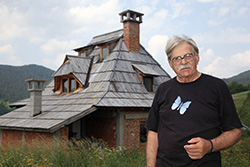 Roads waiting. While my "heels were itching me", as they were itching Yesenin's Pugachov, all roads were mine. Among those I have tramped, two of them were most remarkable: the journey to North Cape, the northernmost point of Europe, and the journey to Sri Lanka, the Green Paradise. These days I'm getting ready to start off to those two journeys again, but this time as a travelogue. I determined the anchor points, I'm waiting for the bear to sit in my head and I'll be on my way. The Northern Adventure, as I called the journey to North Cape, begins in Copenhagen and Munich, where we buy equipment and form the team. In Oslo we film Vigeland's Poem about Life in Frogner Park. Our ambassador ignores us, refuses to accept us. We start off to the Lofoten Islands for fishing. The next stop is Hammerfest, where we meet major Skansen, Norwegian, who gives us a military vehicle for the trip. Along the way we save a "Crazy German", as Skansen called him, a man who started off to North Cape with "VW Beetle" and who would have died in the snow if we hadn't saved him. We arrive to North Cape, put the Yugoslav flag on the mast, write our names in the book of those who succeeded in reaching that point, among them also the French Emperor Philip of Arc. On our way back, we visit Karasjok, capital of Finnmark, Laponia. We hunt reindeers in the mountain, sing a song about beautiful five year-old Helen Mary. We take part in the reindeer race on the frozen river and win. We remain uninjured in the Laponian disco club, which we entered dressed in Swedish lamb fur. We return to Oslo, film major Angel, pioneer of European skiing, in front of the Holmenkollen ski jump. We read segments from his book about Montenegrins, whom he came to help in their battle against the Ottoman Turks. I speak with Knut Haugland, member of the Kon-Tiki expedition. The ambassador sends emissaries to bring us into the embassy, because the cover page of Dagbladet shows the photo of Ratko Ilić, director, and me, entitled "First Yugoslavs at North Cape". We ignore him and go to take a vaccine against smallpox, since there was an epidemic in Belgrade. The return home is always, this time as well, the most joyful moment of the journey. What are journeys for me? Accumulating experience. Opening new windows into the world of people and world of secrets beyond the mind. Deciphering time and space. I could state some more phrases, but there is no need to.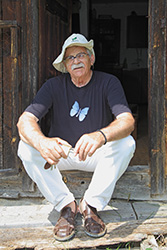 I, the classic. I still cannot accept and understand the title related to my name. I assume that the "classic" implies some privileges, which I don't have. People in Ljubiš even think I'm a total loser for not being able to press the authorities to make a kilometer and a half of a road, so that I could reach my house of birth with my car. In Baćevac, my Free Territory, where I have my Belgrade dwelling, they think I have fallen into disgrace of politicians because I can't convince the communal service in Barajevo to fix the 300 meters of road, so that I could reach the gate with my car when it's raining. The real roads I walk down every day, as you can see, are difficult to pass and thank God it's like that. Otherwise I would become vain and fall into one of the deadly sins. Luckily, those other roads, those of the spirit and the soul, have no obstacles for me.
Free Territory. One cannot come to any territory with a pure heart and without the burden of everyday life on his soul. I have two Free Territories, one in Ljubiš, where I'm building a cottage into which I will always be able to retreat and protect myself, and the other in Baćevac, near Belgrade, where I made a house for myself, my sons and grandsons, where we all run away when Belgrade knocks on our doors with its metropolitan arrogance. These are territories free of stress, careless, leaning with their left shoulder on art and with their right shoulder on a family hug. I don't like our politics, but I see the politicians are thinking less and less how they will stand before Milošević, not before Miloš.
***
From the inner pocket album
"The tenderest memories" are perhaps always those from childhood. Ljubiš was the entire world, that is where all my curiosities began, that is where all answers to my questions were. My family, father Mihailo, mother Milesa and brother Milivoje. Grandpa Stevan and grandma Jovanka. Tomcat Sherwood. Dog Čoek. Horses Cvetko and Cura. Oxen Ruško and Boško. Cousins Marko and Janićije, friends Velizar, Savo, Neđo, Gvozden, Vera, Stojka, Ljilja. Mountain Zlatibor. Hills Borkovac, Straža, Čigota, Nevolja. Trešnje Grkalja i Trešnjica, Gusto liješće, Gujina stena, Pećina, Mumlava. Teachers Kariman, Đorđe and Milica, Milica, Milica, the best in the world, who introduced poetry to me. That is the album I carry in a place behind my inner pocket someone call the heart.
***
Poetry for Kids Today
Thanks to Zmaj and Duško Radović, adults also like reading such poetry. It's good, because that's how the golden message of friendship and imagination lasts and transfers from generation to generation. I consider myself an adult, yet I like reading younger contemporary colleagues such as Branko Stevanović, Dejan Aleksić, Uroš Petrović, Igor Kolarov...
***
Branko, Mihailo, Vuk
I have been the "father on a business trip" most of the time, so they were, luckily, raised by Nataša. Thus they turned out well, probably even better than if I had constantly been over their heads and their free time.
***
Role Models
First of all Nikola Tesla, about whom grandpa Stevan told me about in my childhood. Mother Milesa even called me Tesla, because I was always walking around with a book in my hand. For her, the "book in the hand" was a symbol of Tesla-like fascination, thus hard work and creativity. Then "Banović Strahinja" and other Serbian epic poems, sung by grandpa Stevan and grandpa Božo while playing the gusle. Then Branko Ćopić, whose rhymes I first used for my little poems, and whose humor I immediately understood and accepted. Then Zmaj Jova, whose poem "When God Created Earth" my mother used to sing for me as a lullaby. And finally Duško Radović, whose friendship supported me and made me continue writing for children.
***
First Movie
It was Viva Zapata, which I saw thirty times, because it was shown in the Čajetina cinema. The film was shown in the school gym, where beds were placed for us, village children, who lived there. There was probably something from the dramaturgy of the movie that remained in me, and there was something I didn't like, such as Zapata dying at the end. That, for instance, helped me suggest Krvavac, who made the movie about my brother-in-law Vladimir Perić Valter, not to have the hero die at the end, which Šiba accepted, as the wish of Valter's family.