Memories of the Street
BELGRADE POETICS OF THE BOTTOM: WITH PRINCE CHARLES, BUKOWSKI
Time of Imperceptible Wellbeing
Welfare flourished, but we knew nothing about it since we didn't read newspaper. Otherwise we would've taken some of it too. Everything functioned because everyone minded both his own and others business. Policemen and poets, informers and thieves. And Alija Sirotanović. And the goats on the bridge, of course. We knew nerds would destroy the country one day, so we avoided classes. We were consoled by the aphorism: "Those who live from day to day just need to a bit of patience"
By: Nebojša Jevrić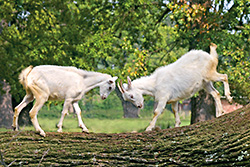 Summer was arriving. After we had drunk everything at Jova's, we went to the dorm to take a bath. We didn't take a bath, but we took the surplus of mattresses to the roof of the fourth block in "Patris Lumumba" dorm. There were hard-working students among us, such as Scoffy, who were delighted to have such company.
There was an ancient students' custom to bark during the exam term. Knickers were drying on ropes, thongs weren't invented yet. We barked at them and our female fellow-students, who closed their windows. Someone brought a guitar.
We were always getting arrested. We were a good crowd, but they knew each one of us has at least two meters of the Padinjak, Padinburg, Padinska Skela prison.
Two female students from the Medical School arrived. One of them liked me. I took her to Scoffy's room. She had enormous legs and long hair. I remember I got entangled someplace, which saved me that time.
The guys on the roof sang:
"Montenegro keeps asking
When Djilas would replace Tito."
The pensioners on stand-by from the neighboring skyscrapers called the cops.
Farty and Yellow were stealing drinks at the supermarket, so they caught them as well.
"Comrade judge, they were singing songs about Djilas!"
Kule saved the day: "They weren't singing, I was reciting."
The police didn't know Kule as a poet.
If they were singing, what melody were they singing?
It ended ingloriously, just as it began.
METAPHYSICS OF THE HEALED SHOES
My father used to send me, as a freshman, enough money for living in the city. My uncles also sent me some. So did my grandfather. I could rent an apartment. As soon as the dough would arrive, I'd go to the "Hole", a pub nearest to the Faculty of Philosophy, and wouldn't leave until the money lasted. Already after my first month in Belgrade, I discovered there were enough holes in Belgrade where one could sleep and drink without money. After we would make a mess in one place, we'd move further. It was the time of wellbeing, however we knew nothing about it. We didn't read the newspaper.
We were solving an important philosophical question asked by late Mirko Rajčić (most of my characters had deceased): Where are we, who are we, which pub are we going to and who'll pay for all that?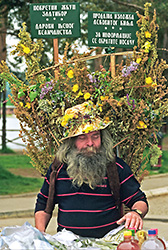 The "Hole" was in the basement and its bar on the upper floor. The waiters, Ika and Dragica, dropped by rarely. When we were out of dough, we sent someone to steal in the supermarket across the street. Then we cheated and drank under the table, until someone would freak out and start breaking things. The champion in breaking bottles was my cousin Scoffy. He would announce closing time by taking all the bottles from the table, rolling them into the tablecloth, and smashing them against the floor. He lived illegally in "Patris" with Novo the Gypsy, in one of the holes one could spend the night in. Novo the Gypsy had the same shoes as I did. I didn't know it. It led to an enormous confusion. Edo Višo, Muslim from Trebinje and a good associate of mine, nicked a scalpel from the Academy of Arts. He came to the "Hole" and, after the third bottle of wine, cut Scoffy's turtleneck with the scalpel, and made a cardigan. We all laughed and Edo bent down and cut my shoe above my toes, to keep my feet from sweating.
I slept over at Vesko Janković's place and put on his sneakers in the morning. Vesko was a genius. He knew it would be hard to get his sneakers back. He went to the shoemaker, who put a patch and a few stitches. So I wore stitched shoes for a week. Then, one day, someone noticed my shoes weren't stitched any more. They healed.
We were speaking for three days about the miraculous healing of my shoes. The third day, Novo the Gypsy showed up in my shoes, furious. We made the exchange on the spot, and Novo had to pay a fine of a liter of wine. After spending the night at his place, I put on his shoes. Since that time, I was the man whose shoes have healed. We elevated the healing of my shoes to a metaphysical level.
UNDERMINING BOTH EMPIRES
I started off to the Faculty of Philosophy with a bottle of wine in my pocket. In front of the American Cultural Center, something got over me. I threw the bottle and broke the window glass. I ran into the Faculty, and the guards came after me. I climbed to the attic and crossed into the old Faculty building, then rushed through the dean's office, over the Students' Park and ran into the first building. They didn't chase me further. That was a reason to stay away from the Faculty as much as possible and be closer to the "Hole".
Besides us, old Cominformers used to sit in the "Hole" as well. We almost found out too late.
My favorite curse was: "Fuck Tito!" A pretty dangerous curse that could've cost you a month in jail. If you're lucky. In Bosnia, which we used to call the Dark Vilayet, you could be pressed with criminal charges, which means more than a year.
Whenever I'd curse Tito, the old Cominformers would send drinks.
That day, however, I was really thirsty, so I expanded my repertoire.
"Fuck you, you old communists!"
How could I've known there were communists who hated Tito? The drunken Cominformer, an invalid without one leg, took out his gun and cocked it.
"I'll kill you, you fucking bum! I lost my leg on Sutjeska! I lay in prison as an invalid!"
Bones screamed and threw herself on the floor.
I stayed calm: "No, man, I didn't mean the real communists, I meant the fake ones!" So, everything ended happily after all. But we never stopped cursing the government, whenever we'd get drunk, which we had to pay.
Of course I paid.
Almir Zalihić showed up in "Kolarac".
I was sitting at an empty table when a drink arrived from a built-up yellow-haired guy with "Lennon" sunglasses, wearing a white jacket. A liter of wine, liter of soda and ten chevapi with onions. I was certain I'd never seen his sly face before, but he claimed he was a reporter of the Priština Jedinstvo daily and that we had met in Priština. Soon coyotes from "Kolarac" started showing up. Almir paid drinks all day. The n day he came again. Then he discretely explained us that he has a deal with some gold traders and that we shouldn't worry.
We listened to him.
We didn't worry. <