Origins
SERBIAN CLAN OF NIKŠIĆI, FROM ANCIENT TIMES TO OUR DAYS
Old Tree and Young Sprouts
The precursor Nikša was the matrilineal great-grandson of Stefan Nemanja and grandson of Vukan. He came to Onogošt in the late XIII or early XIV century from his hometown of Krtoli, Grbalj. Numerous dukes and princes came after him, as well as migrations and branches. The descendants of his clan are many famous people in all Serbian lands, some of them our contemporaries
By: Božidar Kljajević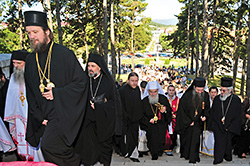 Many researchers and writers have written about the Nikšići clan: Simo Milutinović Sarajlija, Vuk Karadžić, Demetar (Dimitrije) Pantić-Tirol, Archimandrite Nićifor Dučić, Atanasije Pejatović, Radoje Uskoković, Andrija Luburić, and lately Žarko Šćepanović, PhD, Predrag Šćepanović and others.
Simo Milutinović Sarajlija was from the Rovac branch of this clan (Gojaković). This was published in the Belgrade Pravda daily on September 23, 1936 in an excerpt from his autobiography. Milutin, Simo's father, learned to be a furrier in Sarajevo with Hadzi Jovan Selak, who was from the same clan.
Vuk Karadžić wrote that priest Filip, Karađorđe's duke from the Novi Pazar area, was from the Nikšići clan and that he had sent him, Vuk, hundreds of poems through the prince of Požega Vaso Popović.
A part of Trebješani, branch of the Nikšić clan, migrated to Russia in 1814. In the year 1842, a book was published in Belgrade Stories of Old Trebješani by Demetar Tirol, showing that the predecessor Nikša was from the Nemanjić dynasty. His uncle was King Stevan Vukanović Nemanjić, with whom he stayed as a boy, during the construction of the Morača monastery. An old monk saw him in the monastery, looked at him and asked what clan he came from. The boy told him and the priest replied: "May you leave a wide trace in all Serbian lands, my son!"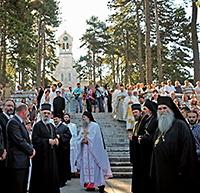 Nikša, great-grandson of Stefan Nemanja, grandson of Vukan, predecessor of the Nikšići clan, moved to Onogošt (Nikšić) from the village of Krtoli in Grbalj in the late XIII or early XIV century. He arrived to the place his grandfather Rastko (Sava) should have come a century earlier. Nikša erected a church in Župa dedicated to St. Luke, his patron saint and family saint in Grbalj.
Archimandrite Nićifor Dučić wrote the "Folk Legend of Nikšići", printed in the New Trebević calendar (Sarajevo, 1892). He wrote that the precursor of the clan was Nikša, born in the village of Krtoli in Grbalj. His father wan an aristocrat, Ilijan (Vladimir) Grbljanović, and his mother Jevrosima (Efimija), daughter of Prince Vukan, the oldest son of the Nemanjić dynasty predecessor, Stefan Nemanja.
Atanasije Pejatović states that "there was a Nikša, servant of Stevan of Dečani in the Morača monastery" (obviously Stefan, son of Vukan). Professor Radoje Uskoković, in his "Migrated Nikšići" (Anthology of Works by Jovan Cvijić, Belgrade, 1924), who wrote down all available legends about the origins of this clan, emphasizes the one according to which Nikša is the son of Vukan's daughter married in Krtoli to duke Ilija (Ilijan), celebrating St. Luke, with churches dedicated to him in Gošić and Kotor. Andrija Luburić, one of the most famous collectors of folk legends, described their origin in brief in the Christmas Herald in 1935, entitled "The Nikšići Clan".
Priest Sekula Dobričanin gave a significant contribution to presenting the families of the Nikšić clan in his work Morača, Rovci and Kolašin. Very educated, he lived in the XIX century and left extraordinary genealogies of local families. Žarko Šćepanović, PhD, had a similar contribution in studying the origins and migrations of the Nikšići clan in his study Middle Lim and Tara Area.
TRANSPLANTS AND MIGRATIONS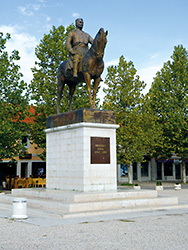 According to the preserved legend, the monks of the Morača monastery issued a written confirmation to Duke Petar Gavrilović Trebješanin in 1649, nephew of Duke Grdan, about his origin from "Prince Nikša", who, as they state, was remarkable for his beauty, goodness, bravery and wisdom. The confirmation, rewritten in 1745 in the monastery under Lastva in Grbalj, actually served the old members of Nikšići and Trebješani for their legends.
As Jovan Erdeljanović, PhD, states, the Nikšići clan was first mentioned in the Dubrovnik archives on September 20, 1355. In that document, Vitoje Nikšić, with six witnesses from Onogošt, takes the obligation that Nikec Nikšić will pay 19 perpers to Junije Grubešić from Dubrovnik by Christmas. If Nikec doesn't, Vitoje shall pay by the Easter lent.
The Kotor and Dubrovnik archives have two documents from 1399, according to which the people of Dubrovnik complain to Jelena Katarina, first wife of Sandalj Hranić, about some Vlachs from Nikšići: "The Nikšići Vlachs came here…" Nikšić as the name of a geographical area is first mentioned in a document from the XIV century. The note of the Court Archive in Kotor states: "I, Radonja Ninković from Nikšići in Zeta..." Petar Šobajić states it in his book Nikšić–Onogošt (Belgrade, 1938). He also writes about the Nikšići clan in the XVI century, about Duke Grdan as a dominant personality of that time and his fight against the Ottomans.
Most descendants of Duke Nikša are in Nikšić Župa and Rovci. When he came to the area of Onogošt, in the late XIII or early XIV century, the principal of this area was Ban Ugren Jerinić. He first made a union with him against some common enemies. As Nikša's power grew, his wish for ruling became stronger. Once, Nikša's sons got into a conflict with Ugren in Župa and killed him. Nikša and his people took over that part of Herzegovina, but he didn't expel the Ugrenović clan, named after Ban Ugren Jerinić. He gave them the southern and south-eastern parts of the Nikšić field, the so-called Upper Field and its surroundings.
There are several assumptions about the names of Nikša's sons. The names Radovan, Milutin, Vladimir, Gezimir and Gojak are mentioned most often. They divided the conquered areas around the city of Onogošt (Nikšić) among themselves.
Nikša as a duke was inherited by his oldest son Radovan, he was succeeded by Drakule, he by Nikša, followed by Dragić, Radojica, Đuraš, Grdan.
Grdan had four sons: Jovan, Drakule, Radule and Gavrilo. Especially important was Duke Gavrilo, predecessor of the Gavrilović clan, mentioned in 1620 at the gathering of Serbian rulers in Belgrade. Gavrilo was succeeded by his son Petar, mentioned in Ottoman fermans from 1645 to 1699. He had five sons: Milutin, Vukola, Batrić, Gavrilo and Dragić. Milutin and Dragić were princes, Vukola and Batrić dukes, while Gavrilo was archpriest. The Jokanović clan, divided into Lopušina and Vujačić, originates from archduke Gavrilo.
TO THE PRESENT TIMES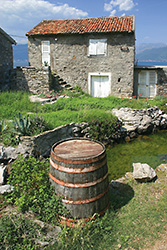 Long after Nikša's death, his successors had the last name of Nikšić. They also migrated under that surname. Many families moved from Nikšić Župa to different sides, at the beginning mostly to the Tara and the Lim valleys, then to Raška and Stari Vlah. Over Herzegovina, where there are numerous families from this clan, they moved to Bosnia, Dalmatia, Lika, Banija… A part of the Nikšić clan migrated to Russia in the late XVIII and early XIX century.
Many famous people later came from the families that migrated from Nikšić Župa and Rovci. We will mention only some of them:
Gavrilo Rajić Rašković, Serbian Patriarch in Peć (1648-1656); Sima Milutinović Sarajlija, teacher of Njegoš, poet and historian; Stevan and Petar Dobrnjac, Karađorđe's dukes from the area of Požarevac; Archimandrite Hadži Milentije Simeunović Nikšić from the area of Ljubić; Anto Bogićević, Karađorđe's duke from the Loznica area; Milivoje Blaznavac Petrović, minister and emissary of the Serbian government from the village of Blaznava, Jasenica; famous merchant Milutin and his son Ilija Garašanin (writer of the Draft) from the village of Garaš, Jasenica; captain Miša Anastasijević, great Serbian donor; bishop from Užice Janićije Nešković Janja, who renewed the Žiča monastery; Prince Teodosije from Orašac, who was first suggested as the leader of the First Serbian Uprising; archimandrite of the Bogovađa monastery Hadži-Ruvim and Karađorđe's duke Petar Nikolajević Moler, uncle and nephew from the Hadžić family, from the Valjevo village of Babina Luka; Janko Katić, Karađorđe's duke from the Kosmaj village of Rogač; Toma Vučić Perišić, duke from the uprising, and his cousin Archimandrite Milentije Pavlović, from Gruža; priest Zaharija from the famous village of Kremna; Jovan Skerlić, critic and writer; Grbović in the Valjevo village of Mratišić; Karađorđe's wife Jelena, from the Jovanović family from the village of Masloševo, Jasenica; Princess Ljubica from the Vukomanović family from the Takovo village of Srezojevac; Queen Draga, from the Lunjevica–Milićević family from the Takovo village of Lunjevica; Ljuba Stojanović, philologist and politician; Duke Stepa Stepanović, famous Serbian military commander; Vasa Čubrilović, historian; Ivan Meštrović, sculptor; General Veljko Kadijević; botanist Josif Pančić, first president of the Serbian Royal Academy; academician Dušan Kanazir; academician Petar Vlahović; poet Aleksa Šantić; poet Matija Bećković; poet Dobrica Erić; academician Jovan Rašković; writer Miodrag Bulatović; writer Branko Ćopić; aphorist Miodrag Bulatović Vib; poet Slobodan Rakitić; Vojislav Šešelj, PhD, president of the Serbian Radical Party; Zoran Đinđić, PhD, late prime minister of Serbia; Dragan Đilas, mayor of Belgrade; Nenad Čanak, politician; Milovan Đilas, writer and politician; Veljko Vlahović, politician and revolutionary; Petar Velebit, politician and revolutionary; actresses Snežana Nikšić and Vesna Čipčić; actors Gojko Šantić, Nenad Okanović and Nebojša Kundačina; psychologist Žarko Trebješanin; attorney Branislav Tapušković; journalist Vasilije Tapušković; academician Dušan Otašević, painter; journalist Stevan Nikšić; basketball coach Bogdan Tanjević and basketball players Mihovil Nakić, Nikola Peković and Dejan Koturović; football players Ratomir Dujković, Josip Skoblar, Dušan Savić, Fahrudin Mušović, Aljoša Asanović, Marko Mlinarić, Nenad Milijaš, Dušan Basta, as well as Spajić, Škrbić, Ramljak, Brkljač, Bilić, Pecelj, Baždarević, Jokanović, Rakitić; volleyball players Grbić, father Miloš and sons Nikola and Vladimir; the Nikić brothers, volleyball player Miloš and water polo player Slobodan; boxing champion Savo Pušica; great Serbian gusle player Boško Vujačić; businessmen Vuk Hamović and Miodrag Kostić; singers Lepa Lukić, Emina Jahović, Ana Kokić, Jelena Broćić, Ivana Selakov, Željko Joksimović, Petar Grašo... <
(The author is also author of "Descendants of the Nemanjić
dynasty in the Serbian nation today", Belgrade, 2012)
***
Nikša's Death
Nikša was assassinated in the meadows of Župa, in Lukavica, Trebiješ, on the Rava mountain, by some bandits who roamed this area. In the village of Zagrad in Nikšić Župa, under the Oštrelj hill, there is a massive plate with circular ornaments on the village cemetery, believed to be Nikša's grave. Under the plat stands a crumbled pillar without ornaments, which people believe is a tombstone for Nikša's mother or wife. At the site of his death, on Lukavica, Nikša's descendants placed a mark made of cut stone called Nikša's Kiljan.
***
Duke Grdan
The Nikšić Duke Grdan was supported in his battle against the Ottomans by the then Serbian Patriarch of Peć Jovan. Grdan's descendants will later be important participants of the Cretan and Morean wars. In 1597, Grdan led an uprising against the Ottomans in which all surrounding Serbian clans participated. He died in 1612. As a duke, his son Jovan inherited him, and the latter was succeeded by his brother Gavrilo.
***
Lužani
The descendants of the old clan of Lužani live in Nikšić Župa. Lame historians claim that they are of Illyrian origin. Lužani, as well as Macura, Mataruga, Bukumir, Riđani, Kriči, Španji (...), are old Serbian clans. Kodžulović, Džoganović and Mašnić families belong to Lužani. They celebrate St. Luke, the patron saint taken over from the settlers from the Nikšić clan, with an interesting "economic explanation".