Palette
THE BRILLIANT RUSSIAN THREAD IN SERBIAN PAINTING CONTINUES
Magic Realism of Sergei Aparin
Opposite to the rows of others, he came to Serbia in the war year of 1991, at the age of thirty, still not knowing that he is just about to continue the thread of masters including Stjepan Kolesnikov, Igor Vasiljev, Leonid Šejka, Olja Ivanjicki, Đorđe Prudnjikov... Here, in Zemun, he experienced his crucial metamorphosis, alchemic sublimation. Here he discovered his style, his "personal legend" and his artistic path. Here he became an internationally important painter of fantastic figuration
By: Dejan Đorić
During the 1960s and 70s, extraordinary Serbian artists, such as Dragoš Kalajić, considered Belgrade the center of the world. This unselfish city attracted some of the best Russian painters. Stjepan Kolesnikov, whom Ilya Repin considered his best student, spent most of his life in Belgrade. Some of the best Serbian painters, such as Igor Vasiljev, Leonid Šejka, Olja Ivanjicki, Đorđe Prudnikov, are of Russian origin.
When it seemed that the recuperating influence of Russian art has begun disappearing, a great master from the city of Voronezh appeared in a very difficult period for Serbia. In the year the new Balkan war broke out, 1991, Sergei Aparin (1961) came to live and work in Zemun. Although his artistic skill enabled him to choose any place to work in, he stayed here to the very day and married a beautiful Zemun girl. This is where he experienced a crucial metamorphosis.
A BELL OVER HISTORY
Aparin graduated from the Voronezh Institute of Arts in 1981. Between 1981 and 1991, he participated at exhibitions of young artists in St. Petersburg, Kiev and Moscow. The big environment and big competition, as well as the impossibility of making a living from art at the time of "catastroika", didn't have a positive influence on him. He was mainly engaged in creating movie advertisements.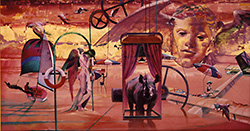 His first paintings after arriving to Serbia didn't have any extraordinary qualities. However, from solid realism, featuring any educated Russian painter, he soon, in an unusual way, metamorphosed into an internationally important painter of fantastic figuration. Who knows how and why, he experienced a great change in Zemun, an alchemic sublimation, discovered his style, his story and his artistic path. He immediately shocked the small environment, although accustomed to different artistic outbursts, especially those irrational ones. Perhaps the cause of Aparin's great catharsis can be found in the fact that the Serbian scene of magic painting is one of the smallest, yet one of the best in the world, as foreign experts also claim.
The first independent exhibition in the "Stara Kapetanija" Gallery in Zemun in 1993 is the beginning of the incredible ascent of this painter. All the works were sold already at the first exhibition, and prices were growing hourly. After Zemun and later exhibitions in Belgrade, this master experienced a meteoric success in Swiss, French, Italian, Danish and American galleries. His works are part of the permanent exhibition of the Museum of Fantastic Art in the Gruyere Castle in Switzerland, and a monograph was published about him in 2006.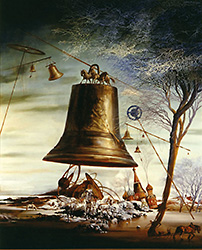 Perhaps the most valuable feature of his work and personality are not the skill and easiness of creating or his artistic gift, but the doubts destroying his soul, terrible psychological spreads crucifying and initiating all great Russian artists. That is where Aparin's visions come from. As if he is defending himself from resignation and despair with brush and color. Even Serbs, haiduk-like realists by mentality, cannot completely understand the depth of Russian comprehension. Let alone others.
In 1995, Aparin painted the Triplet, the capital symbolic painting about the fate of Russia, about the rubble of history over which a huge holly church bell still levitates, whose sound, as experts claim, kills bacteria in a few kilometers radius. It has been ringing over Russia for centuries, inviting both the faithful ones and renegades to spiritual gathering and metamorphosis. Salvation comes from above, but doubt grows from below.
Starting from Salvador Dali, appreciated in certain artistic circles of the Soviet Union as the rejected role model of decadent, bourgeoisie painting, in Serbia Aparin discovered the Holy Mountain, Chilandar, icons and Orthodox Christianity, thus becoming one of the most unusual icon painters. He did the impossible and never before seen – with a fiery vision he merged completely opposite worlds, opposed aesthetics, fantastic realistic figuration with Serbo-Byzantine coated monumental painting, the harmonic and the warm, as only he knew how.
TWO SUMMITS, MANY VISIONS
He asked himself a long time ago, the way Russians do, if his work has any sense at all? Can those paintings stand in museums next to great works of art?
Now we see that the best Aparin's works deserve it. He grew into an important international painter, master of artistic imagination, perhaps even more appreciated abroad than here. With great ease, he centers the dramatic, the grandiose, the mechanical and the constructive in his works, parallel to the soft, musical and virginal. Only Russians prophets knew such spreads.
Humble and distant from the events on the Serbian artistic scene, he has never been member of any local association, nor has wanted to be part of public events. Today he is one of the best, not only Serbian, but also Russian painters. Free from ideological and performing constraints of socialist realism, painting of figural imagination flourished in Russia. However, the greatest contemporary Russian painter lives in Zemun. No one in his homeland can be compared with him and the strength of his vision.
The fate of Sergei Aparin will probably be similar to the one of Kolesnikov – he will be discovered and celebrated in his first homeland only later.
***
Only to Be Deciphered
Since no one has researched his opus in detail, the complex iconography and symbolism of Aparin's works is only to be deciphered, although the interpretation will in no way exhaust the mystery of his painting and personality. On the contrary.