Reminder
THE VILLAGE OF IDVOR, IN KOVAČICA MUNICIPALITY, REMEMBERS ITS CELEBRITY
Hometown of Mihajlo Pupin
He traveled a difficult road and rose to the top summits of world science. But he never forgot his Banat and his ancestors. He added "Idvorski" to his already famous name. His autobiography entitled "From Pastures to Science", crowned with Pulitzer Prize, he dedicated to his mother Olimpijada. He called his estate in Norfolk – his American Idvor. And memories and materials about all this is kept by the Endowment of Mihajlo Idvorski Pupin (1854-1935) in the village where he was born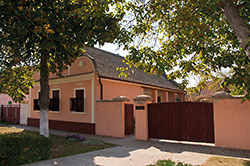 Son of a frontiersman and manual worker Konstantin and his wife Olimpijada, Mihajlo Pupin was born on October 8, 1854, in Banatian village of Idvor, which at that time belonged to the Habsburg Monarchy. Inhis autobiography entitled From Pastures to Science, Pupin speaks very little about his father, sometimes indirectly, identifying him with certain people who reminded him of his father, while the mother remained for him, until the end of his life, an inexhaustible source from which "he drank sips of life wisdom, cheerfulness and hope".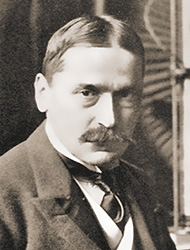 On Idvor – his birthplace. According to a legend, mentioned by Pupin himself, Idvor was established in 1690 on a small plateau, to the north from today's village. Its position enabled good view of the terrain and timely organization of defense from Turkish attacks. A little more than a century and a half passed between its establishment and the birth of its most famous citizen. Pupin's Idvor is even today, together with seven other villages, a part of Kovačica municipality, in South Banat, between Pančevo and Zrenjanin.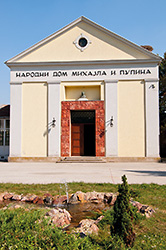 Education. Mihajlo gained elementary education first in his birthplace, in Serbian religious elementary school, and then in German elementary school in Perlez. In 1871, in u Pančevo, he first enrolled in the Civil High School, and then to Real High School. He stood out as a talented student, had excellent grades, and was awarded a scholarship. Because of his activity in the movement Serbian Youth, which was at that time in conflict with German police, he had to leave Pančevo.
In 1872, he goes to Prague, where, thanks to the scholarship he had received from Pančevo, he continued with his sixth grade and first semester of the seventh grade. After his father's sudden death, in March 1874, Mihajlo, at the age of twenty, decides to discontinue his education in Prague because of financial difficulties and to go to America.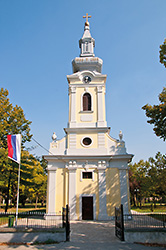 For the next five years in the USA he worked as manual labor and simultaneously studies English, Greek and Latin language. After three years of attending evening school, in the fall of 1879 he passed the entrance exam and enrolled into Columbia College in New York. He completed the studies in 1883, with exceptional grades in mathematics and physics, and received a diploma of the first academic degree.
Then he returned to Europe, first to Great Britain (1883-1885). Thanks to the scholarship he received for studies of mathematics and physics, he continued his education at the Cambridge University. Afterwards, he began studies in experimental physics at Berlin University, in 1885, with famous professor Hermann von Helmholtz. In 1889, he defended his doctoral dissertation in the field of physical chemistry Osmotic pressure and its relation to the free energy.
Discoveries. His most important discovery, Pupin registered to be patented on June 19, 1900. It was registered under title Techniques for reducing electrical waves and devices for this, today known as pupinization, marked the revolution in telephone long distance transmission.
In thirty years, from 1894 to 1923, Pupin registered 24 patents in America. His significant discoveries also include devices for telephone and telegraph transmissions, wireless system of transmission, electrical tuning and sound generator.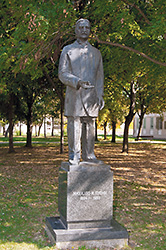 Recognitions. For his discoveries in the field of physics, in 1920 Pupin received Edison Medal,the highest American recognition in the field of science. Columbia University paid its debt to him by establishing, in 1958, an award with his name, which included Pupin among the best world scientists of all times.
In addition to the obvious scientific potential, Mihajlo Pupin was also a gifted writer. His most important works include Romance of the Machine and New Reformation. For his autobiography From Pastures to Science, which he dedicated to his mother Olimpijada, he received Pulitzer Prize.
Belgrade University gave Mihajlo Pupin an honorary doctorate. He received the same recognition from about twenty other universities, scientific institutions and academies in the country and abroad, declaring him an honorary PhD in law, medicine, literature... He was also an associate member of SANU.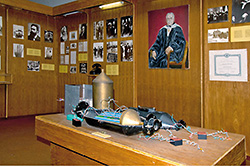 Old age. Mihajlo Pupin spent the last years of his life on his estate in Norfolk, which he called his American Idvor. He died on March 12, 1935, at the age of 81. He was buried at Woodlawn cemetery, in Bronx, the northern suburb of New York.
Memory of Pupin today is kept alive through his work that he unselfishly gave to the mankind. "It is a great honor for everybody who was Pupin's students. He was a source of bright inspirations to all those who worked with him", said famous scientist Armstrong, Pupin's student.
Endowment. Endowment of Mihajlo Idvorski Pupin is today located in Idvor, in Kovačica municipality. It includes the house where he was born, museum collection and national home, and there is also the church where Pupin was baptized. On the occasion of 150th anniversary from Pupin's birth, his birth house was rebuilt in 2004. Pupin's most significant inventions were exhibited in the old building of elementary school in Idvor, which Pupin attended, and where today is the museum. The national home in Idvor, which carries Pupin's name, was built one year after his death.
With professional guides, there are different visit programs, depending on age and interest of the visitors, so that they are interesting for both children and adults. This museum-memorial complex is every year visited by about 8000 domestic and foreign tourists.
***
Endowment
Endowment of Mihajlo Idvorski Pupin
Idvor, Mihajla Pupina 57a
Tel: (+ 381 62) 256-341
muzejpupinaidvor@gmail.com
www.muzejpupina.rs
***
Happiness
"Nothing makes a man happier than his honest belief that he did everything he could, by investing his best abilities into his work." (Mihajlo I. Pupin)