Lighthouses
"ANTHOLOGY OF SERBIAN ROMANTICISM POETRY", THE LAST COLOSSAL ENDEAVOUR OF SLOBODAN RAKITIĆ (1940-2013)
Talking about Eternity
We began writing without knowing it would be farewell, because the great Serbian poet and anthologist departed to higher levels of a Human on January 1. He built his erudition, silent gentlemenship and poetic gift, similar to ancient architects, into this book. Now we can better understand Dositej's opening of the epoch, Đura's patriotism, Njegoš's search of God, Zmaj's dream catchers, Koder's "extreme individuality", and the two roads separating from the poetry of Laza Kostić. We understand that a human is only a thread in time. We no longer ask: "Where are the things that have passed?"
Text: Vesna Kapor and NR Pres
Illustrations: Peđa Dragović
Photographs:Archive of SKZ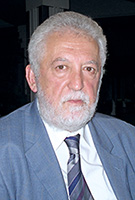 "Literary movements, flows of ideas and aesthetical genres characteristic for European poetry of the time had an important influence on the XIX century Serbian poetry. Changes in ideas and the society had a very strong reflection on many aspects of life, as well as literature. The awaking, constitution and strengthening of the national consciousness are one of the main features of romanticism in the European nations. With all its similarities and differences, Serbian XIX century poetry is an integral part of European poetry and its romanticism spirit."
So indicates Slobodan Rakitić in the introductory study for his colossal Anthology of Serbian Romanticism Poetry (SKZ, Belgrade, 2011), the last great literary project of this remarkable man of Serbian poetry and culture.
Many contemporaries would superficially say that everything has been already written and said about romanticism, the époque of elevation. However, there is always something that remains hidden, underneath the dust or netted with shadows, a marginalized name, a manuscript requesting rereading. And stories are repeated mostly in order to remind that nothing is self-conceived and that there are no new horizons without old stories, verses.
Making an anthology is a great challenge. It is always much more than a collection of gathered texts about a certain topic or époque. A treasury, revaluation, a trace one follows through time. Rakitić, according to his own words, was working on this Anthology for ten years. The poetry of Serbian romanticism is "presented in an overall width and complexity, from certain extremely specific authors to the most common topics". Poets are placed in chronological order, according to their years of birth, thus many dilemmas were avoided and the epoch more clearly presented. So, the artistic moving from Dositej to Aleksa Šantić and Mileta Jakšić can be clearly seen and a poet's development in style and form followed.

"In XIX century literature, one certainly cannot speak about the domination of a single literary genre, romanticism. It's the presence of elements of different literary genres and artistic styles. Both in terms of thematic elements and stylistic features, besides classicism, one can find features of rococo in Serbian romanticism, baroque, sentimentalism, rationalism, enlightenment", says Rakitić. "Vojislav Ilić is a paradigm of 'mixing' styles, their merging and alteration, also found in pre-romanticists, romanticists and modern poets of the XX century. In his best poems, Mileta Jakšić is both post-romanticist and symbolist."
WASH ONE'S INNER FACE
Pre-romanticism is a period of emphasized dichotomy, with both classicism and pre-romanticism lasting at the same time. They pervade, merge, oppose. The great "war for Serbian language and orthography" is in progress; Jovan Hadžić and Vuk Karadžić furiously discuss literary, linguistic and orthographic issues. The discussion, in which even Hadžić sincerely supported introducing folk language in literature, however not to the disadvantage of Slavic-Serbian, provokes interest and reactions even today.
"To make the paradox stronger, two opponents, Hadžić and Karadžić, the main representatives of Serbian classicism and romanticism, had the most significant roles in the development of state and cultural institutions in Serbia", writes Rakitić. He notes that the crucial poets of pre-romanticism, "almost grown into romanticism": Sterija, Jovan Subotić, Pavle Solarić, Jovan Pačić, Sava Mrkalj and Nikola Borojević. Jovan Hadžić, Vasilije Subotić and Nikanor Grujić, who made a turn from classicism to romanticism, are also part of the Anthology.

The chapter "Romanticism" in Rakitić's Anthology presents poets from Simo Milutinović Sarajlija to Vojislav Ilić (who begins the post-romanticism review). In this group, certainly the central one, a contemporary reader can feel the real pulse of the era. Loud, playful, sometimes classy, sometimes rudimentary naive, mystical, as personal and intimate as nationally fiery, freedom-loving, pervaded with cosmic and philosophical contemplation.
"Karađorđe's uprising in Šumadija, the year forty-eight and the rising of Pannonian Serbs against Austro-Hungary, rebellions in Herzegovina, disappointment after the Congress of Berlin – are crucial historical events that influenced social circumstances and the development of Serbian poetry, in which its Antaean and Promethean spirit was fully expressed. At the beginning of the century, areas populated with Serbian people began boiling, from Trieste to Timisoara, from Dinara to Vidin, from Baranja to Boka Kotorska and from Szentendre to Ohrid."

As the foundation of poetry, Rakitić states names "whose glory has lasted undisturbed until the present times": Sarajlija, Njegoš, Branko Radičević, Đura Jakšić, Zmaj and Laza Kostić.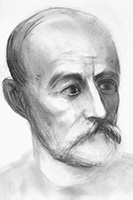 "On the other hand, it is still difficult to save from anonymousness and return to literature and readers those poets who were then marginalized for different reasons, or were forgotten in time", warns Rakitić. Some of them are Vasa Živković, Petar Preradović, Jovan Subotić, Koder, Jovan Grčić Milenko... It is an injustice and caprice of fate to a whole specter of authors, whose poetry made the then public buzz from verses, and was the foundation for those greatest ones who would overgrow their époque.
At that time, emphasizes Rakitić, two crucial streams of Serbian poetry were separated. Both begin from Laza Kostić, whose poetry "synthesizes spiritual efforts of the romanticism époque" and "marks the beginning of modern tendencies in Serbian poetry". At the beginning of the first stream is his poem "Santa Maria della Salute" (1909), "perfect, melodious, classically harmonious, sacral, Hellenic-like elevated, ascended like a prayer". At the beginning of the second stream is the poem "Memory of Ruvarac" (1865), "modern, ironic, a bit humorous, moving and tragic in its poetic suggestiveness".
HAVING SOMETHING TO HOLD ON TO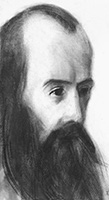 Vojislav Ilić, Milorad J. Mitrović, Aleksa Šantić and Mileta Jakšić. The 1880s request a different register of poetry. So, in the spirit of the new era, these four poets appear as a bridge between romanticism and modern art, between the XIX and the XX century. "When it seemed that romanticism had completely vanished, Vojislav gave it a new life", writes Rakitić. The dimension he introduced into Serbian romanticism got a new color and new version in the poetry of Šantić, Mitrović and Mileta Jakšić."
Biographies, actually stories about poets, are at the end of the Anthology. Rakitić made them as bridges between them. We can clearly see who was whose role model, who preceded whose ascents. The best known example is Sima Milutinović Sarajlija and Njegoš. We find out that Vasa Živković was one of the poets who made the way for Branko Radičević, and that Milica Stojadinović translated the greatest European writers and added "Srpkinja" ("Serbian woman") to her name in the revolutionary year of 1848... Details from biographies are important for completing the idea about the authors and the époque.

Rakitić's Anthology shows us that romanticism had its representatives in all lands where Serbs lived. Not only in then Serbia, but also in Austro-Hungary, border lands, Old Serbia, Herzegovina, Montenegro… Reading the Anthology, we'll start singing certain verses, as if we were in Skadarlija. We'll realize that, thanks to music, verses of some poets, although they weren't central figures in their époque, will outlive centuries. Such verses that lure music into our ears are, for example, those of Spiridon Jović: "Do you remember the moment / When you put your arms / around my neck?" Or Đura's: "Ana pours, Ana serves..."
While you go through the pages of this colossal book, the faces of poets follow you. Exquisite portraits, made for the Anthology by painter Peđa Dragović, make this immersion into Serbian romanticism poetry grow into a long series of almost personal encounters. The eyes of poets gazing at you test whether you have really understood them.
Besides everything else, the Anthology is also a journey through time, a mirror, reading one's self. If we forget to read that way, we will hardly be able to recognize ourselves among others and defend ourselves from ourselves. The new century is the century of great temptations and the less obvious they are, the more dangerous strokes of wind get. Such books provide something to hold on to.
***
Departure of the Great Man
Slobodan Rakitić (Vlasovo near Raška, September 30, 1940 – Belgrade, January 1, 2013), poet, essayist, anthology author, representative of "lyric-reflexive and metaphysical poetry".
Graduated from the Faculty of Philology in Belgrade. Editor of literary magazines "Contemporary", "Raška", "Literary Word". Editor of the literature and linguistics department at the Kolarac university for a long time. Parliament member in the parliaments of Serbia and Yugoslavia (1991-1994), president of the Serbian Literary Society Association (1994- 2004), president of the Serbian Literary Cooperative (2005-2013).
"Rakitić's titles: 'Choruses of Raška', 'The World Is not Our Home', 'Poems about the Tree and the Fruit', 'Soil on the Tongue', 'Primary Land', 'Deeds in Flames', 'Soul and Sandbank', 'Flame and Dew'..."
Winner of literary awards "Milan Rakić", "Isidora Sekulić", "Branko Miljković", "Petar Kočić", "Jovan Dučić", "Laza Kostić", "Rade Drainac", "Golden Cross of Prince Lazar", City of Belgrade "October Prize"... The Holy Archbishop Synod of the Serbian Orthodox Church awarded him with the Medal of St. Sava of the Second Degree in 2010.
***
Votive History
"Full of melancholic mercy, harmonious, gentle and exalted, in his public work Slobodan Rakitić was convincing, yet not imposing, as he was subtle in his lyricism or reasonable and rational in his literary essays. One could rely on his word. He was spiritually and morally determined by the place he was born in. It is the Raška of the Nemanjić dynasty, the holy trace and spiritual runway of this nation, not the present sorrowful little town near the even more sorrowful border of Jarinje, where one hits into a foreign gate. Starting from his early poems from 'Choruses of Raška', to the recent touching poem 'Southern Land', he was writing a votive history, which is logically most of all art, yet also a moral stand, a view of the world with the contemplation of individual and collective fate." (Milan Komnenić, poet)
***
Reached Everywhere
"As SKZ was everywhere Serbian language was spoken and Cyrillic letters read, so Rakitić reached everywhere, considered everything ours and his, thought about everything, suffered with all the suffering people, churches, cemeteries and Serbian provinces from Knin to Sarajevo, from Jadovno to Kosovo." (Dragan Lakićević, literate, editor in chief of SKZ)
***
From the Deepest Root
"Everything he touched, Slobodan Rakitić deified, gilded and elevated, near the angels, into an intransparent bluish mist. Whether dedicated to a dear woman, mother, muse, Virgin Mary, motherland of Kosovo or homeland, his 'words of love' have a mysterious metaphysical shade. All his poems are love poems, homeland, patriotic and religious poems at the same time. He grew from the deepest root of our history, tradition and spirituality" (Gojko Đogo, poet)
***
The World Isn't Our Home
"As a poet, he carried an emotion which was only seemingly exclusively traditional. It was actually deeply modern. His collection of poems 'The World Isn't Our Home' reflects the dualism and paradox of Rakitić's poetic speech, because the world that isn't our home, and in which we move with different and often bad outcomes of our own fate, at the same time testified to Rakitić that there is home, however not in the world. This opened the religious dimension of his poetry." (Professor Milo Lompar, PhD)